How The UK Is Tackling Coronavirus
The latest info on lockdown rules & government plans to curtail the virus.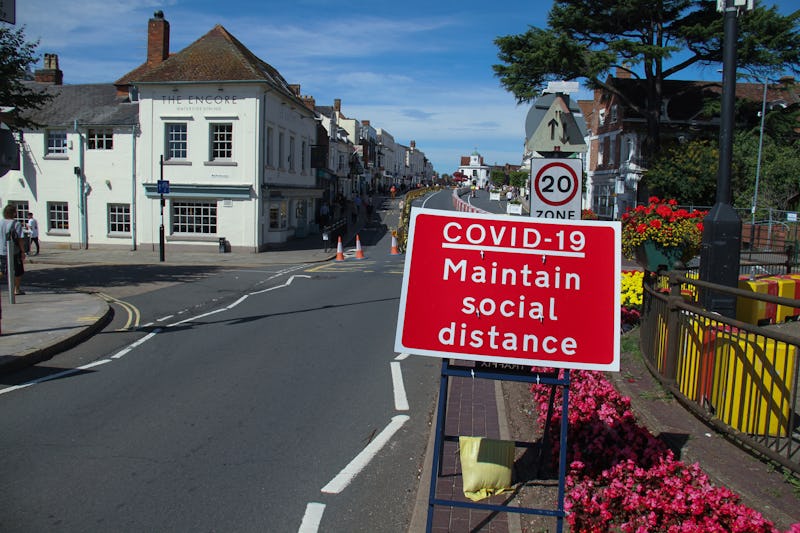 SOPA Images/LightRocket/Getty Images
This post is updated regularly to reflect the latest news and science around the new coronavirus, also known as COVID-19, in the UK.
It's clear by now that the coronavirus pandemic isn't going anywhere any time soon. But it can be hard to keep track of the most up-to-date information. Here's our resource to help you stay informed about what's happening with coronavirus in the UK.
Since March, people have adapted to social distancing rules, only going out when strictly necessary and monitoring the government's updates on a daily, weekly, and monthly basis. Terms like the "R rate" – the average number of secondary infections that one infected person will produce – have become a part of everyday vernacular. Every part of "normal" life as we know it has been upended; from seeing family and friends, to the future of teens as they received lower grades than predicted in their GCSE and A-Level results due to not being able to sit their exams as they usually would this summer.
Currently, the R rate is between 0.9-1.1 in the UK as a whole. On September 8, there were 2,460 confirmed new cases (those who had a lab-confirmed positive test for the virus), and 352,560 total confirmed cases of the virus. The total number of deaths in the UK since the pandemic began sits at just over 41,586, as of September 8 .
The UK's COVID-19 lockdown rules are under constant review. Whilst most restrictions continue to be eased, a sharp increase in cases in England has led to a reduction in the amount of people who can meet in groups, and in some areas rules are being reinforced due to local outbreaks. Here's how things currently stand in the UK:
What Does Lockdown Look Like Now?
The UK entered a nation-wide lockdown on March 24, 2020 to slow the spread of COVID-19. This meant the shutting down of non-essential businesses and most of the hospitality industry, people were also asked to stay at home under most circumstances. However, as the number of cases has reduced, and the stress on the NHS relieved slightly, changes have slowly been made to the lockdown regulations across the UK.
England
A limit on the amount of people at a social gathering will be put back in place, as Health Secretary Matt Hancock announced on Tuesday (September 8). This change will ban groups larger than six from meeting anywhere socially indoors or outdoors and applies to people in private homes as well as places such as pubs, restaurants, cafes and public outdoor spaces. Anyone meeting up should say two metres apart from people they do not live with where possible, or one metre with extra precautions in place, such as a face mask (see rules on face masks here). This is called the "one metre plus" rule.
The latest reintroduction of lockdown regulations will come into effect on Monday (September 14), and will be enforced by the police, who will be able to hand out fines of up to £100 – doubling on each offence up to a maximum of £3,200 – if people fail to comply.
Schools, workplaces, and organised team sports will not be affected, however, and weddings and funerals are still allowed to take place with a maximum of 30 people. There will be some additional exceptions to the new rules: households and support bubbles bigger than six can socialise together, for example, but not with any other households or bubbles at the same time. A full list of exemptions is due to be published before the law changes on Monday.
Guidance for those who are considered "extremely clinically vulnerable," which had them shielding in place since the lockdown began, has been "paused" by the government. This means they can now leave their homes and can resume normal activities such as visiting supermarkets, shops and pubs, but the advice is to still keep "overall social interactions low," and adhere to the two metres rule (or one metre plus rule) when possible.
Non-essential shops were allowed to re-open on June 15, with social distancing and increased hygiene measures in place. Gyms, indoor swimming pools and leisure centres reopened on July 25 followed by bowling alleys, skating rinks, soft-play centres and casinos from August 15. Beauty salons, tattooists and tanning salons, including close "services and treatments" on the face, also opened from August 15, following a fortnight wait due to concerns of a second coronavirus wave. Indoor theatre, music and performance venues will be able to reopen with socially distanced audiences, also.
In addition to the above, local lockdowns have been taking place across England. See more detail on those here.
Wales
The two metre distancing rule remains in place in Wales, however people have been able to meet outdoors at pubs and cafes since July 13. Cinemas, beauty salons and tattoo parlours reopened on July 27, and indoor pubs, restaurants and cafes opened from Monday August 3, along with indoor bowling alleys, auction houses and bingo halls providing social distancing is adhered to and contact information from customers is collected for track and trace purposes.
People in Wales can only meet up indoors if they are part of an "extended household", which is currently only made up of four households, and cannot be broken to form a new one.
Wedding venues reopened from August 3, and from August 21 a meal following a wedding, civil partnership or funeral is allowed for up to 30 people indoors if social distancing can be maintained.
Swimming pools, gyms, leisure centres and indoor play areas, including soft play, reopened from August 10, and up to 30 people can meet outdoors with children under 11 not having to social distance. Campsites and other accommodation with shared facilities reopened from 25 July, as well as "self-contained" accommodation including separate areas at B&Bs and hotels across Wales.
The Welsh government are also implementing local lockdowns in regions with an increased number of COVID-19 cases. The county of Caerphilly in South Wales is the first such targeted lockdown following a spike in coronavirus cases, with 132 people testing positive in the past week. Rules were tightened from 6pm on Tuesday (September 8), including compulsory use of face coverings for anyone over the age of 11. Extended households are no longer able to meet there and people are unable to enter and leave Caerphilly County Borough.
Scotland
Scotland has been the most strict nation in the UK in regards to the easing of restrictions and lockdown rules. In June, the First Minister for Scotland Nicola Sturgeon began lockdown easing much later than Boris Johnson did so in the UK. People in Scotland can now travel more than five miles and visit pubs with beer gardens. A household can meet up to four other households at a time outdoors, up to 15 people in total and up to eight people from two different households can now also meet up indoors and stay overnight.
Pupils returned to schools from August 11, with pupils and staff wearing face coverings when moving within secondary schools and from August 24, bingo halls, amusement arcades, casinos, funfairs and snooker halls reopened. Gyms, swimming pools and indoor sports courts along with indoor soft play centres followed from August 31.
Local lockdowns began in Aberdeen after a significant increase in COVID-19 cases in the city. The cluster of cases has risen to 101, including two Aberdeen FC footballers who tested positive after going to a bar with six other players. Further targeted lockdowns came into place in Glasgow city, West Dunbartonshire and East Renfrewshire last week (September 3) with East Dunbartonshire and Renfrewshire following suit this week from September 7. Over 1.1million people are being told not to host people from other households inside their own homes, or visit another person's home. First Minister Nicola Sturgeon has warned that there is a "definite trend" of increased case numbers across Scotland but hoped that acting quickly now could "stem the tide of transmission."
Northern Ireland
In Northern Ireland, the two meter social distancing rule remains, but bars, restaurants, holiday accommodation, and cafes reopened on July 3. Since, hairdressers, barbers, beauty salons, cinemas, bingo halls, and amusement arcades have reopened, maintaining social distancing.
Schools welcomed pupils in August with Primary Seven, Year 12 and Year 14 pupils returning to classes, but the number of people allowed to meet indoors was reduced from 10 to four at the end of August due to fears over an increased number of cases. Social gatherings outdoors can have up to 15 people, down from the previous limit of 30 (as of September 3).
Northern Ireland has not imposed local lockdowns like those in England, Scotland, and Wales, but limited restrictions were implemented in Kildare, Laois, and Offaly, which meant residents were not allowed to travel outside of their county except in limited circumstances, including travel to and from work. Restaurants, bars, cinemas and gyms were also closed. Now it seems Belfast and towns such as Newtownabbey, Ballymena, Larne and Carrickfergus are facing potential lockdowns too due to a spike in cases, but nothing is confirmed.
What's Happening With Travel To & From The UK?
From July 10, it was announced that people travelling from more than 50 countries including Germany, and Italy would no longer have to quarantine for two weeks when they enter England. However, due to the continuing changes in the number of cases in different countries,and concerns of a second wave hitting Europe, international travel restrictions are constantly being reviewed
Travel guidance currently differs depending on where you live. For example, Portugal was recently taken off England's 14-day quarantine list. However, if you are travelling to Wales from mainland Portugal, or to Scotland from mainland Portugal or the autonomous regions of Madeira and the Azores, you will need to self-isolate for 14 days on your return (unless you are exempt). Make sure to stay up to date and check the latest guidance for England, Scotland, Wales, and Northern  Ireland before you travel.
What Does The Economy Look Like Now?
According to research published in the Guardian, the British economy will shrink by 8% this year and is unlikely to recover until 2023. The Organisation for Economic Cooperation and Development has predicted the UK economy would shrink by more than any other developed country.
As of July 2020, 9.5 million workers are now covered by the furlough scheme per BBC News. Brought in on March 20, the job retention scheme allowed businesses to furlough workers and the government would cover 80% of their wage up to £2,500. Companies will be able to keep their workers on furlough until the end of October but from August companies started "sharing the cost." At the start of June the cost of the scheme was valued at £19.6 billion.
For self-employed people, the government launched the Self Employed Income Support Scheme on March 26. This allowed certain freelancers to apply for a grant worth up to £2,500 a month. The Scheme closed on May 31 but on May 29 the chancellor announced a three month extension, paying up to 70% of freelancers wages. Meanwhile, the next self-assessment tax bill has been deferred until January 2021.
For those who have been made redundant, Rishi Sunak said that Universal Credit and Working Tax Credit would be raised by £1,000 a year in an attempt to support them. Figures from the Office of National Statistics show that the number of workers on UK payrolls dropped by more than 600,000 between March and May. While this isn't representative of everyone who has lost their job, the number of people claiming work-related benefits jumped 23% in May to hit 2.8 million.
On July 8, Sunak released new plans going forward. He outlined that the Job Retention Scheme would end in October but the government would pay firms a £1,000 bonus for every staff member kept on for three months when the furlough scheme ends. It's been reported that if every furloughed worker is brought back, the new bonus scheme could cost £9.4 billion. Similarly, he announced that VAT on accommodation, attractions, and food would be cut to 5% from July 15 and "kickstart scheme" for people aged 16 to 24 on Universal Credit to fund work placements.
The government has also introduced support for landlords and renters via local councils and has called for a temporary stamp duty holiday which would exempt the first £500,000 of all property sales from the tax.
Official figures released by the Office for National Statistics (ONS) on August 12 revealed that the UK is in the deepest recession since 1974, when a "three day week" was imposed on businesses to conserve electricity. The fall in gross domestic product (GDP) reached 20.4 percent compared with the first three months of the year, the worst quarterly fall since records began in the 1950s. The pandemic and subsequent closing of businesses, factories and construction has pushed the UK into its first technical recession - defined as two consecutive quarters of economic decline - since 2009.
What Does The NHS Look Like Now?
Shortages in PPE have also affected care workers, police officers, waste collection workers, and transport staff. In April the BBC reported that the Rail, Maritime, and Transport Workers Union (RMT) said that members who were not given the necessary protective equipment must refuse to work, the BBC reported. On August 4, it was reported by iNews that several NHS trusts had spent hundreds of thousands of pounds buying PPE from unusual and unproven suppliers (including costume jewellery businesses and coffee companies) to cover shortfalls at the height of the coronavirus outbreak.
Frontline staff from Black, Asian, and minority ethnic backgrounds (BAME) are disproportionately being affected by COVID 19. A report from Public Health England in early June found that people from BAME backgrounds are up to twice as likely to die from COVID-19. The British Medical Association said it was "critical" to carry out risk assessments of vulnerable groups and protect them at work. They said racism could contribute to increased risks. Dr Chaand Nagpaul, who chairs the council of the British Medical Association, told the BBC that more than 90% of doctors who had died during the pandemic were from BAME backgrounds and doctors from these communities were also three times as likely to say they had felt pressured to work without sufficient protective equipment.
Does The UK Have A Vaccine For Coronavirus?
Scientists are working around the globe to produce a vaccine but there isn't one currently available. A group of scientists at the University of Oxford are working on a vaccine in partnership with British-Swedish company AstraZeneca. They've reportedly tested 10,000 volunteers, including individuals over 70 and those who are vulnerable in other ways. Successful phase 1 and 2 testing showed that the injection led to participants making antibodies and T-cells that can fight coronavirus, however trails have been brought to a halt after a volunteer from the UK trial was diagnosed with transverse myelitis. The break will allow AstraZeneca and Oxford University to conduct a safety review and investigate whether the vaccine caused the illness or not.
Similarly, trials are being run at Imperial College London. As of July 7, 300 people had been screened for the trial and first doses have been administered to 15 trial volunteers.
On July 30, the government announced that an agreement with drugs companies GSK and Sanofi Pasteur will result in 60 million doses of their vaccine being supplied to the UK.
What Is The UK's Strategy For Track & Trace?
One way the government has been seeking to measure and control the spread of infections is through an NHS track and trace app. After issues with an initial Android app, the government has opted to go with a test and trace app created by Apple and Google that will work on both Android and Apple devices. The companies are working on the software for the app which will log phones that come into close contact, allow people to fill in symptoms and positive diagnoses, and alert anyone who has been in close proximity to them. An Exposure Notification API was added in recent updates to phone systems, but users have to make the explicit decision to turn it on. When the app is ready, the NHS assure members of the public that it will be "entirely voluntary and people have the choice of whether or not to download the app."
A basic version of the Track and Trace app was launched on August 13, three months after its original launch date. The scaled-back version tells people about infection levels in their area, and allows them to book a Covid-19 test. However, the original purpose of the app – to contact people to let them know they had been in close contact with a person with coronavirus – is yet to be rolled out in England and Wales Residents in Scotland and Northern Ireland are set to have their own contact-tracing apps rolled out in the coming months.
What Is The UK's Strategy For Testing & How Do I Get A COVID-19 Test?
The government revealed plans in July to increase the testing capacity in England to 500,000 people a day. You can currently get a free NHS COVID-19 test if you have any of the common symptoms – a high temperature, a new, continuous cough and a loss or change to your sense of smell or taste – yourself, or if someone you live with has these symptoms.
However, the government has recently come under fire after a shortage in the system led to a deluge of complaints from the public. Hundreds of people have been unable to get a test, or have been asked to travel hundreds of miles to reach the nearest testing site.
Director of NHS Test and Trace service Sarah-Jane Marsh issued an apology following the complaints. Marsh blamed a "critical pinch-point" in laboratory processing for problems meeting growing demand.
Speaking on BBC Radio 4's Today programme on September 9, Health Secretary Matt Hancock said the shortage was due to people for coming forward even if they were not eligible for a test: "Unfortunately we have seen this quite sharp rise in the last couple of weeks of people without symptoms who don't have a good reason coming forward and getting a test," he said. "I've even heard stories of people saying 'I'm going on holiday next week therefore I'm going to go get a test'. No. That's not what the testing system is there for."
Contributions from Alice Broster, Orla Pentelow, and Sophie McEvoy.
Read more here:
What UK Events Are Cancelled Because Of Coronavirus Concerns?
Can Your Pets Get Coronavirus?
Coronavirus Fears Are Spurring Racist Reactions
How To Help People Affected By The Coronavirus
If you or someone you've been in close contact with appears to have shown or be showing symptoms of coronavirus, which include fever, shortness of breath, and coughing, visit the NHS website in the UK to find out the next steps you should take or visit the CDC website in the U.S. for up-to-date information and resources.
This article was originally published on