4 Zodiac Signs Most Likely To Be "That Girl"
6 a.m. meditation? Check.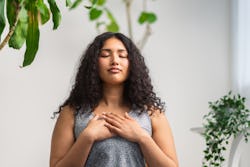 recep-bg/E+/Getty Images
If you've been on TikTok lately, chances are you've seen posts about "that girl," a wellness archetype that's been blowing up online since April 2021. In a nutshell, "that girl" is the one who prioritizes her sense of wellness by doing little things throughout the day that help boost her mental, emotional, and physical health. (And, of course, cataloging it all online.) This could be through meditating 20 minutes each morning, staying hydrated throughout the day, or having a skincare routine they enjoy and actually stick to. While anyone can be "that girl," certain zodiac signs just seem to do it naturally. According to astrologers, there are four zodiac signs most likely to be "that girl."
When trying to figure out which signs are most likely to be "that girl," there are different ways to look at it. For instance, Monahan says you can take it at surface level and look at which zodiac signs tend to prioritize health and wellness most. In that case, Virgo, the ruler of the sixth house of health and service, would be the most likely candidate to be "that girl."
Since the trend is happening within the digital space, air signs and other Mercury-ruled signs also have what it takes to be "that girl," since those astrological aspects control communications. But in this case, Monahan says it can sometimes be more about being perceived as "that girl" on social media than actually embodying what the trend is all about.
Regardless of how you want to look at it, every zodiac sign has what it takes to be "that girl," but the following signs just do it naturally.
Sources
Clarisse Monahan, astrologer
Lauren Donelson, MA, LMFTA, astrologer
Stina Garbis, professional astrologer and psychic