Makeup Artists Of Color Share Their Favorite Brands For WOC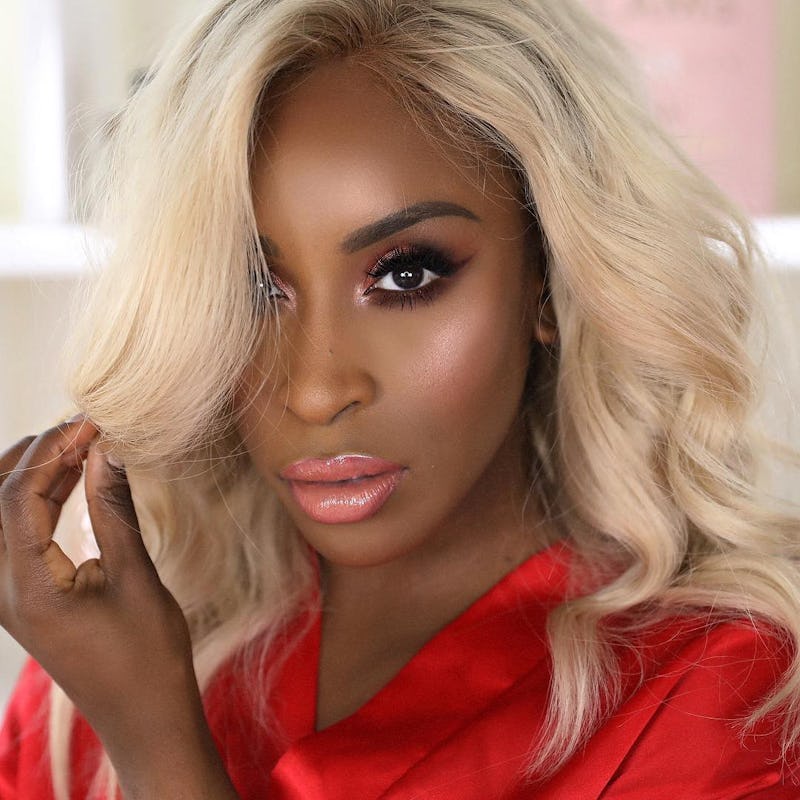 JackieAina/Instagram
Bustle and Coveteur are working together to bring you the best mix of the season's fashion and beauty releases, shopping tips, and service stories in ways that are both inspirational, and attainable. Check The Fall Style Edit channel weekly to see what we're up to.
When Rihanna debuted her Fenty Beauty line during Fashion Week in September, the internet let out a collective "YASSS." Makeup lovers, particularly women of color, had been waiting for the brand's launch since it was announced early last year. In addition to the Rihanna connection, the line was highly anticipated because it promised to be one that was inclusive, one that carried foundation shades for people of every skin tone (40, to be exact), something that sadly doesn't seem to be a focus of many other makeup brands currently on the market.
As a result of that lack of options, multi-ethnic makeup artists and YouTube vloggers of color have had to search high and low to figure out which brands actually carry products that work with their skin color and texture. They have been let down by the lack of products with yellow, orange, or blue undertones. Many have had to be strategic, adding foundation mixers to products to create something that could actually work for them and their clients. Even worse, they're often excluded completely because a brand only offers three to six shades, a majority of which are mostly super fair to medium.
This is not to say that the industry isn't changing. In 2013, Lancome launched a Women of Color lab where, according to Fast Company, scientists and product developers work to create more makeup options specifically for multi-ethnic women. In April 2016, Neutrogena extended their shade range with the help of their ambassador Kerry Washington. Shortly after, Maybelline named Taiwanese model I-Hua Wu their new global face. And earlier in September, Issa Rae was named the newest CoverGirl.
There have also been many brands that have long been touted by multi-ethnic makeup artists and vloggers, like Make Up For Ever, NARS, and MAC Cosmetics. More excitingly, there have been a number of brands that have recently been founded specifically for WOC, like Mented Cosmetics and Marjani.
While we've still got a long way to go, some of the industry's best makeup artists shared with Bustle the brands they highly recommend for other WOC. Here they are.
Too Faced Melted Latex Liquified High Shine Lipstick, $21, sephora.com | NARS Radiant Cream Compact Foundation, $38, NARS.com | Lancôme Teint Idole Ultra Liquid 24H Longwear SPF 15 Foundation, $47, ulta.com | Coloured Rain Queen Of Hearts Eyeshadow Palette, $50, colouredrain.com
If you follow beauty gurus on Instagram, then you know that Jackie Aina is an authority when it comes to all things makeup for WOC. As far as lip products go, she is a huge fan of Too Faced's offerings. "I love [them] for their lippies at the moment," she shares with Bustle. For face makeup, Aina's got two go-tos. "NARS and Lancôme have always been my tried and true. I think they do a great job at offering complexion products that cover wider undertones and in-between shades." As for her eyes, she turns to Coloured Rain's "banging" eyeshadow palettes.
Too Faced Peach Perfect Comfort Matte Foundation Peaches and Cream Collection, $36, sephora.com | Milk Makeup Flex Concealer, $28, milkmakeup.com | Kate Somerville Daily Deflector® Moisturizer Broad Spectrum, $48, katesomerville.com
It might surprise you to learn that famous beauty vlogger Stephanie Villa (aka Soothing Sista) turns to YouTube to find beauty tips, but it makes sense. "I may be biased as someone who makes YouTube videos, but one of my biggest tips would be to find out someone on YouTube who has a similar skin type to yours and try out products that work for them," Villa shares.
Being of Chinese and Spanish heritage, Villa knows firsthand how difficult it can be to find products that work for your particular undertones and texture, but three brands she consistently loves are Too Faced, Milk Makeup, and Kate Somerville. "I have found many skin care and makeup products that do really well with my skin by religiously watching certain YouTubers."
3. Sir John (@sirjohnofficial) L'Oréal Paris Celebrity Makeup Artist
Frederick M. Brown/Getty Images Entertainment/Getty Images
L'Oreal® Paris True Match Super-Blendable Makeup, $8.99, target.com
Venus Williams, Jourdan Dunn, Joan Smalls, Beyonce — these are just a few of the gorgeous clients under celebrity MUA Sir John's beauty watch. So when he talks makeup recommendations and tips, we should all listen.
"When it comes to finding a foundation, it is of course important to not only find the right shade but also texture. I love the True Match Super Blendable Makeup from L'Oreal Paris — they have such an extensive range and this collection is definitely a staple in my kit," Sir John shares with Bustle.
But don't leave without picking more than one shade, Sir John advises. "One thing that multi-ethnic skin tones should take into to consideration is there may be multiple shades on their face. This means their hair color line and perimeter of their face is always a little darker," he says. "To combat this, I honestly recommend that ladies with darker skin tones invest in two shades of foundation and use this daily. Use a darker shade for the hairline and perimeter, then apple the lighter shade to the middle of the face and blend so it matches your skin's natural complexion and color."
L'Oreal Infallible Pro-Matte 24HR Foundation, $12.99, ulta.com | Bobbi Brown Skin Foundation SPF 15, $50, sephora.com | Make Up Forever Ultra HD Foundation, $43, sephora.com | Fenty Beauty Filt'r Soft Matte Longwear Foundation, $34, fentybeauty.com
As a celebrity makeup artist of color with several clients who are WOC, like Jhene Aiko, Felicia La Tour has loads of experience with figuring out which products work for her and her client's skin tones, undertones, and texture.
"The brands that I gravitate towards when choosing foundation are L'Oreal, Bobbi Brown, Make Up For Ever, and Rihanna's new Pro Filt'r foundation," La Tour shares. "These brands understand the yellow undertones that most WOC have and if ever someone has a stronger red or orange undertone, they cater to those as well." Not every brand is able to do this well, but La Tour has a lot of respect for those that do. "It's an art to be able to create makeup for darker skin tones."
5. Deepica Mutyala (@Deepicam)
MAC Studio Fix Fluid SPF 15 Foundation, $29, ulta.com | BECCA Shimmering Skin Perfector® Pressed Highlighter, $38, dermstore.com | Maybelline® Color Sensational® Creamy Mattes Lip Color, $5.59, target.com
When looking for makeup products, beauty expert and host Deepica Mutyala keeps an eye out for brands that offer a diverse variety of colors, as well as products that are highly pigmented. For foundation, she loves MAC for their range of shades with yellow undertones. Mutyala is a fan of BECCA for their "super pigmented products that pop on our skin tone." And for that statement lip, she says you can't go wrong with Maybelline. "[Their] lipsticks are so versatile!"
Cover FX Natural Finish Foundation, $40, coverfx.com | Maybelline FIT ME Concealer, $5.29, target.com | MAC Pro Longwear Nourishing Waterproof Foundation, $35, ulta.com | Black Radiance Pressed Powder, $4.99, blackradiancebeauty.com | Make Up Forever Ultra HD Concealer, $28, makeupforever.com | Fenty Beauty Match Stix, $25, fentybeauty.com
If anyone knows how difficult it is for WOC to find the right products, it's Ofunne Amaka. She created @CocoaSwatches, an Instagram-account-turned-app that curates photos of makeup swatches, reviews, and tutorials for skin tones not commonly seen on beauty brands' websites or in the media.
Over the years, she's found that her favorite brands for people of color are Cover FX, Maybelline, MAC Cosmetics, Black Radiance, Make Up For Ever, and the newly released Fenty Beauty. "These are brands that consistently cater to beauty lovers with darker complexions who often feel left out of the conversation or altogether forgotten by the beauty industry," she shares with Bustle.
If you also struggle with finding swatches of products on someone with your skin tone, Amaka suggests downloading her Cocoa Swatches app to compare and contrast different products and brands. "I like to see swatches of products before getting excited about them so I can get an idea of what the color payoff will be like," she says. She also likes to take advantage of the sample program at Sephora "if there is something I want to try but am unsure about purchasing."
Bobbi Brown Skin Foundation Stick, $46, sephora.com | Kevyn Aucoin Sensual Skin Enhancer, $48, dermstore.com | MAC Mineralize Skinfinish Natural, $34, ulta.com |
Lysette Castellanos has had years of experience working with multi-ethnic actresses, from Karrueche Tran to Logan Laurice, and no matter who her client is, she always turns to these three products — Bobbi Brown's Skin Foundation stick in darker shades as full foundation or to contour; Kevyn Aucoin's Sensual Skin Enhancer for correcting and concealing ("This product has been my holy grail... for over 9 years!"); and MAC's Mineralize Skinfinish to "make skin look radiant rather than matte."
Black Opal True Color Skin Perfecting Stick, $9.95, blackopalbeauty.com | IMAN Luxury Pressed Powder, $15.99, walgreens.com | Danessa Myricks Beauty Metal, $15, danessamyricksbeauty.com | NARS Taj Majal Blush, $30, neimanmarcus.com
D.C.-based MUA Shieda Okquane' has a few staples you can always find in her kit. One of them? Black Opal's Perfecting Cream Stick foundation. Like Sir John, Okquane' suggests mixing different shades of foundation to achieve the most natural looking outcome — "a skin-like finish." You will also find IMAN Cosmetics' Luxury Pressed Powders. "With the right brush, these powders apply the perfect amount of color on top of foundation or even alone," Okquane' shares.
If you're looking for an eyeshadow that'll really stand out on your eyes, look no further than Danessa Myricks' products, says Okquane'. "Danessa's brand is amazing! What I love most is this brand offers metallic pigmented color for eyes." She also thinks their foundation is "outstanding."
Last, but not least, Okquane' is a big fan of NARS. "From foundation to blush to lipstick, NARS really gets it right! Their blush is out of this world! My favorite shades are Taj Mahal, Seduction and Exhibit A."
9. Sona Gasparian (@simplysona)
MAC Studio Waterweight SPF 30 Foundation, $35, ulta.com | Make Up Forever Full Cover Extreme Camouflage Cream, $34, makeupforever.com | Persona Identity Eyeshadow Palette, $32, personacosmetics.com
Sona Gasparian has been experimenting with makeup since she was in high school and managed to turn her love of beauty into a full-time career, even launching her very own cosmetics company. Over the years, she's learned that when it comes to complexion, "MAC and Make Up For Ever have the best shades." But when it came to doing her eye makeup, she felt like she needed to make something specifically for brown-eyed girls like herself. "I personally developed the Identity Palette for brown eyes because there is nothing specific like [it] in the beauty space."
Koh Gen Do Maifanshi Moisture Foundation, $62, kohgendocosmetics.com | Make Up Forever Ultra HD Foundation, $43, sephora.com | Seacret Essential Moisture Face Cream, $74.99, seacretspa.com
If you've been swooning over Antoinette Robertson, Amber Stevens West, or Michelle Mitchenor's latest glam looks, you can thank makeup artist Jazzmene for the beauty inspiration. To recreate her clients' natural and radiant-looking complexions, she suggests reaching for Koh Gen Doh's foundations (for a near-flawless finish) or Make Up Forever Ultra HD. But before she puts on any makeup, Jazzmene loves to prep the face with a brand called Seacret. "[Their products are] made up of minerals from the Dead Sea and works wonders on skin," she tells Bustle. "It leaves skin super moisturized without being oily, which makes for the perfect base for makeup application."