Helpful Natural Home & Beauty Products Every Woman Should Have On Hand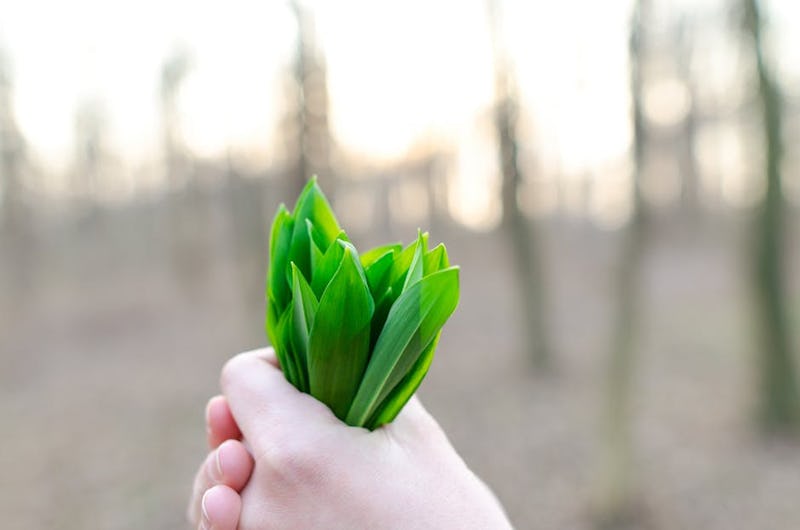 Sure, you could go out and buy chemical-y household cleaners, or the latest and greatest (and often very expensive) facial treatments. Or, you could stock up on a few natural home and beauty products, which, in most instances, will do the trick in a healthier, cheaper way.
"Many natural products are multi-functioned and can be used for home, beauty, [and] even medicinal purposes," holistic nutrition expert Claire Martin, RD tells Bustle. "A single product could deal with a skin issue, help balance your digestive system, and clean extra dirty gym clothes. In contrast, commercial products tend to have a very specialized use." Thus making them less handy, and usually more expensive.
Natural products can even save you when you're in a jam, especially if you know all the uses for them. "Having natural products on hand is helpful, whether you're trying to live a more natural lifestyle or you ran out of your usual cleaning spray and need a substitute in a pinch." Because hey, maybe you don't want to wash your clothes with tea tree oil every day, but it's nice to know you can.
Read on for some natural household, health, and beauty products every grown ass lady should have on hand.
1. Turmeric
Nature's Way Turmeric, $19, Amazon
This orange spice is a kitchen staple, for sure. "It's also a woman's best friend and should always be in their toolkit," life coach and author Jaya Jaya Myra tells Bustle. "Turmeric can help clear skin infections ... It's also a potent anti-inflammatory herb that when consumed daily can get rid of aches and pains naturally." Some people use it to clear up dandruff, moisturize cracked heels, and to lessen the appearance of scars.
2. Witch Hazel
Thayers Witch Hazel, $8, Amazon
Witch hazel is a natural astringent that you pretty much need in your medicine cabinet. "Tired and have puffy eyes? Try some witch hazel," Myra says. "It will reduce the puffiness and tighten the skin, leaving you looking less fatigued after a long day (or night) out." Just pat some around your eyes using a cotton ball (don't get it in your eyes, though) and watch as it magically de-puffs. You can also use it as an acne treatment and to help heal bruises.
3. Tea Tree Oil
NOW Essential Oils, $7, Amazon
Tea tree oil is great to have on hand as a natural acne treatment, as you probably know. But it can do so much more. "This potent product will help get rid of almost any fungal infection, making it a great go-to for athlete's foot and even ringworm," Myra says. It can also fight dandruff, heal dry skin, and even freshen your laundry.
4. Rosewater
Artizen Rose Water, $7, Amazon
Rosewater just sounds luxurious, which is why I love the idea of having some on hand to spritz and spray throughout the day. But did you know it's actually incredibly useful, too? "It smells great and is a natural astringent, making it a great natural daily toner," Myra says. Here's how to make your own from scratch, so you can add it to your skincare routine.
5. Shea Butter
Ivory Shea Butter, $13, Amazon
When it comes to taking care of your skin, look no further than shea butter for all your moisturizing needs. As beauty expert Jeanette Zinno tells me, just make sure you look for the organic stuff, which she uses for healing cuts and scars, as well as in her homemade beauty products. "I use shea butter as a base for the DIY deodorant I make."
6. Pure Castile Soap
Dr. Bronner's Pure Castile Soap, $16, Amazon
Pure castile soap can literally be used for everything, Zinno tells me. Think laundry detergent, face/body/hair cleanser, window cleaner — the list goes on and on. Definitely worth keeping some in your shower, as well as under the kitchen sink.
7. Coconut Oil
Sky Organic Organic Extra Virgin Coconut Oil, $10, Amazon
By now, you've probably heard all about the many benefits of coconut oil. But just in case you needed a friendly reminder, here's that info again. As Zinno tells me, she uses coconut oil as a makeup remover. It also makes an excellent body moisturizer, hair mask, chapstick, and can even be added (quite deliciously) to coffee and smoothies.
8. Baking Soda
ARM & HAMMER Pure Baking Soda, $5, Amazon
"Baking soda is one of the 'must haves' for home cleaning DIY," Amber Malcom, CEO of Shabby Chick Natural Products, tells Bustle. "Baking soda covers a multitude of sins, including odors, helps scrub stains, and increases the efficacy of other products." It's also way safer than some commercial cleaning products.
9. Apple Cider Vinegar
BRAGG Organic Raw Apple Cider Vinegar, $5, Amazon
OK, if you've yet to add apple cider vinegar to your life, now's the time to do it. "Apple cider vinegar is antimicrobial, antibacterial and antiseptic, helping to balance pH," say beauty and lifestyle experts, Jeanne Tamayo and Maren Giuliano. "It can be used as to clear skin from bacteria, and buildup from hair."
10. Essential Oils
Simply Earth Lavender Essential Oil, $10, Amazon
It's up to you to figure out which essential oils will cure what ails you. But damn... can they cure what ails you. "I use essential oils to solve all of my problems," says Malcom. "[They can] clear up fungus, heal wounds, get rid of acne — just about any problems can be solved by one essential oil or a combination of two or four." If you want more info, stop by a health food store and see what they recommend.
11. Calamine Lotion
Calamine Lotion, $6, Amazon
Remember this stuff from when you were a kid? "Calamine is a great all purpose topical for many skin problems as it soothes bug bites, itchy rashes, minor burns, and small cuts or scrapes," says Martin. "The main ingredient is bentonite clay, so use it as a face mask to reduce redness and eczema or spot treat zits. This is my favorite travel product too because one single bottle can potentially treat so many travel-stress induced skin surprises. Calamine lotion is a one-product first aid kit."
Pretty cool, right? We often spend so much time and money looking for the best products, when the natural ones were best all along.
Images: Pexels (1)