These 'Real Housewives' Departures Still Sting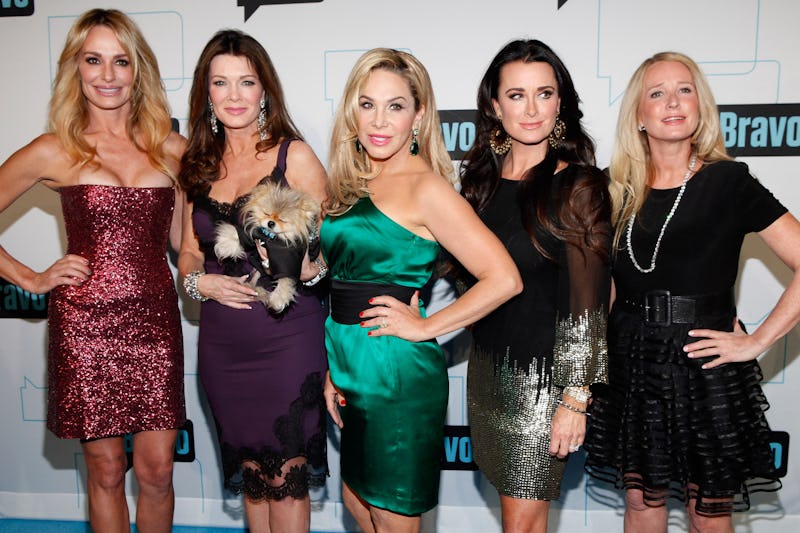 Cindy Ord/Getty Images Entertainment/Getty Images
Housewives come and housewives go, but I must admit that a few of these ladies' exits nearly brought me to actual tears. As an avid Real Housewives fan, I've certainly seen my fair share of reality stars go in and out of the various franchises, and I've got to say that these are some of the most painful Real Housewives' departures of all time, in my opinion.
With every season of every city, it seems like I become attached to the cast members of the Bravo reality series at some point. And without fail, there's no doubt in my mind that at the end of each season, that several — if not, all — of these ladies are my friends in my head. So when I learn that they're finally calling it quits and turning in their apple, peach, orange, or what have you, it breaks my heart. I mean, don't get me wrong, there are certain villains that I totally don't mind seeing walk out the door, but later, I even find a small part of myself missing their presence once they've departed the reality scene.
I suppose as the saying suggests, you really don't know what you're going to miss, until it's actually gone. Here's a round-up of the most missed Housewives to date.
1. Kim Zolciak
Now, here's one of those love-hate situations for you — she was once one of my absolute favorites. Zolciak's zany behavior and all-but-interesting relationships with both NeNe Leakes and the notorious Big Poppa had me faithfully glued to my television weekly. I will say, though, there was a point when things took a turn. Like, I loved her and was totally Team Kim... and then not... and then I'd be back on her side for a while... and then not. We were pretty much in a dysfunctional relationship, just like she and Big Poppa once were — well, at least in my head.
But now, I totally miss her on Real Housewives of Atlanta. I often find myself imagining her interaction with the current castmates during sketchy situations, like, "What would Kim do?" But hey, all's not lost, right? Lucky for me, I still get to watch her, now that she's "all grown-up" on her spinoff, Don't Be Tardy.
2. Yolanda Foster
Ugh, where do I begin here? This one really stung. Yolanda just brought so much to Real Housewives of Beverly Hills. She sometimes seemed too perfect to be real, but at the same time, you still kinda wanted to be just like her. She was certainly the best — she appeared to be a perfect wife and mother, and she openly battled her struggles with Lyme disease with such grace and dignity.
3. NeNe Leakes
The drama that NeNe Leakes brings is certainly unmatched on any of the housewives franchises and her one liners are the most epic in Bravo reality history, bar none. Her departure from Real Housewives of Atlanta resonated with both fans and producers of the popular series. The show's creators have fought viciously to get her back — and it appears that they may have recently had a breakthrough in trying to get both Kim Z. and Leakes back on the cast for Season 10.
4. Heather Dubrow
Fans were sad to see Ms. Fancy Pants herself step down from her reality throne. After five years on Real Housewives of Orange County, Dubrow has finally decided to call it quits after Season 11. I definitely hate to see her leave, I was so looking forward to checking out her fab life in the Dubrow Chateau.
5. Brandi Glanville
Although Glanville may be one of the series most notorious villains, I was slightly sad to see her go. The former model certainly brought her own brand of drama and outlandish behavior to Real Housewives of Beverly Hills. The wine toss in Lisa Rinna's face, her feud with Kyle Richards — oh, and that time she gave Lisa Vanderpump a branch off of the olive tree outside of her own restaurant. I'm literally laughing out loud right now.
Sorry, not sorry. I really do miss those ridiculous antics, and the show just doesn't feel the same without her.
6. Caroline Manzo
The matriarch of the Manzo clan, Caroline's tough Jersey girl attitude and unconditional love for her family were widely embraced by the masses. After her departure from Real Housewives of New Jersey, Caroline and her family were the focus of their own popular spin-off, Manzo'd with Children.
7. Kim Richards
After announcing that she had entered rehab back in 2015, Kim Richards shared the news that she would no longer serve as a primary cast member after five years on Real Housewives of Beverly Hills. Kim's personal struggles served as a sad focal point on the series in her latter years on the series, but I hated to see her go. Luckily, she returned in a guest appearance after her departure and we can still catch updates on her via her sister and former costar, Kyle Richards.
8. Jill Zarin
A big part of its inception, Jill Zarin was given the boot just weeks before Season 5 of Real Housewives of New York was set to begin filming. Many despised Jill's villain-like behavior and deemed her a narcissist. However, I'd have to admit that her on-screen persona helped to make for great TV.
9. Adrienne Maloof
I hated seeing Adrienne go out the way that she did. Glanville blabbing a major family secret on air and unsuspected trouble in her marriage to Dr. Paul Nassif sadly caused the businesswoman to abruptly call it quits back in 2013 after three season on the Real Housewives of Beverly Hills.
10. Camille Grammer
Camille's heart-wrenching split from husband and business partner, Kelsey Grammer, is what kept me rooting for her success. After their very public split played out on Real Housewives of Beverly Hills, Grammer decided to scale back her appearances on the show and was downgraded from main cast member to guest.
11. Gretchen Rossi
Ahh, who could ever forget when Gretchen Rossi burst onto the Real Housewives of Orange County scene in Season 4 with her terminally ill millionaire fiancé, Jeff Beitzel, who just so happened to be 24 years her senior? The other wives gave her complete hell, constantly scoffing at her lifestyle and questioning her motives with Beitzel.
But, somehow, Gretchen managed to stand her ground with the ladies, proving that she was in the O.C. to stay. After Beitzel's death, Gretchen began a relationship with serial housewife dater, Slade Smiley, much to just about everyone's chagrin. The couple, who is now engaged, left the show after Season 8.
Oh, the drama, the memories... Please bring them back.