Former 'AHS' Actors Who Should Return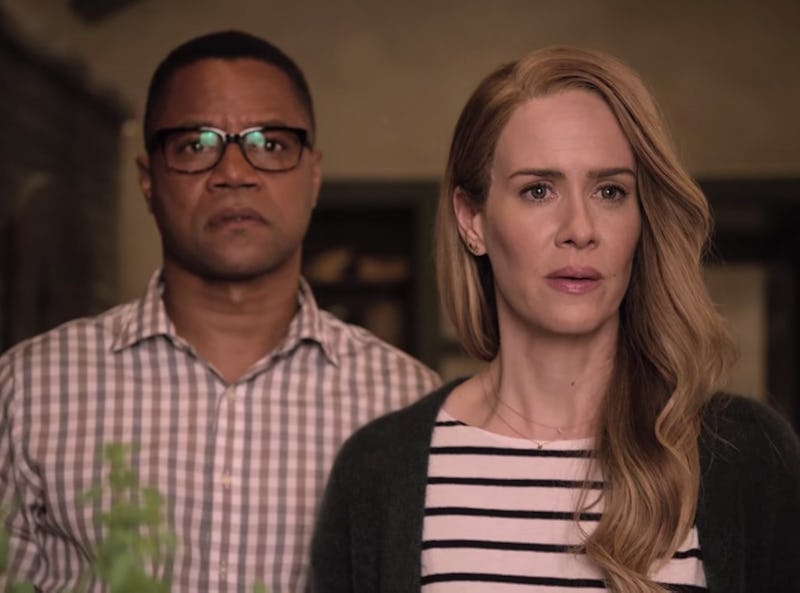 FX
Thursday's announcement that American Horror Story has been renewed for Seasons 8 & 9 has gotten fans understandably excited. While actors often appear in multiple seasons of the show, there are some American Horror Story actors that should return for Seasons 8 or 9 because they've only appeared in one season so far? The series has featured such an amazing caliber of award-winning actors to date, and there's so much talent to utilize in future seasons. Sure, I love those regulars on the show, but I also love those beloved actors who only made a brief appearance in one episode or one season.
Way back in 2011, the first season of American Horror Story: Murder House, featured the inimitable Connie Britton alongside '90s heartthrob Dylan McDermott. The pair played a husband and wife who relocated to Los Angeles following some personal trauma. Unfortunately, the restored mansion they moved into turned out to be majorly haunted, and a lot of crazy stuff started happening. Even though Britton left the show after Season 1 and joined Nashville, the format of the series means that the door is always wide open for actors to return in new roles.
So which actors should come back to American Horror Story? Well, obviously, I want to start with:
1. Connie Britton
Despite being incredibly busy as Rayna Jaymes on Nashville, Britton would be an incredible addition to Season 8 or 9 of American Horror Story. In 2015, Britton told Variety, "I would love to come back, but scheduling is tricky." It's definitely time to make this happen.
2. Kate Mara
Kate Mara's career has definitely blown up since she appeared on American Horror Story: Murder House in 2011. Her successful movie career probably makes her return to AHS unlikely, which is exactly why it'd be so exciting to see her come back to the show.
3. Eric Stonestreet
The actor, best known for portraying Cameron on Modern Family, played a man called Derrick in Season 1 of AHS. It'd be so fun to see the comedian return to the horror series, especially since his Modern Family character is so beloved.
4. Neil Patrick Harris
In Sep. 2015, of his turn in Season 4 of AHS, Harris told TVLine, "It was a great honor for myself and for David to be players in Freak Show, but yeah, I'm busy... I think the Hotel is booked, as they say." Despite not returning for Season 5 or 6, it'd be great to see the Gone Girl actor return for more AHS creepiness in Season 8 or 9.
5. Stevie Nicks
The Fleetwood Mac singer played The White Witch in American Horror Story: Coven, and was just as flawless as you might expect. A return by Nicks in Season 8 or 9 would be incredible.
6. Clea DuVall
The underrated '90s queen appeared in American Horror Story: Asylum, and it'd be perfect for her to come back to the show. I can't get enough of Clea DuVall.
7. Ian McShane
The prolific actor, who's appeared in everything from Game Of Thrones to Deadwood, had an arc in American Horror Story: Asylum as Murder Santa. It should be obvious that McShane, and his character, both need to come back to the show.
8. Jenna Dewan-Tatum
Dewan-Tatum appeared in the second season of AHS, so her return is overdue. Plus, she could maybe persuade her husband to appear alongside her in Season 8 or 9.
9. Adam Levine
The Maroon 5 singer played Dewan-Tatum's husband in American Horror Story: Asylum, and there's absolutely no reason he couldn't come back and serenade us all while terrible things happen onscreen.
10. Mena Suvari
Suvari portrayed murder victim The Black Dahlia in two episodes of American Horror Story: Murder House, and killed it. I'm sure she could kill it again — pun intended — if she was brought back.
11. Cuba Gooding Jr.
Cuba Gooding Jr. is no stranger to the Ryan Murphy family, having played the lead in American Crime Story: The People v. O. J. Simpson. His performance in American Horror Story: Roanoke made it clear that the actor belongs in AHS and should definitely come back.
12. Morris Chestnut
Chestnut appeared in Season 1 of American Horror Story, right back when the show started. It would be kismet to have him return for Season 8 or 9 of the show.
With so much talent to choose from, fans of AHS have so much to look forward to.