14 Modern Refs In 'A Series Of Unfortunate Events'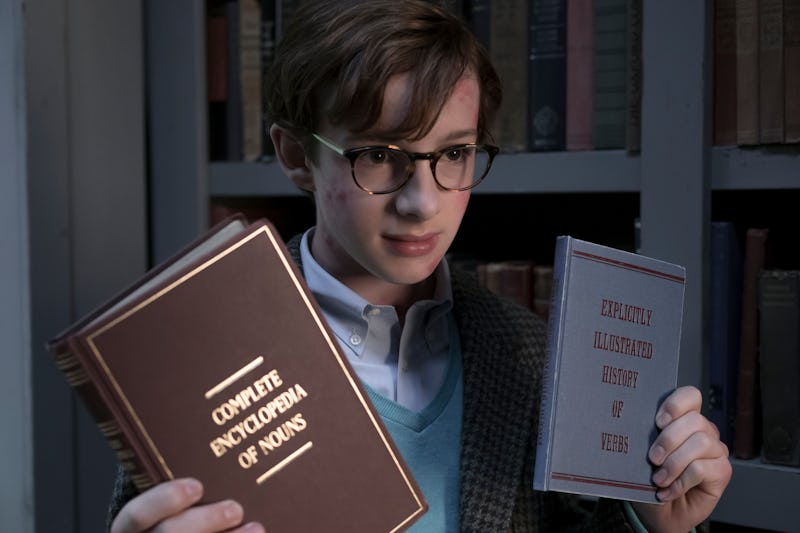 Joe Lederer/Netflix
A Series of Unfortunate Events isn't set in a clear time and place. The Baudelaire children are American, but they exist in a fictional realm. Yet, that didn't stop the Netflix adaptation from having pop culture references in A Series of Unfortunate Events. While some of these nods were from the original book series by Daniel Handler (working under the pseudonym of the story's narrator Lemony Snicket), others were added in just for the Netflix series.
Calling the references that occur in A Series of Unfortunate Events strictly "pop culture" is inaccurate since the book series turned TV series goes beyond mentions of mainstream media. The Netflix show mixes subtle commentary on modern politics, conversations about literary works, and quotations from some of the greatest minds into the story of the Baudelaire orphans. Within Lemony Snicket's Netflix world, there is a fair amount of rule breaking when it comes to storytelling — after all, Patrick Warburton as Lemony references television executives and Neil Patrick Harris as Count Olaf breaks the fourth wall. And this matches Lemony Snicket's book world since his trademark is inserting his own commentary and warnings into the tale of Violet, Klaus, and Sunny Baudelaire. So, the Netflix adaptation mixing in more modern references worked with the quirky and tongue-in-cheek nature of this very unfortunate series.
As the A Series of Unfortunate Events books are full of literary allusions, it should be no surprise that such references exist in the Netflix show. However, as this list will prove, the series from Netflix surely (Shirley?) enjoyed incorporating some other modern touches as well.