The 17 Most Scandalous Moments In 'Bachelor' Nation History
No matter how much Bachelor airs — be it Paradise, Arie's season, or Winter Games — there's no such thing as enough for fans of the franchise. Which is why it's always a good time to reflect on the scandalous moments in Bachelor history. After all, among the many, many reasons that people tune in to the start of every season of every show in the franchise, "drama" always ranks pretty high on the list.
By this point in the franchise, there are literally dozens of seasons to mine for interesting tidbits. We're talking 21 seasons of The Bachelor, 13 seasons of The Bachelorette, four seasons of Bachelor in Paradise, and three of the now-defunct Bachelor Pad. That's 41 seasons of televised love-seeking, and there are scandalous moments to be pulled from many of them. We've got dramatic reveals, on-camera blindsides, and basically everything Juan Pablo Galavis ever did.
In short, as Chris Harrison might say, this is the most dramatic post ever, going all the way back to the show's earliest days. So pour yourself a glass of wine, pin that rose to your lapel, and let's dive into this, because it's a whole lot of nonsense.
1. Jason Mesnick Changing His Mind On Air
During The Bachelor's Season 13 finale, Jason Mesnick proposed to Melissa Rycroft and sent Molly Malaney home. But, on After the Final Rose, he reconsidered, breaking up with Melissa and asking Molly for a second chance. She gave it to him, and the couple has been married since 2010, but that doesn't make this moment any less shocking.
2. Michael Stagliano Getting Hit With A Brutal Blindside
Michael Stagliano and Holly Durst went into Bachelor Pad Season 2 as amicable exes; the two had broken their engagement a few months before filming. They still competed as a team, however, and actually went on to win the entire show. But Durst had connected with another of the show's contestants during filming, Blake Julian, and the pair got engaged in advance of the live finale.
Durst insists that she tried to let her former fiancé know right away, but that reportedly producers had "already taken his phone." So Stagliano found out about the engagement on live television, in front of the entire cast and a studio audience, and it could not have been more awkward.
3. Nick Viall Blowing Up Andi Dorfman's Spot On After The Final Rose
A lot has changed about the way we discuss sex within Bachelor Nation, but, back in 2010, on The Bachelorette Season 10, it was something that was only ever hinted at. That is, until Nick Viall took Andi Dorfman to task for sleeping with him in the Fantasy Suite, only to send him home as the runner-up. Or, in his words, "If you weren't in love with me, I'm just not sure why — like why you made love with me." Yikes.
4. Brad Womack Going Home Alone
People leave the franchise without finding love all the time, so why should this be any different? Well, in Season 11 of The Bachelor, Brad Womack became the first — and as yet, only — star of the show ever to reject every single one of the contestants.
5. Rozlyn Papa's Rumored Relationship With A Crew Member
Rozlyn Papa was considered a frontrunner on Jake Pavelka's season of The Bachelor, before she was removed from the cast, and a producer was fired, for supposedly engaging in a romantic relationship. According to Chris Harrison, "She had a physical relationship with a producer on our show. You cannot do that. There is no gray area. Other girls on the show saw it. The producer confessed more than once and to more than one person. I cannot make it any clearer."
Papa has always denied the affair, even telling Us Weekly in 2010, "Unfortunately, I did not get any out of this big sex scandal that supposedly happened. If I had known that I was going to get accused of it, maybe I would have gone for it!" Perhaps even more scandalous, however, is the way the show dealt with the situation. Removing both parties from the show is one thing, but the way they having the women come forward as "witnesses" is another thing entirely.
7. The Way Brad Broke Up With Emily Maynard After His Second Season
Just when you thought Brad Womack had outdone himself by ending up with no one on a show specifically designed to have you end up with someone, he's back at it again. According to Emily Maynard, who was the winner of Season 15, the couple was on-again-off-again after the show and had more than a few breakups. One of which Maynard claims she found out about by being cc-ed on an email in which Womack informed producers that "things didn't work out." Yeesh.
8. When Things Got Physical With Brad
And just for good measure, one more Brad Womack moment, although, for once, he didn't directly cause it. Having seen him on Season 11, Season 15 contestant Chantal O'Brien greeted him with a slap, which she said was "from every woman in America." But the most shocking part of this whole thing? He liked it, and O'Brien made it all the way to the finale.
9. The Mass Exodus Off Of Juan Pablo's Season
Sometimes one person will leave a season early, usually for work, like Ed Swiderski in Season 5 of The Bachelorette — although he returned two episodes later and won the competition — or because they have a kid at home, like Kenny King on the show's 13th season. But, in rare instances, people will walk away just because they don't have chemistry with the show's star, and that happened with not one but two women on Juan Pablo's season.
Opera singer Sharleen Joynt received the First Impression Rose, and was clearly a front-runner before electing to leave the show because she wasn't sure about Hometowns and didn't want to take the spot of a woman who was. So she was followed shortly by Andi Dorfman, who departed after Fantasy Suites.
10. Bob Guiney Making His Own Fantasy Suites
According to the show's creator Mike Fleiss, early Bachelor Bob Guiney is the contestant who — to his knowledge — had the most sex on the show. The number Fleiss threw out for number of conquests is "five and a half," which, along with being very mysterious, means that your boy did not wait for the Fantasy Suites. (This was The Bachelorette Season 4, which had just three Fantasy Suites.)
11. This Brutal Break-Up Statement
Most Bachelor Nation relationships don't end happily ever after, but it would be tough to find a couple that imploded as hard as The Bachelor Season 12's. Matt Grant proposed to Shayne Lamas on the show, and she accepted, but the pair broke up about two months later. When asked about it, Grant said:
"Did I find true love on the show? Um, no. Not one little bit. I proposed to a woman who was about a foot and a half shorter than me, who had nothing in common with me, and thought there were palm trees in London. Did I make a mistake? Yes. Did I look like an idiot? Yes. Do I regret it? A little bit."
Yikes.
12. A Contestant Slipping Her Underwear Into The Bachelor's Pocket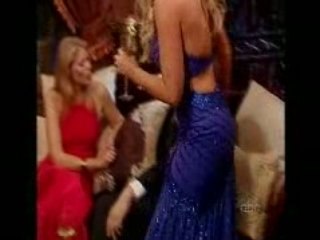 Speaking of Matt Grant, the British Bachelor is making his second appearance on this list with a moment from the beginning of Season 12. On the very first night of London Calling, contestant Stacey Elza attempted to stand out in a very controversial way — by slipping a pair of her underwear into Grant's pocket while he was talking to another woman.
He was not amused, sending Elza home that same night, and she later acknowledged that alcohol might have gotten the better of her decision-making skills. "If I were sober, I think he would've been okay with it," she shared on The Women Tell All, where she also revealed that the underwear was unused. "I am a sweet, intelligent girl and I was anything but that on the show."
13. Kalon McMahon Calling Emily Maynard's Daughter Baggage
After contestant Kalon McMahon referred to Bachelorette Season 8 star Emily Maynard's daughter Ricki as "baggage," all hell broke loose. Maynard told the camera, "I wanna go West Virginia, hood rat, backwoods on his ass," and she proceeded to do just that, kicking him off the show right in the middle of a group date. And she didn't let him off the hook on The Men Tell All, either, as you can see. She went to bat for her young daughter in a badass, empowering way that left McMahon in her dust.
14. Justin Rego Running From The Truth
Justin Rego is hardly the first Bachelorette contestant to be confronted with a girlfriend back home, as he was on Season 6 with Ali Fedotowsky. He is, however, the first (and last person) to try to run away after that information came to light.
15. Chad Johnson Soiling Himself On Bachelor in Paradise
After a night of heavy drinking at the beginning of Bachelor in Paradise Season 3 that ended with him passed out by the pool, there were claims that Chad Johnson pooped his pants. Johnson denies those claims, but the footage is compelling.
16. When Bentley Didn't Even Like The Bachelorette
The phrase #fortherightreasons gets thrown around a lot, and now you know why. On Season 7 of The Bachelorette, contestant Bentley Williams told the camera early and often how uninterested he was in the show's star, Ashley Hebert. He admitted that he wasn't attracted to her, and that the only reason he was sticking around was his own competitive spirit. But, hey, she ended up in a lasting marriage to JP Rosenbaum, and he looked like a jerk on national television, so who's laughing now?
17. Juan Pablo's Finale
In another world, this entire list could be things that Juan Pablo Galavis did during his season, but his behavior toward contestant Clare Crawley deserves particular attention. First, the Season 18 star and the hairstylist shared an intimate, passionate moonlit swim, and Galavis later attempted to shame Crawley on-camera for the encounter, even though he'd been as enthusiastic about it as she was.
On their helicopter date, Crawley leaned over to tell Galavis that she was in love with him, and he whispered something in her ear that the cameras couldn't pick up. After she was rejected on the finale, Crawley confided in a one-on-one, "He chose to tell me something that no woman wants to hear. That he doesn't know me and some sexual thing I don't want to repeat. It was insulting and it was offensive." Awkward. Is it any wonder that Crawley went off on him at the finale?
Some pretty wild things have happened in Bachelor Nation over the years, and there will definitely be more scandalous moments. But for now, these are the ones that rise to the top of the barrel. At least, for now.