23 Moments From 'Game Of Thrones' That Will Make You Swoon For Brienne & Jaime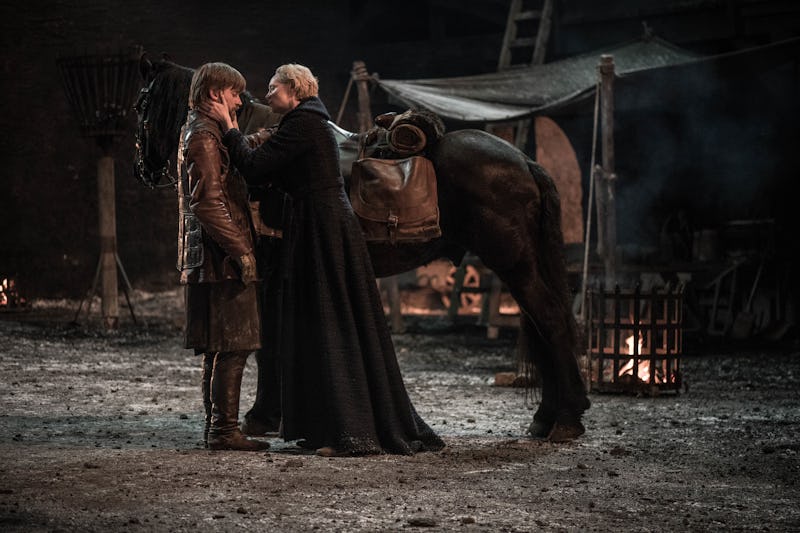 Helen Sloan/HBO
Spoilers ahead for Game of Thrones Season 8 Episode 4. Jaime and Brienne have long been one of the most shippable couples of Game of Thrones and while it may have seemed like it would never happen, they got together during "The Last of the Starks." Fans have been shipping Jaime and Brienne on Game of Thrones since Season 3 and they finally consummated their relationship after the Battle of Winterfell. They have one of the most profound relationships of the entire series and as Gwendoline Christie herself has said in interviews, Brienne has helped to transform Jaime into the somehow likable character he is in Season 8. And while he left her to go back to King's Landing to presumably fight Cersei, these Brienne and Jaime moments prove this pair's romance in "The Last of the Starks" was long overdue.
Brienne is one of the most purely noble of all the Game of Thrones characters while Jaime is one of the most morally complicated. But when Catelyn Stark tasked Brienne of Tarth with taking Jaime Lannister back to King's Landing in order to ensure her daughters' freedom, their unlikely bond was forged. What started as an antagonistic guard-captive relationship evolved into one of deep respect, admiration, and love. While the very fan-fictiony romance between them in "The Last of the Starks" was short-lived, Brienne and Jaime got their love scene to the delight of many fans. Sorry, Tormund shippers.
Even if you weren't feeling the love between these knights, these shippable Jaime and Brienne moments — complete with all the longing looks — show that this couple's romance was inevitable ... and inevitably tragic.
This article was originally published on