These 5 Zodiac Signs Are Going To Have A Better Month Of November Than The Rest Of Us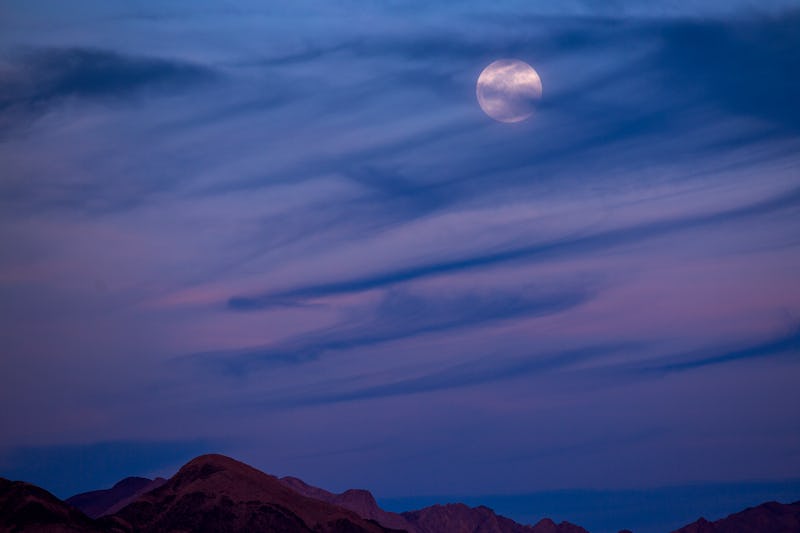 David McNew/Getty Images News/Getty Images
Happy November! We made it through Halloween and now we're all floating (drowning?) our way through Scorpio season, which is officially in full effect. Is everyone ready for the holidaze to start? Cause, ready or not, here they come. And of course, November 2018 astrology is bringing us all kinds of cosmic goodies on top of it — retrogrades ending and beginning, the transition from Scorpio territory into Sagittarius season, and some intense moons that will bring up major feels (and possibly some hot-to-the-touch emotions) for everyone. Clearly all signs are going to feel the effects of November's planetary action, but there are a handful of signs who will have the best November 2018, so if you're one of them, you'll want to soak it up.
But before we get to that, let's take a look at our overall lunar sitch during November. We're kicking things off with a new moon in November's reigning sign of Scorpio on Nov. 7 that has the potential to be super transformative and healing for all of us — so long as we're willing to put in the work to resolve our issues. Two weeks later, we'll have a full moon in wild n' crazy Gemini on Nov. 23, which, like the sign itself, has the potential to embody both ends of a spectrum. So while it might make us feel super bold, it might also get our tempers flaring hot, so we'll need to watch out. This could make for some major Thanksgiving dinner drama, just sayin', so avoid hot-button issues with your less-agreeable family members if you possibly can.
Halfway through the month we'll have some major movement on the retrograde front. Venus is finally stationing direct on Nov. 16 —although we'll still feel its effects for a few weeks during its post-retrograde shadow period, meaning we'll want to stay careful when it comes to romance, finance, and beauty (no drastic haircuts just yet, OK?!). The brunt of it will be over though, so you can pretty much resume your Venusian life as usual. Yay!
But wait: Before you celebrate, I have to break the deeply obnoxious news to you that on the very same day that Venus goes direct, our good ol' pal Mercury stations retrograde, throwing its all-too-familiar wrench in all things related to communication, travel, and tech. Yeah, I'm not kidding. Sorry to be the bearer, but 2018 has truly been the year of retrogrades, so it makes sense that it would slap us with one more Mercury Rx before the holidays (not to mention give us zero days in between Venus' retrograde ending). WTF, universe? This means Thanksgiving travel plans may very well hit annoying snags under Mercury retrograde's spell (as if traveling during the holidays wasn't enough fun as-is, right?). We hear you, 2018 — you want to test our limits and you're doing a great job!!!!
Anyway, we'll also see the sun moving into Sagittarius later this month, which will officially wrap up Scorp season and take us into the worldly, philosophical, and always exciting realm of the Sag, which may be a nice release after the deep intensity of Scorpio's reign. All things considered, Bustle spoke with astrologer Lisa Stardust, and she weighed in on which sun signs are most likely to be feelin' the good vibes all November long — so read on to find out if you're one of them (and congratulations if so!).
Cancer (June 21 - July 22)
Expect a fun and expressive burst of creative inspiration this month, Cancer — and consider busting out your paints, camera, or collaging supplies, cause you're going to want to ~express yourself~ and take advantage of this vibe! "November serves to elevate your creative spirit," shares Stardust. "While you may have setbacks this month, overall, you will be surprised about how much your artistic energy will flourish and transform." Don't let this burst of inspiration go to waste! Channel your creative energy into a project, performance, or even a fun dance class to keep your artistic channels open.
Libra (Sept. 23 - Oct. 22)
You've been a lil' networking queen lately, haven't you Libra? Keep on believin' in yourself, because this month will have you feeling even shinier n' sparklier than usual. "Work is in high gear and your star is growing, allowing you to enjoy the simple pleasures of life and fame," Stardust tells Bustle. Bask in the happy glow of the good energy that you're feeling right now, and trust that it'll keep coming! Leave your scarcity mentality at the door, because vibes are high and you know how to own 'em.
Scorpio (Oct. 23 - Nov. 21)
Scorpio, your season is putting everyone through the ringer — but what they don't know is that all the transformational, cleanse-by-fire vibes have been even more intense for you! But as you know, your emotional work pays off, because those dark clouds are parting and the sun is shinin' on through. "For the first time, in a while, you are finally able to keep your head above water — use this time to heal and unwind after the past few crazy weeks," advises Stardust. Treat yourself this month like the birthday babe that you are, and feel the good vibes raining down on you — you deserve some self-care and major pampering.
Sagittarius (Nov. 22 - Dec. 21)
Max relaxation is on the table for you this month, Sag, so take advantage of this cosmic opportunity to slow down and enjoy all the little things before gearing back up to your usual speed. As Stardust shares with Bustle, "With your birthday approaching, you are taking a step back, relaxing and enjoying life — having a very meditative and quiet month, which is just what you need!" The sun is entering your season late this month and that'll energize you like crazy, so until then, just chill and let yourself have fun being a lil' bit of a homebody.
Pisces (Feb. 19 - March 20)
Fish love to swim in a school, and this month is bound to be full of deep, intellectual and spiritual connections with people, Pisces. Open your heart to it and fully embrace these sweet little cosmic gifts. "November appeals to your higher minded desires — allowing you to enjoy wondrous autumnal activities with like-minded spiritual people," shares Stardust. Do some moon rituals, stay in touch with nature and people who lift you up, and allow yourself to vibe with the season of the harvest — because you're extra sensitive to the energy this month in the best ways possible.