25 Texts To Send A Friend That Ghosted You
Whether you want to say something vulnerable or playful.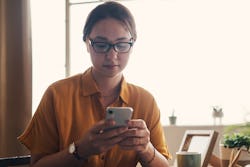 PeopleImages/E+/Getty Images
In the world of online dating, you might get ghosted once or twice — heck, maybe even a hundred times. It comes with the territory of casual conversations and an overabundance of options. But that non-committal, throw-away feeling isn't what you expect from friendships, which is why it's so difficult to text a friend who ghosted you.
It's painful enough when a random person from Tinder doesn't message back, but if a friend disappears, it's a whole different level of betrayal. "It's understandably very painful, and leaves you with a lot of questions as to why, what happened, and maybe even some [...] fears that you did something wrong," Alyssa Arnol, LCSW, a licensed clinical social worker, tells Bustle.
There are countless reasons why people ghost, including loss of interest, perceived slights, and — most common of all — issues completed unrelated to the relationship itself. Rather than explain why they're ghosting, though, Arnol says many folks find it easier to go into avoidance mode and simply fade away.
It's true many friendships come to a natural end. But if a best friend isn't texting back, or your work BFF has gone radio silent, it's OK to want to know why. If you find yourself thinking about them nonstop, or are worried for any reason, consider reaching out and getting more information. Here, 25 helpful texts to choose from when a friend ghosts, depending on your situation.
Additional reporting by Lexi Inks
Experts:
Alyssa Arnol, LCSW, licensed clinical social worker
Ben Fineman, MA, AMFT, psychotherapist
Davida Rappaport, relationship expert
Dr. Markesha Miller, licensed psychotherapist
Jessica January Behr, PsyD, licensed clinical psychologist
Amanda Turecek, LMFT, LAC, therapist
Marie Murphy, PhD, relationship coach
Chloe Greenbaum, PhD, licensed psychologist
Ned Presnall, LCSW, mental health expert
Gina Handley Schmitt, MA, CMHS, LMHC, psychotherapist