7 Ways To *Actually* Celebrate Women's Health Week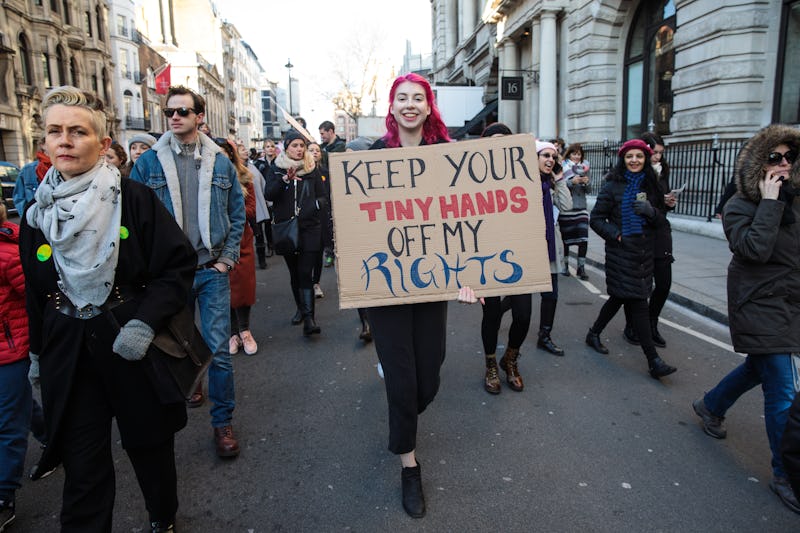 Jack Taylor/Getty Images News/Getty Images
President Trump is all about helping women this week — or at least that's what a Mother's Day statement from the White House kicking off Women's Health Week would have us a believe. Women's Health Week, which runs from May 14-May 20 this year, is a state-sponsored week to drum up awareness about women's health issues. The timing is jarring this year, considering it started just a week and a half after the House passed a White House-supported bill that would, if it became law, endanger the health of millions of American women.
"In the past hundred days, Trump touted a health care bill that cuts coverage of maternity care and permits women to be charged significantly higher insurance premiums than men for the same services," Dr. Stacey Leigh Rubin of Physicians for Reproductive Health tells Bustle. "... He chose a Secretary of Health and Human Services who believes that insurance coverage of contraception is unnecessary. He placed anti-abortion zealots in high positions at the Department of Health and Human Services, and picked someone who does not believe birth control 'works' to head the Title X family planning program."
In his statement, President Trump says: "Ensuring affordable, accessible, and quality healthcare is critical to improving women's health and ensuring that it fits their priorities at any stage of life. In particular, women should have access to quality prenatal, maternal, and newborn care." And while I guess I should know by now that double speak is the New Normal under the Trump administration, that statement is particularly bold-faced in light of all the ways the American Health Care Act could hurt women.
Under the proposed AHCA, insurance companies wouldn't be required to cover maternity care, newborn care, mental health services, prescription drugs, preventive services — including contraceptives, well-woman visits, domestic violence counseling, well-baby and well-child visits, breastfeeding support, and vision screening for children — or pediatric services. Being a survivor of domestic abuse or sexual assault could be considered a "pre-existing condition" and insurance companies would again be allowed to charge people with pre-existing conditions more money, which is not allowed under the Affordable Care Act (aka Obamacare). There's a real risk that women who have been victims of violence will not seek out care for fear of insurance premiums going up. Tell me again about how much you care about women, Mr. Trump.
However, just because this is a hypocritical move from our president doesn't mean that we should throw the women's health baby out with the pussy-grabbing bathwater. I'm all about celebrating Women's Health Week, just not with BS statements that are (supposedly) from a man who's on record bragging about groping women without their consent. So here are nine ways to actually celebrate Women's Health Week — and maybe throw in a punch for the Resistance while you're at it.