The 9 Best Places To Take An Extrovert On A Date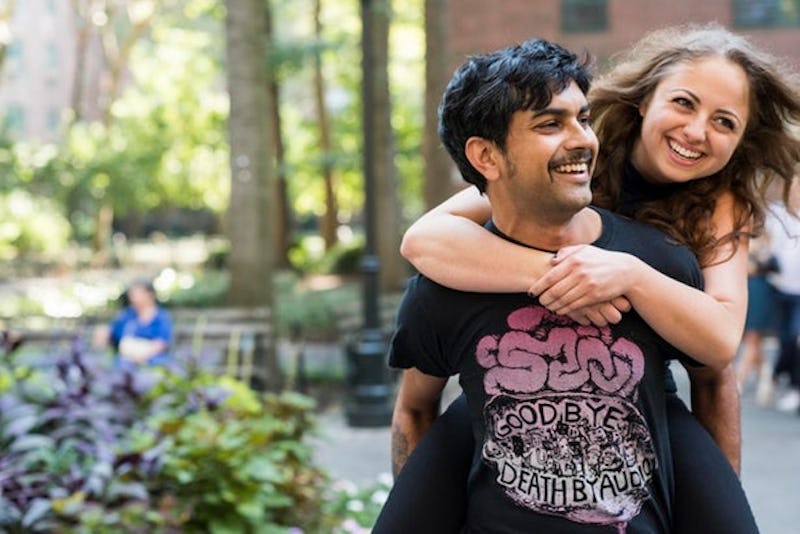 BDG Media, Inc.
Say you're an introvert and your ideal date with the extrovert you're seeing would be going to a movie or dinner at a low-key restaurant. However, perhaps you know that your extrovert, so to speak, thrives on more stimulation, so you try to think of a happy medium to make sure you go on dates that you'll both enjoy. Luckily, when it comes to the best places to take an extrovert on a date, you have several options.
Adam C. Earnheardt, Ph.D., Chair and Professor of the Department of Communication at Youngstown State University, is an extrovert and has been with his introvert wife for more than 20 years. When it comes to the extrovert-introvert dating dynamic, he is an expert and has many suggestions.
"Dating is hard, really hard — whether you're meeting an extrovert through a dating app or a mutual friend," he tells Bustle. "All relationships are about finding balance, and this includes finding balance in new-ish relationships, when we're trying to figure out the other person's personality type, including what they enjoy doing for fun."
As far as where to take an extrovert on a date, the options seem endless. Dr. Earnheardt says that most extroverts he knows actually prefer a mix of high-energy, big-crowd environments and low-key one-on-one dates, so the cliché dinner-and-a-movie won't always fly, because it means most time will be spent in low-key spaces. "Instead, try dinner and a concert or party," he says.
For more ideas on where to take an extrovert on a date, experts weigh in below.