9 Nonfiction Books About Rape Culture That Should Be On Every Single Person's Reading List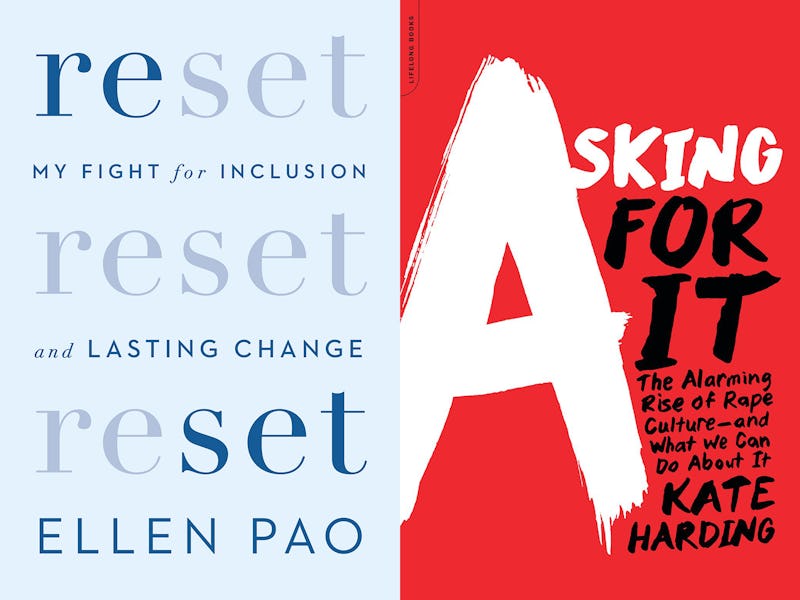 If the recent outpouring of sexual-assault allegations against Harvey Weinstein have you feeling angry, anxious, or depressed, you should know that you are not alone. Whether or not you are a survivor of gender-based violence, you should consider reading some nonfiction books about sexual harassment: what it is, who has experienced it, and what you can do about it if it happens to you or someone you love.
Trigger warning: This article contains references to sexual assault and harassment, as do many of its outbound links.
In so many terrible ways, it feels as if issues we hoped to leave behind in the 1970s have reared their ugly heads once again in 2017. The 45th President of the United States jokes about sexual assault, and even brags about committing it. Secretary of Education Betsy DeVos has weakened Title IX in regards to campus rape cases. The Department of Health and Human Services (HHS) has issued a strategic plan that would pave the way toward criminalizing abortion and many forms of birth control. Immigration and Customs Enforcement (ICE) has begun carrying out raids on undocumented immigrants and their families, and denies basic bodily autonomy to the women and girls it detains.
Outside of Washington, D.C., it's not looking any better. People of color continue to be murdered by police officers who will never set foot in a courtroom as a defendant. Young black boys are fatally shot for carrying childhood toys, and black children are "adultified" in the eyes of the U.S. public. Right-wing media pundits and politicians spin peaceful protest against police brutality as treason.
In the last two years alone, the wider public came to know that a number of prominent men in the entertainment industry — including Roger Ailes, Bill Cosby, Bill O'Reilly, and Harvey Weinstein — were accused of being serial offenders of sexual assault and harassment. Even Brooklyn Nine-Nine actor Terry Crews has spoken out about being sexually assaulted by a Hollywood executive. Perhaps just as disturbing is the number of men who knew that the accused were predators, but kept their secrets, thereby allowing them to hurt more people.
So if you're fed up, but having trouble dealing with the current state of affairs, try some reading therapy. Reading a book won't fix all your problems, nor can it substitute for voting against sexist, racist politicians, or letting them know how you feel about the job they are doing in 2017, but it might make you feel better enough to start tackling the big issues.