9 Flirty Questions To Ask Each Other To Improve Your Sex Life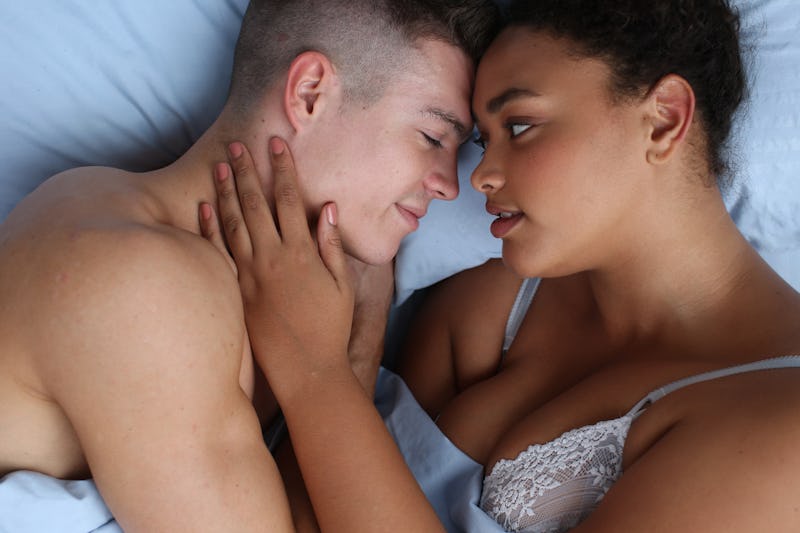 Ashley Batz/Bustle
If you've been feeling like you and your partner are stuck in a rut in the bedroom, the thought of figuring out how to improve your sex life can seem super overwhelming. The good news? It's totally OK for long-term couples to fall into a sexual routine — after all, you've had plenty of time to figure out what works for you and what doesn't! But even though ~relighting the fire~ might seem daunting, it can't be denied that experimenting in bed is a fun (and hot) way to grow and connect as a couple.
"A couple's physical intimacy does not stay constant during the course of their relationship," Rhonda Milrad, LCSW, ABS Certified Clinical Sexologist & Relationship Therapist, and Founder of online relationship community Relationup, tells Bustle. "In fact, it decreases once the 'honeymoon phase' is over and the relationship becomes familiar and comfortable, and then proceeds to wax and wane. Although this may not sound sexy or glamorous, it is the natural course of relationships. Maintaining physical intimacy takes work and won't just occur organically. If couples neglect actively working on their intimate life, it will peter out altogether."
Changes in your sex life over time are only natural, and as long as you and your partner are able to communicate about sex and are willing to work together to improve both of your sexual experiences, there's no reason to fret. If you're looking to make a few tweaks in the bedroom, here are nine sexy questions to ask your partner that can seriously improve your sex life — even if it's already hot.