9 Tips For Dating Again After A Bad Breakup, According To Experts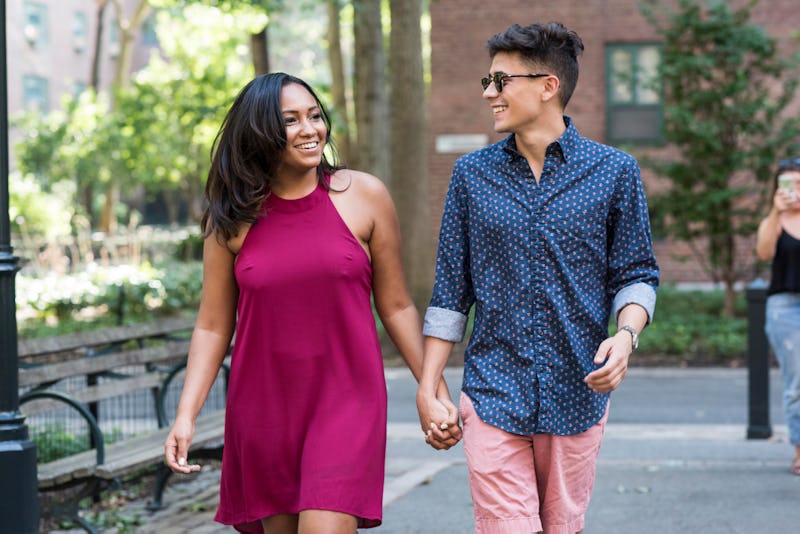 BDG Media, Inc.
There are few things in life worse than getting your heart broken. Not only is it a supremely sad experience, there are all kinds of other emotions — anger, regret, bitterness, even happiness in some cases — that can be super confusing to sort through. But dealing with a slew of emotions isn't the only thing that can be confusing post-breakup: Trying to navigate the world of dating after a breakup can be tricky, especially if you're worried about it being "too soon." So, is there such a thing as too soon to start dating again after going through a breakup?
"It heavily depends on how long you were in the relationship and how fully invested you were in your partner," Gina Yannotta, matchmaker and COO of The Vida Consultancy, tells Bustle. "Some relationships are long gone before the initial breakup, therefore allowing the individual to heal while in the relationship, and move on as soon as they detach themselves from the 'exclusive' label."
How can you tell if you're really ready to move on and dive back into the dating pool after a bad breakup? "The biggest sign that you're ready to date again is your desire to date again," Brooke Bergman, relationship and dating coach, tells Bustle. "It usually means you're feeling brave enough to risk being brokenhearted. It's normal to feel ready one day and not ready the next. I usually tell people not to give in to the fear. Sometimes we need to lean into the fear instead of allowing it to dictate the direction of our lives."
After experiencing heartbreak, it's not uncommon to be afraid to start dating again, because it can feel like you're signing yourself up to get hurt all over again in the future. But, while it might not be an easy road, if you want the reward (finding love again), you have to be wiling to take the risk of getting hurt again, too. If you're recently single and need a little guidance before getting back out there, here are nine expert tips for dating after a bad breakup.