Attention '90s Kids: Jordan Peele Might Be Rebooting 'Gargoyles' Into Your Next Favorite Movie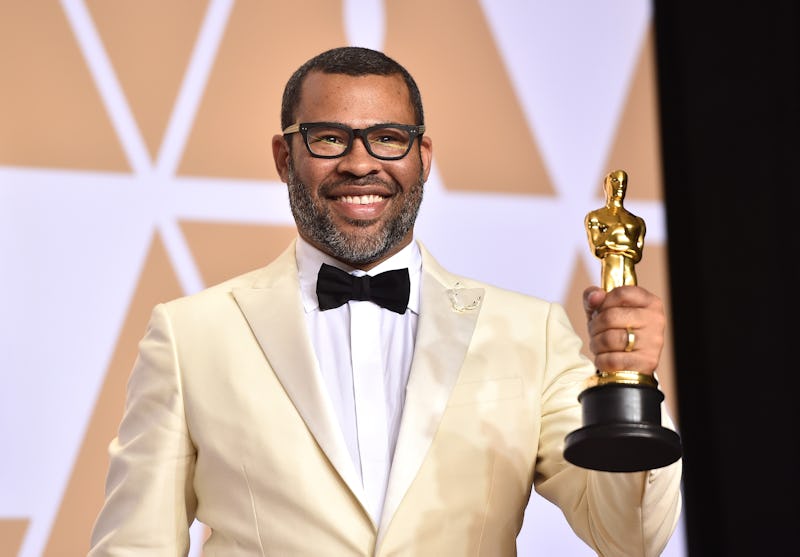 Alberto E. Rodriguez/Getty Images Entertainment/Getty Images
It looks like Jordan Peele just may have another successful project on his hands. According to Screen Rant on June 12, by way of entertainment newsletter The Ankler by Richard Rushfield, Peele reportedly wants to adapt a Gargoyles reboot into a live-action film, and the story behind it will get all of his fans excited. (Bustle reached out to Peele's reps for comment, but did not yet receive a response.)
The 1994 Disney cartoon was a total hit, especially amongst 80s and 90s babies, Saturday morning cartoon lovers. Deemed by many as one of the greatest things about the '90s, Gargoyles follows a crew of Scotland-native medieval creatures cursed to spend the rest of eternity in statue form. But after being moved to New York City, the curse was broken, and the creatures end up becoming local heroes, all while trying to adapt to the ins and outs of life in modern times. According to Rushfield, along with a slew of other projects surrounding action and thriller, the brilliant mind behind Academy Award-winning film Get Out is also looking to take on the challenge of bringing a live-action version of Gargoyles to the silver screen. But, as Rushfield notes, not without a bit of adversity.
While it is a seemingly an awesome idea, Peele has reportedly pitched the concept around and it was reportedly rejected.
This could mean that the claims are completely erroneous, and not worth addressing, or it could be the total opposite, and he just hasn't gotten around to expressing his interest publicly.
The Ankler's Rushfield writer reported that the Gargoyles reboot is one of many projects on Peele's has a lot on his plate right now — and whether or not this live-action reboot will happen is in Hollywood's hands.
Since taking the world by storm with his award-winning directorial debut Get Out, the entertainer has announced his involvement in a few other film and television ventures. Right now, Peele's executively produced TBS show with Tracey Morgan and Tiffany Haddish, entitled The Last O.G., has been picked up for a second season. Peele has also signed on to help create a Twilight Zone remake.
And according to reports, and also confirmed by the talent himself, Peele is currently working on his second film Us, to be released in 2019. The Oscar-winner posted art from his new film project on Twitter on May 8. According to The Hollywood Reporter in a May 8 report, Winston Duke, Lupita Nyong'o and Elisabeth Moss were reportedly in negotiations to star in Us. Duke seemed to confirm his involvement in the project in a June 8 tweet, in which he wrote:
Buckle up for this next ride as I take a journey with visionary director @JordanPeele#Us#movie
As for the Gargoyles live-action reboot, it's a project that would be so solid in the hands of Peele. Yes, the Gargoyles cartoon was a little dark, but recent live-action remakes of animated classics have had success becoming darker— like Beauty & The Beast, and Alice In Wonderland — so a Peele-helmed Gargoyles live-action could fit right in.
With a slew of new projects coming down the pipeline, to say that Peele is busy would seemingly be a total understatement, however. So whether or not the Key & Peele star can actually add the potential project to his laundry list of upcoming content remains to be seen — not to mention Peele, as aforementioned, has yet to even confirm his interest.
And until he does announce his involvement to the world, fans will just have to hope that the Gargoyles live-action, Jordan Peele masterpiece actually exists.