Kristin Cavallari Hinted She Might Be Down For A 'Laguna Beach' Reunion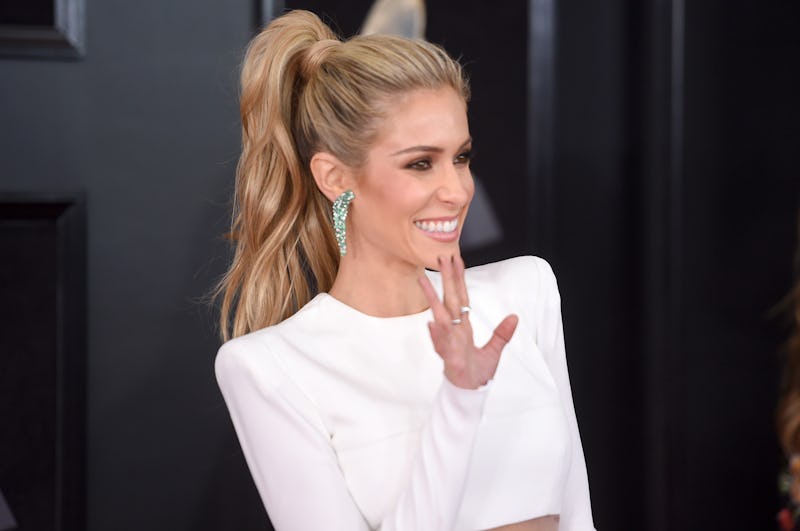 Jamie McCarthy/Getty Images Entertainment/Getty Images
The beautiful, well-off, beach-loving teens of Laguna Beach terrorized the airwaves and captivated a nation for just three seasons on MTV, but its legacy remains undeniable. In fact, a Laguna Beach reunion might happen on Very Cavallari Season 2, and that's straight from Kristin Cavallari herself. Fans first met the entrepreneur and TV host in 2004, when she was the sulky, beautiful mean girl of Laguna Beach High School and general antagonist to classmate Lauren "LC" Conrad. The alpha women had so many reasons to feud, and yet so few, but the most prominent of one of them all was tall, dark, and named Stephen Colletti.
The official Laguna Beach cutie pie was best friends with LC, but dating Cavallari — old news, at this point, but still — and the awkward love triangle mirrored so many of those experienced by fans IRL. It's imprinted on the hearts of an entire generation. So the fact that Colletti wants to appear on Cavallari's current E! reality docu-series is just the best, most nostalgic thing in the world. Can't you just hear it now? Ste-phen!
Of course, they're no longer together; Cavallari married NFL star Jay Cutler in 2013. Still, it's enough to bring back all of your mid-'00s feelings.
Did Hilary Duff's seminal "Come Clean" just start playing in the background of your mind? Good. Lean into it.
Fans had their doubts about whether the two were still connected after a comment he left on her Instagram account seemingly went unacknowledged. When asked if she was intentionally ignoring Colletti's remark on her Instagram, Cavallari gave perhaps the all-time greatest "I don't know her," since Lady Mariah Carey invented it herself:
"I don't read my comments, so I didn't see it."
A likely story, Mrs. Cutler! On the continued subject of Colletti, though, the Very Cavallari star told E! News:
"I do talk to Stephen. I've actually been talking to him a lot recently. He's down to do a Season 2 of Very Cavallari if we do a season."
If that weren't enough, she also dished about the potential to reunite with additional co-stars — including Conrad, whom she mentioned by name. "Obviously I would love to talk to her if we were gonna do a reunion," Cavallari revealed to the network. "We'll cross that bridge when it comes, I guess."
Let's just say that if it's a clever ploy to get the network to pick up her show for another season, it's probably working. Who would turn down the chance to reunite Laguna Beach stars, even now that most pf them are grown up and married with kids and aren't drunk and underage at a hotel party (throwback to the pilot episode, what up)?
If you're on the edge of your seat and group-texting your BFFs from eighth grade already, you might want to take a pause. This is all hypothetical, for now. Just because Colletti said he'd appear on Very Cavallari Season 2 doesn't mean he actually will. Plus, as of July 2018, Very Cavallari Season 2 has not been announced. There needs to be a show in place before he can guest star on it, people. Not to mention, Cavallari herself is a busy, working woman and mother. Who's to say she'd have the time to drop everything and schedule a reunion episode with her high school boyfriend? Also, Colletti works, too.
Schedules would need to line up, promos would need to be in place, and there would have to be an organic enough reason for the pair to reunite, probably. Or maybe they'll just say hey, why not go for it. Let the rain fall down and wake Laguna Beach fans' dreams. All together now: Ste-phen!