J.K. Rowling Allegedly Blocked A Fan On Twitter After They Asked About Johnny Depp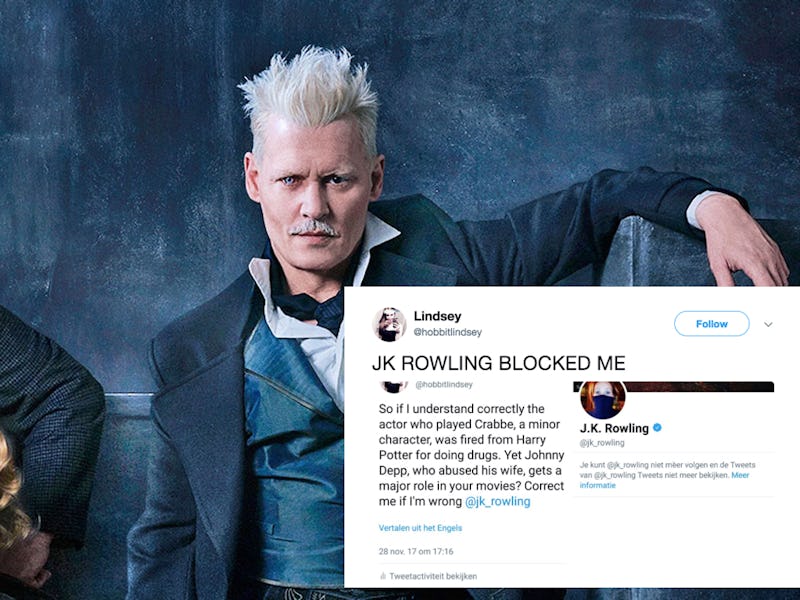 Warner Bros.; hobbitlindsey/Twitter
J.K. Rowling, the beloved author and creator of Harry Potter, is known for her warm fan interactions — but on Wednesday, a Twitter user alleged that the author blocked them after they asked her about Johnny Depp's controversial casting in the Fantastic Beasts movie series. The user also included purported screenshots of the incident. Depp's ex-wife Amber Heard leveled domestic abuse allegations against the actor in 2016, and despite the pair's divorce settlement that included Heard's withdrawal of her domestic violence restraining order petition against Depp, there has been a public outcry for his role to be recast.
Bustle has reached out to J.K. Rowling's publicity team for comment and Twitter user @hobbitlindsey for confirmation, but had not received a response from either at the time of publication. Bustle cannot verify that the photo is legitimate or that the blocking did indeed happen as described.
Throughout her years as a public figure, Rowling has been celebrated by readers of all ages, not only for her iconic children's series, but for her fan engagement online and her outspokenness — especially on Twitter — against trolls, bigots, and haters. In the past, Rowling has condemned Brexit, vehemently criticized Donald Trump, and even defended Serena Williams from body-shamers. Despite the fact that Johnny Depp's casting in the Fantastic Beasts sequel has angered fans, the usually vocal author has remained silent on the issue.
That is, until yesterday when a fan demanded answers from Rowling on Twitter, and the author allegedly blocked them on the platform as a response.
On Tuesday, Twitter user and self-proclaimed Potterhead @hobbitlindsey used the social media platform to call out Rowling for allowing Depp to continue to be part of the Fantastic Beasts franchise. According to her accusation, Jamie Waylett, the actor who portrayed Crabbe in the Harry Potter films, was fired from the franchise after being arrested for drug-related charges in 2009. As she points out, allowing Depp, whose ex-wife Amber Heard accused him of domestic abuse in 2016, to stay involved highlights a major double standard.
"So if I understand correctly the actor who played Crabbe, a minor character, was fired from Harry Potter for doing drugs," the tweet reads, "Yet Johnny Depp, who abused his wife, gets a major role in your movies? Correct me if I'm wrong @jk_rowling"
While many Twitter users and Harry Potter fans were quick to agree with the tweet, which was directed at Rowling's official account, the author herself didn't appear to respond, as can be seen in her timeline. While Bustle was not able to confirm that Rowling did indeed block the Twitter user, when it occurred, or that she did so as a result of the user's tweet about Depp, a screenshot from @hobbitlindsey and her accompanying caption, "JK ROWLING BLOCKED ME," purports the claim.
In the user's follow-up tweets, @hobbitlindset accuses Rowling of making "her opinion on Depp very clear by blocking me." She also expressed shock at the author's alleged action to block her, and explained she "never posted this to expose [Rowling]."
While some fans rushed to Rowling's defense by saying the charges against Depp were dropped or suggesting the author didn't have any say in his casting, many more were quick to side with the Twitter user who originally posed the question to Rowling. Since the official title and cast photo from Fantastic Beasts and Where to Find Them: Crimes of Grindelwald were released two weeks ago, fans have been clamoring for a new Grindelwald. Despite serious backlash from fans who don't want to see Depp portray the wizard in the sequel, the film's director has defended keeping the actor in the role. However, as this incident demonstrates, clearly fans won't stop demanding a change any time soon.
Right now, all over Hollywood, powerful men are losing their jobs over allegations of sexual misconduct, and Harry Potter franchise fans don't expect anything less when it comes to Depp, who was accused of domestic abuse by his ex-wife Amber Heard in 2016.
The Twitter user still says she loves the Harry Potter series. "Just so you know I'm not about to burn my Harry Potter books but I am unstanning Jk Rowling herself," she wrote on Twitter. "I will always love Harry Potter, I'm just very disappointed that this is who Rowling cho[o]ses to be today."