Alyssa Milano's Women's March Speech Will Leave You Absolutely Fired Up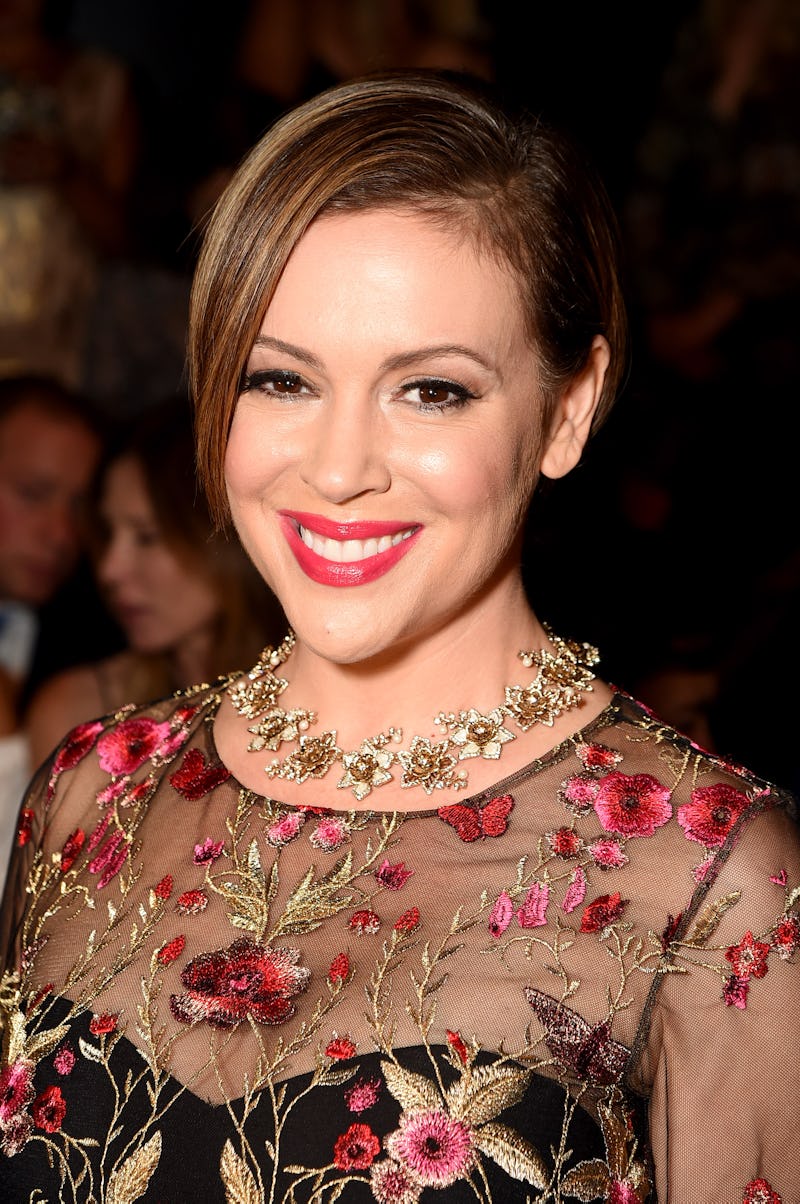 Theo Wargo/Getty Images Entertainment/Getty Images
On the one-year anniversary of Donald Trump's inauguration, women and men across the country are participating in the 2018 Women's March. Part of the event is focused on getting people fired up for the 2018 midterm elections, and Alyssa Milano's 2018 Women's March speech will go a long way toward inspiring you to get out the vote. The Charmed (series creator: Constance M. Burge) star spoke at the rally in Atlanta, and she defined democracy in a way that will remind people of just how much power they hold in the U.S. as long as they show up to the polls.
During her speech, Milano gave the crowd a beautiful definition of democracy. She said,
"I want you to look around and I want you to realize, that this, this right here is what democracy looks like. It doesn't happen automatically. It demands our action and participation. It challenges us, but it also empowers us because at the end of the day, it is us."
There's so much truth packed into Milano's succinct statement. At times, it can feel like democracy doesn't work for the people — or rather, it works far more often for people in positions of power. However, one of the clearest paths to change is voting for candidates who will advocate for women's rights, people of color, the LGBTQ+ community, fair immigration laws, and other issues that can make the country a better, safer place for everyone.
Milano's belief in changing the system from the inside out shines throughout her speech. The Charmed actor and activist used her eight minutes at the podium to encourage attendees to stay focused and work hard to inspire those around them not to be complacent when election time arrives. In October, Milano shared the hashtag #MeToo that was created by Tarana Burke almost a decade prior, and the response that she received from people who had been sexually harassed or assaulted was staggering.
After her tweet, the #MeToo movement took off in a major way as more and more women in Hollywood and beyond felt empowered to tell their stories. The movement seemed to be on Milano's mind as she spoke in Atlanta. She said,
"With those two words, we regained our dignity and #MeToo connected us through our pain but it also connected us —and this is very important — it connected us, each one of us, to our own power, and by saying #MeToo, we formed a bond that is unbreakable. We formed a movement that is unstoppable and when time comes time to vote, you're gonna prove that it's also unbeatable."
By the end of her speech, Milano had the entire crowd chanting, "I believe that we will win!" Her enthusiasm for the movement and for democracy was apparent, and it's never been clearer that the path to change truly is at the polling booth. Milano isn't naive though; she called out Georgia's Secretary of State, Brian Kemp — who is planning on running for governor — for reportedly doing nothing to stop the closing of polling places in small communities which contributes to the disenfranchisement of black voters in particular.
Despite everything, Milano still believes in the power of democracy, and she made it clear that she wants to see it in action during the midterm elections. Milano told the crowd,
"Voting is how we prove that our country is so much bigger and kinder than one man that is in the White House. The good news is that in a democracy like ours, the real power is not with him, it is with you. Let me tell you, we've got a whole lot more love and hope on our side than they have a**holes."
There's power in voting, and at the 2018 Women's March, Milano made sure every single person in the crowd heard that message loud and clear.
If you or someone you know has been sexually assaulted, call the National Sexual Assault Telephone Hotline at 800-656-HOPE (4673) or visit online.rainn.org.