Amy Schumer Was One Of The Kavanaugh Protesters Detained By Police At The Senate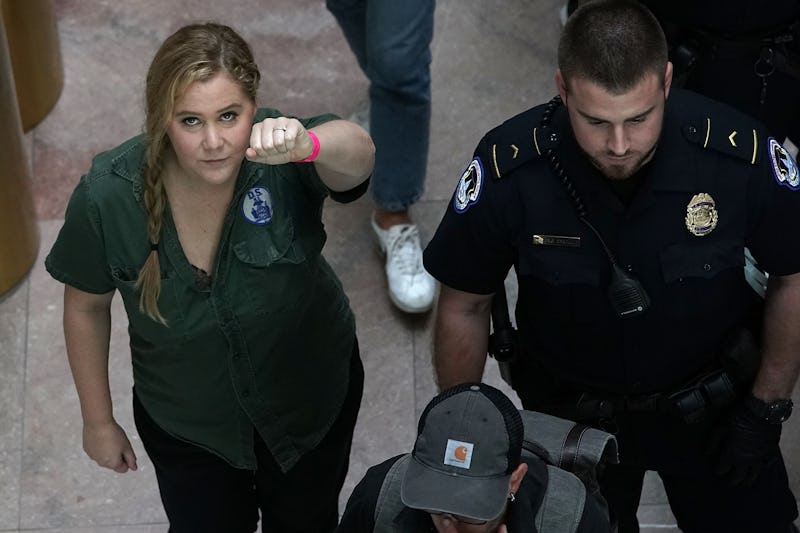 Alex Wong/Getty Images News/Getty Images
Thousands of people marched in Washington, D.C. on Thursday to protest the confirmation of Supreme Court nominee Brett Kavanaugh after the FBI released the report of its investigation to the White House and the Senate. Among the demonstrators was Amy Schumer, who was reportedly detained while protesting Kavanaugh on Capitol Hill.
Update: Capitol Police tells Bustle in a statement that nine people were arrested and charged with "Crowding, Obstructing, or Incommoding." The statement added, "At this time, we are unable to confirm the names of those arrested due to the large number being processed."
Earlier: Bustle has reached out to Schumer's publicist; Schumer's legal representatives declined to comment.
According to MSNBC, Schumer was detained at the Hart Senate Office Building alongside other anti-Kavanaugh protesters. Video footage of the protest shows a police officer asking Schumer and other protesters if they want to be arrested. Schumer, who was carrying a sign that read, "We believe Anita Hill," responded, "Yes." She was also wearing a green shirt that read, "This today, then #ERA," on the back, per USA Today.
Another Twitter user named Zola posted a video of Schumer saying that she was protesting alongside Zola's mom. "I think we are going to get arrested and we're so proud of you," Schumer tells Zola in the video.
Model Emily Ratajowski posted on Instagram and Twitter that she was also arrested in D.C. for protesting Kavanaugh. According to CNN's Joel Williams, Ratajowksi was with Schumer in the Hart Senate Office Building.
"Men who hurt women can no longer be placed in positions of power," Ratajowski tweeted after she was arrested. (Kavanaugh has been accused of sexual assault; he denies the allegations.)
Earlier in the day, Ratajowski and Schumer joined other demonstrators and New York Sen. Kirsten Gillibrand outside the E. Barrett Prettyman Federal Courthouse, where the #CancelKavanaugh protest began.
"Emily and I just wanted to thank you all so much for showing up today," Schumer told the crowd of protesters, per The Hill. "That's what we're going to do. We're going to keep showing up and no matter how this goes, they cannot keep us down. We will win."
"A vote for Kavanaugh is a vote saying women don't matter," Schumer added, as she urged the crowd to continue fighting and showing up for what they believe in.
Thursday's protests took place after the senators gained access to the FBI's report on its investigation of Kavanaugh. According to key Republican senators like Maine Sen. Susan Collins and Arizona Sen. Jeff Flake, the FBI's probe into sexual assault allegations against Kavanaugh was "very thorough" and contained "no additional corroborating information," though it is still unclear how they and Alaska Sen. Lisa Murkowski plan to vote. Democrats, however, denounced the report as a "sham," and argued that the FBI did not reach out to many key witnesses who were willing to be interviewed.
Schumer and Ratajowski were two of many celebrities who have been protesting Kavanaugh's confirmation. John Legend tweeted his support of Thursday's #CancelKavanaugh protest, while Lena Dunham and Whoopi Goldberg were both expected to attend, according to USA Today.
Despite backlash from protesters and Democratic lawmakers, Republican senators will likely vote to end the debate on Kavanaugh's confirmation on Friday, ABC7 reported, and the Senate is expected to conduct a full-floor vote on Saturday.
Read More About Brett Kavanaugh's Confirmation Process
Here's What Will Happen Next If Kavanaugh Is Confirmed To The Supreme Court
You Can Now Read Kavanaugh's Entire High School Yearbook — And What He Wrote In It
The Video Of Christine Ford's Opening Statement Is Gut-Wrenching
Trump Mocked Christine Blasey Ford In Front Of Thousands Of People
11 Brett Kavanaugh Petitions You Can Sign To Let Senators Know Where You Stand
How To Contact Joe Manchin, Susan Collins, & Other Possible Kavanaugh Swing Voters