Amy Schumer Continues Her Trend Of Approaching Pregnancy With A Sense Of Humor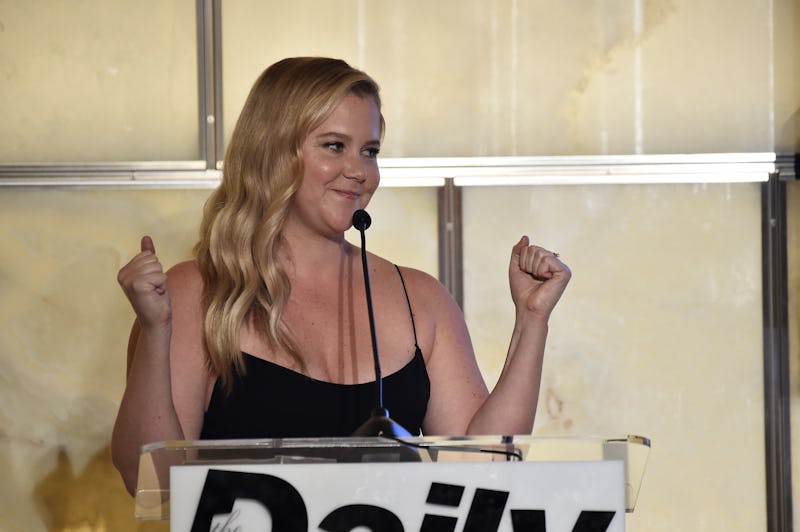 Steven Ferdman/Getty Images Entertainment/Getty Images
After announcing her pregnancy in an amusing and politically minded way, Amy Schumer is back at it again. On Thursday, Schumer posted her first pregnancy photo on Instagram. In the silly and casual selfie, she's joined by her sister Kim Caramele and a friend as she flashes her pregnant stomach. While some celebrities over the years have done elaborate reveals of their pregnancies on social media (here's looking at you, Beyoncé), Schumer's most recent pregnancy update continues her comical take on becoming a parent.
Schumer announced that she and husband Chris Fischer were expecting via journalist Jessica Yellin's Instagram on Oct. 22. Since then, Schumer has clearly been having fun posting references to her pregnancy and her first selfie is no exception. Her friend took the photo that has Schumer revealing her stomach while walking down the streets of New York City. The informal shot also features Schumer's sister Caramele in a Gryffindor hat. The whole thing is charmingly casual, as it highlights a woman just going about her day while pregnant. However, Schumer's use of emoji hints at her excitement since the only caption she provided was that of the family of three emoji.
But lest you think even that was too serious for the comedian, on close examination, you can see it's the family emoji that features two women and a girl. So perhaps it was more a reference to her friend and sister accompanying her than anything else.
This kind of tongue-in-cheek post has Schumer's signature style when it comes to sharing about her pregnancy. Sure, the initial announcement had a serious message urging people to vote in the 2018 midterm elections, complete with her candidate picks. But even that had lighthearted elements since Yellin's post ended with "I'm pregnant —Amy Schumer." And Schumer's original post directing people to check out the former White House Corespondent's Instagram spoofed a photo of Prince Harry and Meghan Markle, who is also pregnant.
Schumer has joked that she'll be competing with Markle throughout their pregnancies. And in an Instagram Story, Schumer wrote she was also visiting Fiji like the American princess when in reality Schumer was leaning over her toilet presumably during a bout of morning sickness. And the jokes haven't stopped there — after all, they're part of Schumer's job description.
Schumer is currently promoting Season 2 of her Spotify podcast 3 Girls, 1 Keith, which features Bridget Everett, Rachel Feinstein, and Keith Robinson. So she used a future baby generator to share what her and Everett's baby would look like. She also shared a photo where Robinson appeared to be the father. And obviously, Fischer must have a good sense of humor about the whole thing too since this isn't the first time that Schumer has cracked a joke about the paternity of her baby, telling the Los Angeles Times, "Chris and I are thrilled and almost positive he's the father."
Besides knowing how to rock Harry Potter-themed accoutrement, her sister is also down to clown. Caramele shared a photo of her sister and brother-in-law dressing their dog up as a sheep for Halloween and captioned it, "They are going to be UNBEARABLE parents." Also, please be advised that Fischer and Schumer's dog's name is Tatiana Maslany after the Orphan Black actor, so just wait for the epic name they choose for their human child.
All of Schumer's humor surrounding her pregnancy not only allows her fans to laugh as they follow her pregnancy journey, but it also highlights how she has no intentions of slowing down. Besides her political advocacy, she responded to a comment made by PerezHilton.com. The website's Instagram page wrote that her "career has stalled." She wrote back in the comments how she'll be touring doing standup November through January and that "some assume we disappear when we are pregnant. Quite the opposite."
So even as Schumer laughs her way through her pregnancy, she's still using her platform to shatter stereotypes about women and promote political causes. And her fans wouldn't want it any other way.