Khloé Has The Best Reason For Not Marrying Tristan — Yet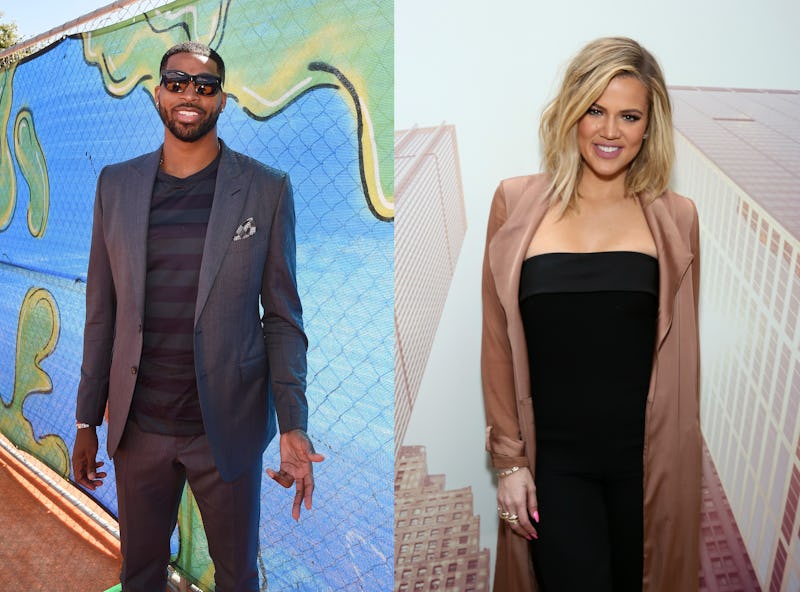 Kevin Winter/Getty Images Entertainment/Getty Images; Cindy Ord/Getty Images Entertainment/Getty Images
Seeing as Khloé Kardashian and Tristan Thompson will soon welcome their first child together, fans might be wondering if Kardashian and Thompson are married. First of all, just because two people are having a child, doesn't mean they have to be married or be getting married. Plus, when has the Kardashian-Jenner family ever been traditional? So, to answer that question, no, they are not married — and they have a very good reason.
The Keeping Up With the Kardashians (executive producer: Farnaz Farjam) star actually chatted about marrying Thompson during a January appearance on The Ellen DeGeneres Show (director: Liz Patrick). After Ellen DeGeneres asked if the reality star will marry the NBA player, Kardashian answered, "I hope so, but I'm not in a rush for any of that. As you know, I've rushed quite a few things before. So, right now, I'm so loving the place I'm in my life. I'm just very happy with how things are going."
The 33-year-old also revealed that she and her boyfriend of a year and a half have talked about getting married, but they're moving at a slower pace, especially since they are blissful right now. She said, "Yeah, we talk about it, for sure, but we're both just happy where we are. What's meant to be will be."
Kardashian made it clear in an August 2017 interview with The Mail on Sunday's YOU magazine that marriage isn't going to make her any happier than she already is, nor is it an act she needs to partake in to make her feel complete. The Revenge Body (executive producer: Larissa A.K. Matsson) star loves her life as is, so that's all that matters.
"I'm in the best relationship I've ever been in and it doesn't take a ring for me to feel that way." She continued, "I believe in marriage and I want to be married again one day but I don't have a time frame. Why do people think that marriage equates to happiness? There are a lot of people in unhealthy marriages."
Kardashian knows what it's like to experience a rocky marriage. After only one month of dating, she married professional basketball player Lamar Odom. They officially divorced in December 2016. Unlike her relationship with Thompson, Kardashian and Odom moved extremely fast, so maybe she wants to do things differently this time around and that's totally OK.
As Kardashian told the Evening Standard in April 2017, she would absolutely accept a proposal from Thompson, but there were no wedding plans at that moment in time. She also said that she's "never been in this type of love", so the chances of them one day making their relationship even more official seem pretty high.
In February, she opened up on her app about how she knew Thompson was "the one" and the fact that she refers to the pro-athlete that way says it all. You don't use those words to describe just anyone. "It's really easy to fall in love with someone during a honeymoon phase when you haven't yet discussed the logistics of life," Kardashian said in her app post. "But you have to talk about the real things if you want a real/long-lasting relationship."
That's exactly what the happy couple did. They took their time and were able to get to know their "ins and outs". They talked about past relationships and religious beliefs, among many other important topics, which bonded them. As she said, "I knew Tristan was the one very quickly — I have never felt so comfortable or so safe with someone."
Just because they aren't ready at this point in their lives to tie the knot that doesn't mean Kardashian and Thompson will never get married or that they're ruling it out altogether. Even she said herself that she hopes one day they will say "I do", but right now they're content. Why fix something that isn't broken?