Ariana Grande Teased This Super Cute "Pete Davidson" Lyric Way Back In May, But Nobody Noticed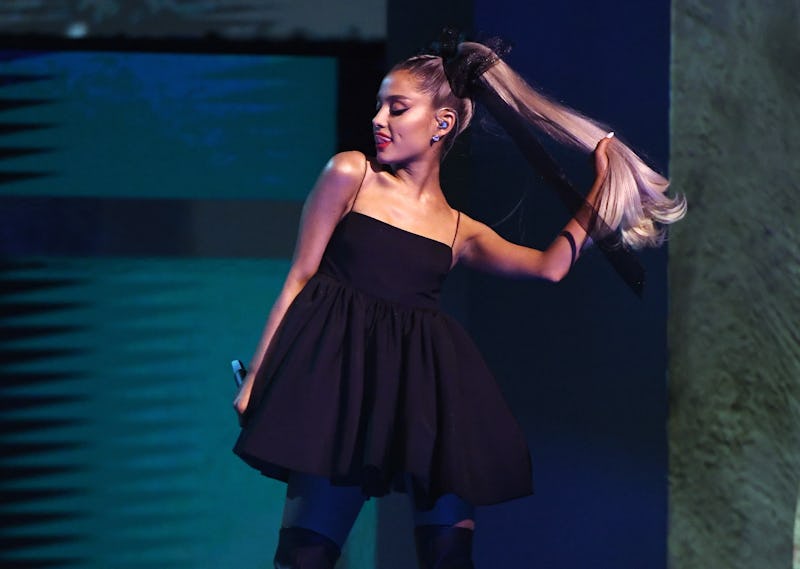 Ethan Miller/Getty Images Entertainment/Getty Images
Ariana Grande released her newest album, Sweetener, on Friday morning, and there's one song that has become the biggest focus on conversation in the weeks leading up to the big day: "Pete Davidson," the interlude that Grande wrote about (and named after!) her fiancé. But, despite everyone's constant speculation about the song, it turns out that Grande teased the "Pete Davidson" lyrics months ago, and nobody noticed.
After announcing the track list for Sweetener, Grande received some criticism about naming a song on her album after Davidson, especially since she and the SNL star had only been together for a short while, but it turns out that Grande was writing songs about her new love from the moment they started hanging out. In fact, she even teased the lyrics to "Pete Davidson" way back in May, without anyone realizing what she was doing.
Shortly after publicly confirming their relationship in May, the singer posted an Instagram snap of her and Davidson cuddling, along with the caption "i thought u into my life 💭 woah ! look at my mind 💡⚡️🙈." Though it seemed at the time to be just a cute nod to how happy Grande was with her new beau, it turned out to be the opening lyrics of "Pete Davidson." It turns out that Grande was giving fans lyrics straight off her new album, and fans were none the wiser.
In an interview with Jimmy Fallon on The Tonight Show on Thursday, Grande revealed that she had written the song about Davidson "like a week after we started hanging out," and added that she "just made it and sent it to him." Considering rumors about the couple dating began swirling in the middle of May, it makes sense that Grande would be teasing the lyrics to the song by the end of the month, along with adorably cuddly photos of the couple together.
And if fans were worried that their whirlwind romance was happening too soon, the rest of the lyrics to "Pete Davidson" should convince them that he really is her "soulmate." After all, she herself wrote that the "universe must have [her] back," so their love was clearly preordained by the stars, or at least, that's what it feels like for Grande.
The singer has a habit of teasing out song lyrics for fans on social media — in the days before Sweetener's release, the singer tweeted out lines from "Breathin," "Pete Davidson," and "Goodnight n Go" — as well as using lines from upcoming songs as Instagram captions to tease fans about what's to come. Of course, while some were able to spot lyrics from "God Is a Woman," and "No Tears Left to Cry," the "Pete Davidson" caption went unspotted for months, until the first time the world heard Grande's ode to her comedian beau.
In the months since Grande wrote "Pete Davidson," the couple have gotten engaged, moved into a New York City apartment together, and continued to show how madly in love with one another they are, whether it's through Instagram posts or appearances on talk shows.
Regardless of what the future holds for the happy couple, one thing is for sure: Grande fell head over heels for Davidson from the very beginning of their relationship, and she has never been afraid to talk or write about it. And after everything the two of them have endured, it's nice that Grande and Davidson have something in their lives to make them — as the song says — "happy, happy."