Ariana Grande's Manager Defended Pete Davidson On IG After Fans Told Him "Thank U, Next"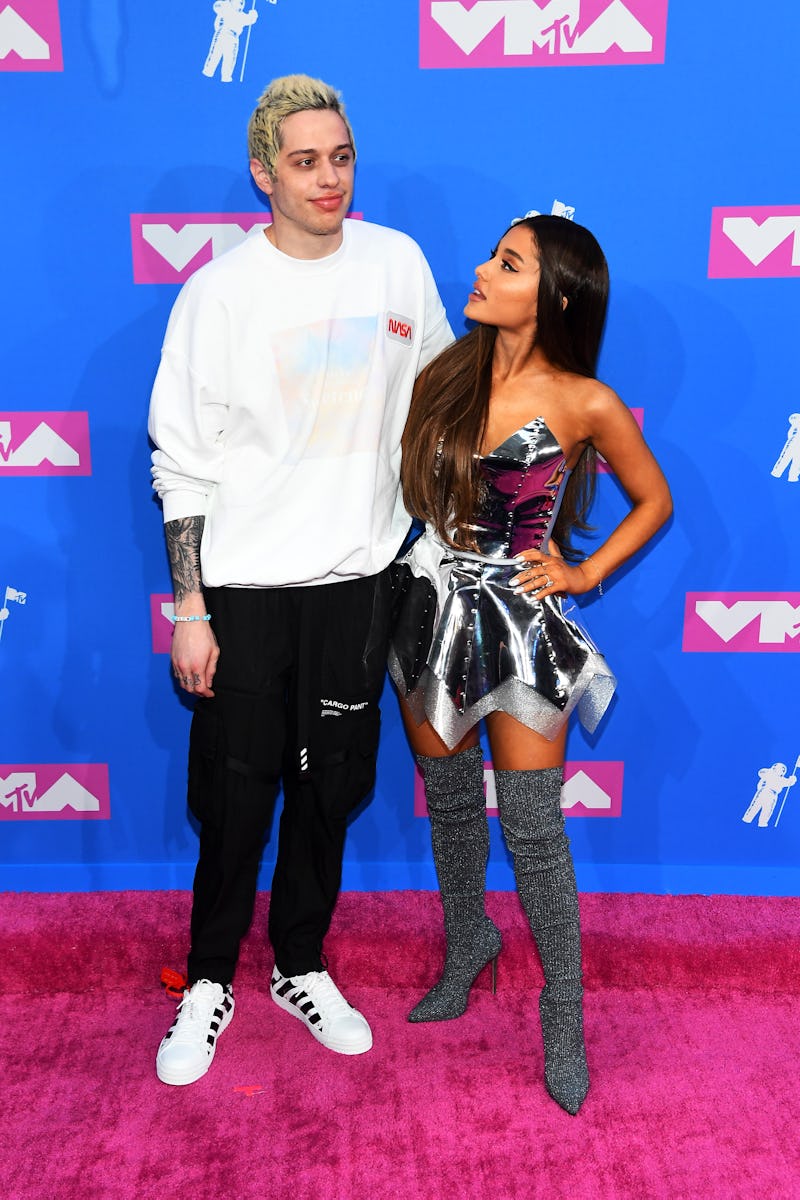 Nicholas Hunt/Getty Images Entertainment/Getty Images
There's been some drama surrounding this celebrity couple's breakup, but on Instagram on Wednesday, Ariana Grande's manager, Scooter Braun, defended Pete Davidson. As reported by BuzzFeed, Braun took to Instagram and commented on Davidson's series of photos promoting his new movie Big Time Adolescence that's premiering at Sundance Film Festival in January. However, Braun didn't hop on to congratulate the Saturday Night Live star, but rather came to his defense after many people posted negative remarks.
According to BuzzFeed, after one user commented, "Ur cancelled tysm for breaking with Ariana bc she's doing much better BYE," Braun wrote the following response:
"Stop the bullsh*t. It is nothing like that and Pete is a good dude. No one has hate for this guy and he is a stand up guy. Show respect because trust me everyone on this side knows he deserves it and wishes him well."
Bustle could not locate Braun's comment in question, so it's unclear if it's been deleted. However, in addition to BuzzFeed's report, several fans also tweeted screenshots of the exchange.
Many of the other negative comments posted on Davidson's Instagram read, "Thank U, Next," which is obviously in reference to Grande's newest song released post-Davidson.
In the song, Grande mentions many of her exes names, including Davidson. According to the singer, her exes heard "Thank U, Next" before it's release. Rather than looking at the song as a negative piece of music, it's actually quite positive. Like Grande tweeted on Nov. 3, "no drags.... no shade..... jus love, gratitude, acceptance, honesty, forgiveness ... and growth."
After the song's release, Davidson spoke about their split during the Weekend Update sketch during SNL's Nov. 3 episode. He said,
"The last thing I will say is I know some of you are curious about the breakup, but the truth is, it's nobody's business. And sometimes things just don't work out, and that's OK. She's a wonderful, strong person, and I genuinely wish her all the happiness in the world."
Grande and Davidson ended their engagement in October after a whirlwind romance, multiple outlets reported at the time. Neither the singer nor the comedian have commented directly or ever released an official statement regarding their breakup.
As for Braun's Instagram comment, it's important not to take his response as confirmation on how Grande feels personally about Davidson. No one should assume Braun's response is him speaking on behalf of Grande, especially because he's her manager. Just because Braun wrote "everyone on this side," that doesn't mean Grande is necessarily included in that group. She has her own thoughts, feelings, and opinions, which she most certainly isn't afraid to express herself. If or when she wants to defend Davidson, the Sweetener artist will do it on her own terms and in her own words.
Everyone should also remember that Grande isn't someone who stands for bullying or trolls. Several times, she herself has taken a break from social media. She's about uplifting others and spreading love, which is something her fans should take into consideration whenever they feel the need to comment on Davidson's Instagrams.