You Can Get A Clear View Of Ariana Grande's Rumored Engagement Ring In These New Photos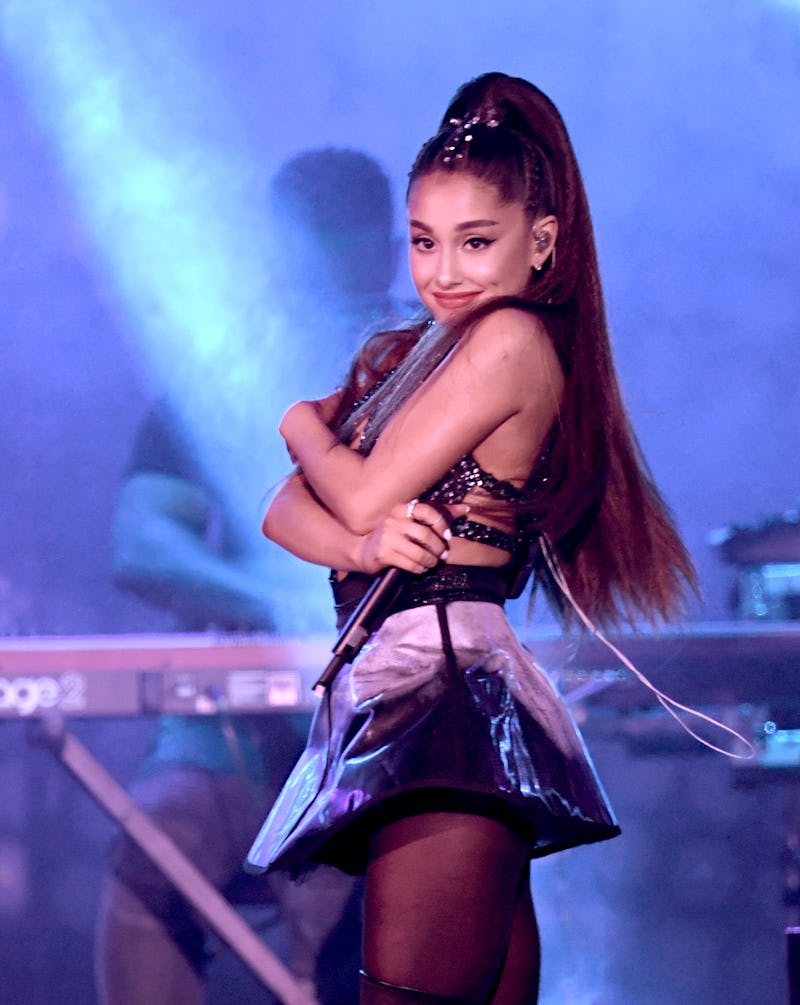 Kevin Winter/Getty Images Entertainment/Getty Images
Ariana Grande and Pete Davidson haven't spoken out about their reported engagement, but actions — and giant diamond rings — may speak louder than words. Grande's rumored engagement ring was on display on Thursday night, which could be the couple's way of confirming the reports. Grande's ring has been seen before, but this was the first time she's displayed it in such a major way since the engagement reports broke earlier this week. (Bustle reached out to Grande and Davidson's reps about the engagement reports, but did not receive an immediate response.)
As E! News reported, Grande's performance was at the Songwriters Hall of Fame 49th Annual Induction and Awards dinner in New York. While she sang at the event, the sparkler on her left ring finger was clearly visible to guests (and photographers) who were there. It definitely looks like an engagement ring, with its pear shape and its serious sparkle. And apparently, Grande's been hiding the ring in plain sight for quite some time. The singer has worn the ring during other recent performances, including when she sang at the iHeartRadio and 102.7 KIISFM's Wango Tango concert. But fans didn't think anything of it at the time, since it was before the engagement rumors started.
Here's a snapshot from the Songwriters Hall of Fame performance:
The jeweler who's reportedly behind Grande's engagement ring has also spoken out about the bauble in a recent interview with E! News. Greg Yuna told the outlet that Davidson approached him in May about getting the ring made. He told E! News,
"Pete called me at the end of May and said 'Look, I'm getting a ring. This is what I want.' And I told him that I had the right ring for him. He didn't tell me who it was for but told me to keep it a secret. He didn't tell me anything about it."
Yuna also told the outlet that the ring cost $93,000. But can you really put a price on love?
It's worth pointing out that Grande and Davidson haven't actually confirmed their engagement, and they haven't confirmed that this is, indeed, an engagement ring. In fact, some fans believe Grande's reported engagement ring might not be new at all, since it looks similar to other diamond rings she's worn in the past.
On the other hand, though, Grande and Davidson's Instagram flirting shows just how into each other they are. So if they are engaged already, it wouldn't be a huge surprise for fans. Plus, Davidson already has two Grande-inspired tattoos, so the diamond ring could be the singer's way of showing her love for him in return. (That's not to mention the rumors that Grande and Davidson have matching cloud tattoos, either.) Despite the lack of confirmation on their part, plenty of fans have already accepted Grande's engagement ring as fact, and they're praising the ring for how beautiful it is.
Yes, the timeline behind Grande and Davidson's relationship is a bit fuzzy, especially if Davidson went to Yuna about the ring in May. But based on their Instagram posts and comments, it looks like the two of them are happier than ever. They may not have been dating for long, but they're definitely enjoying each other's company.
Still, it would be nice if the two of them actually commented on the reports, if only to ease fans' minds. Grande and Davidson have already made their love of Harry Potter super apparent — maybe they're planning a Harry Potter-themed engagement photo shoot? That's probably a pipe dream, but then again, the engagement reports seemed to come out of nowhere, too. But it looks like the two of them are a Gryffindor-Slytherin match made in heaven, even if they're keeping the details about their rumored engagement quiet for now.