Blue Ivy's Message To Rumi & Sir On "Boss" Is Too Cute For Words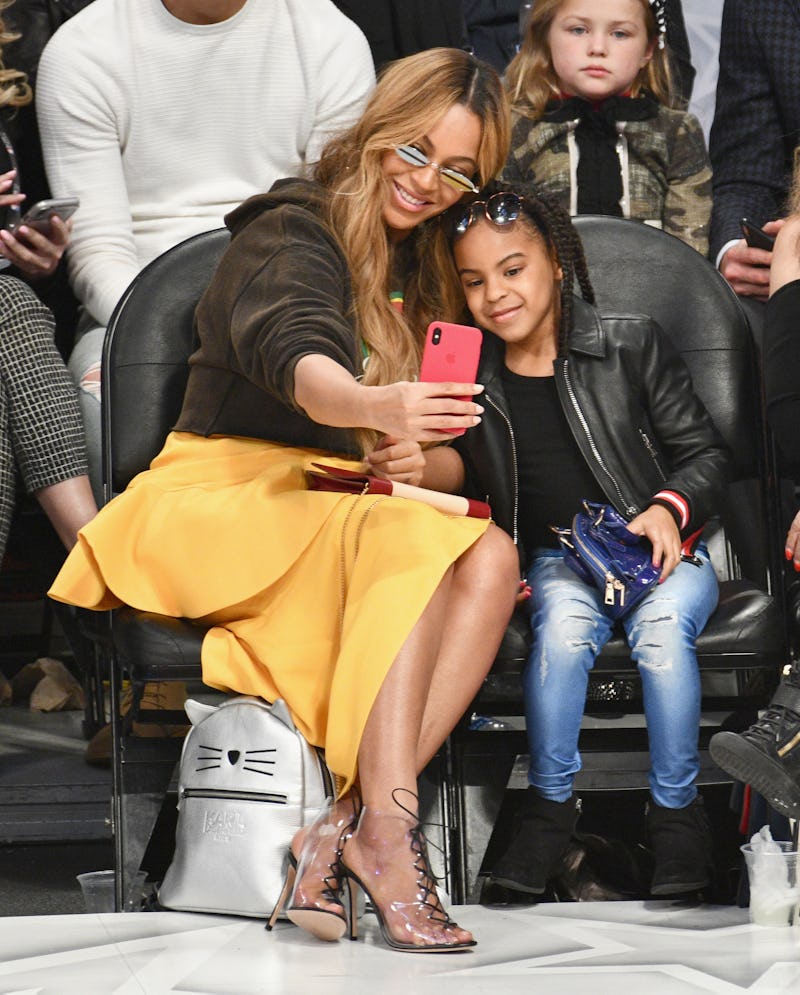 Allen Berezovsky/Getty Images Entertainment/Getty Images
Did you think the joint Beyoncé and JAY-Z album Everything is Love couldn't get any more perfect? Well, you're right. It's already perfect. Everything about it is, right down to Blue Ivy's message to Rumi and Sir on "Boss". "Boss" is an empowering anthem that honors the fact that the Knowles-Carters — or, for the sake of this album, the Carters — are legit bosses, in every sense of the word. Plus, it's a bop! Then, once the horns fade out, and you think the song is over... it's far from over. In fact, Blue Ivy Carter steps up on the track.
Her message is short, sweet, and simple:
"Shout-out to Rumi and Sir. Love, Blue."
And the song ends. It's a masterpiece. Fans rarely hear the voice of Blue Ivy — though it's far from the first time she's appeared on one of her parents' albums. Her newborn cries famously appeared on JAY-Z's track "Glory", which easily (and appropriately) made the actual baby probably the youngest contributor to a song ever. It makes sense that Blue would pop up on "Boss", out of all the songs on Everything is Love, as the song openly celebrates her family's success.
The lyrics to "Boss" include not allusions, but straight-up references to how well Beyoncé and JAY-Z have done in their industry, noting that their family will be set for generations to come. Beyoncé notes that between her husband and herself, they've increased the number of people of color on the Forbes list of the world's wealthiest people for decades in the future. It's incredible. So it makes sense that, on a track that's so obviously a tribute to the love and success that thrive in the Knowles-Carter home (take that, haters), young Blue would send a message of her own to her younger brother and sister.
For now, the Everything is Love album is only available to listen to on TIDAL. For those wondering why, a quick refresher: JAY-Z co-founded the streaming service as a more artist-friendly alternative to Spotify. Beyoncé owns shares in it as well. Lest you think they're not a distinctly anti-Spotify family, look no further than... this exact album. On the song "Nice", Bey shades Spotify by name — accusing the streaming giant of profiting off of artists that barely see returns on listener engagement.
Though Blue Ivy was just a few days old (literally days) when "Glory" dropped in 2012, it's obvious that she's grown and matured since then. Well, as much as a 6-and-a-half-year-old can. Her brother (Sir) and sister (Rumi) recently celebrated their first birthday — on June 13, to be exact — a milestone that Bey and Jay reportedly announced during their show that evening. As of now, it does not appear that the twins have made their recording debuts yet, but that's okay! As any older sibling knows, once the new kids on the block are introduced, it's important that some things feel special and unique to them. Blue Ivy can say that she was featured on at least two of her parents' albums before she even hit first grade, and that's quite an accomplishment.
As JAY-Z reminded listeners with his album in December 2017, nobody wins when the family feuds. If listeners had any doubts about Mr. and Mrs. Knowles-Carter before Everything is Love, it seems as if America's First Family is ready to shut them up for good — especially with "Boss". The song honors the hard work the couple have put in to everything they touch, and this extends to raising a family. Including Blue's precious shout-out to her younger twin siblings underscores the family togetherness they're clearly emphasizing with an album that puts love first.