Carrie Fisher's Surprise Grammy Nomination Is Worth Celebrating For More Reasons Than One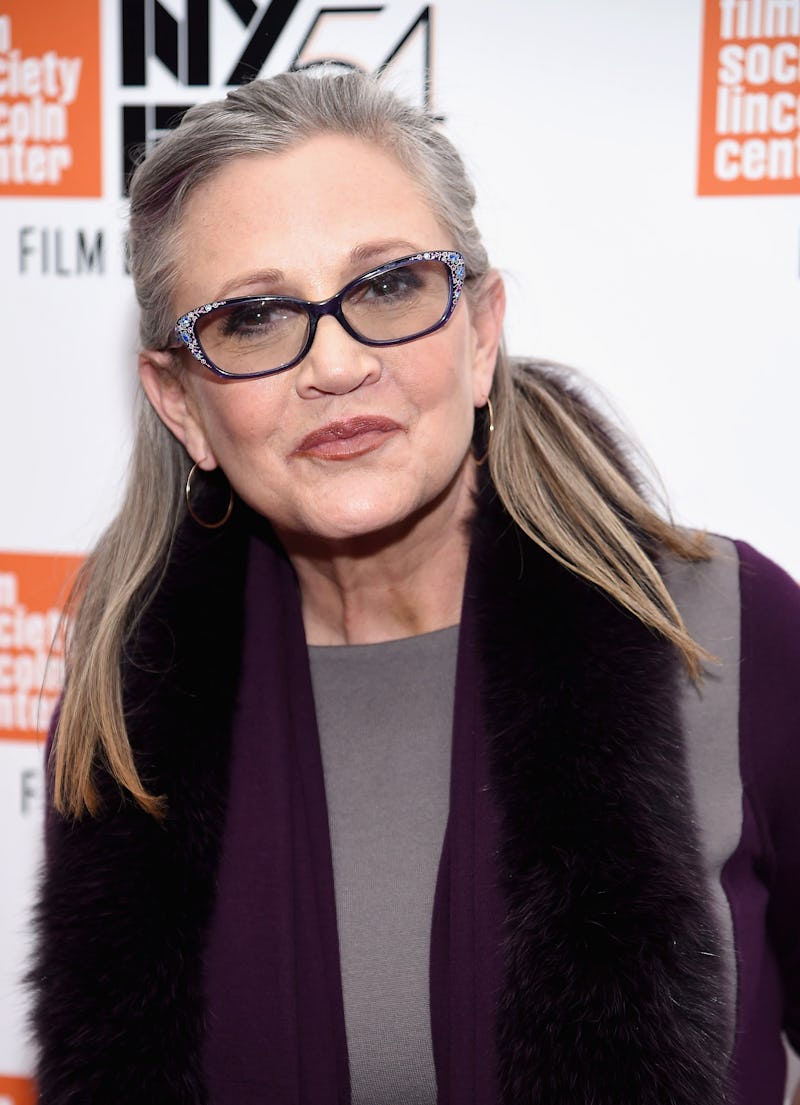 Dimitrios Kambouris/Getty Images Entertainment/Getty Images
It's been nearly a year since Carrie Fisher passed away at age 60, but that doesn't make the loss any easier for fans of the Star Wars legend. While they'll get to see her on the big screen next month, there's another way to celebrate her legacy: Fisher was nominated for a 2018 Grammy on Tuesday. The audiobook for her memoir, The Princess Diarist, is up for the Best Spoken Word Album. According to a press release from Penguin Random House Audio, while this isn't the actor's first nomination, it would be her first Grammy victory, if she does indeed take home the trophy. It would be the perfect way to honor her memory, especially since it's such a personal book.
The book itself is described by Penguin Random House Audio as "Fisher's intimate, hilarious and revealing recollection of what happened behind the scenes on one of the most famous film sets of all time, the first Star Wars movie." Making the news all the more sweet, Fisher's daughter, Billie Lourd, is also featured on the audiobook. Per the press release, Lourd narrated Fisher's diary entries for the recording. As fans know, Lourd also appeared in The Force Awakens with her mother in 2015, and according to IMDb, she also appears in The Last Jedi.
If Fisher does win, there'd be nothing more full-circle and fitting than seeing Lourd take the Grammys stage to accept the award on her mother's behalf. Of course, let's not get ahead of ourselves or jinx it, since winners won't be announced until the actual ceremony. But over the past year, the 25-year-old has handled herself with such awe-inducing poise in an undeniably difficult time — whether the speech Lourd wrote about Fisher that was read at the D23 Convention or the time she spoke to Ellen DeGeneres about her mother's legacy, as well as that of her grandma, Debbie Reynolds, who sadly passed a day after Fisher. She also keeps her mom's memory alive through heartfelt Instagram posts.
While fans will have to wait until Jan. 28 to see if Fisher wins the trophy, that hasn't stopped them from celebrating in the meantime. Some took to Twitter to express their joy, even if it is a bittersweet occasion.
Others on Twitter noted the serious competition. In the 2018 Best Spoken Word Album category (which includes poetry, audiobooks, and storytelling), Fisher is up against Neil deGrasse Tyson, Bruce Springsteen, Bernie Sanders and Mark Ruffalo, and Shelly Peiken. Although it may have become cliché for people to say "it's an honor just to be nominated," it does seem like a celebratory occasion for Fisher to receive a nom, regardless of whether she takes home the trophy.
Fisher was first nominated for a Grammy in 2009 for her book Wishful Drinking. Just like The Princess Diarist, that book was autobiographical, reflecting on aspects of the actor's life in the public eye, including plenty of ups and downs. As true fans knew, Fisher didn't hold back about anything — from her battles with mental health as well as struggles with substance abuse. And that openness is one of many reasons fans admired her. She was candid and courageous, both in interviews and in her writing.
That's why a Grammy win for The Princess Diarist would be such a victory; it'd be celebrating Fisher for being herself unapologetically. As she wrote in the book,
"I liked being Princess Leia. Or Princess Leia's being me. Over time I thought that we'd melded into one. I don't think you could think of Leia without my lurking in that thought somewhere. And I'm not talking about masturbation. So Princess Leia are us."
Her signature wit and Star Wars legacy mesh together perfectly in that quote. Sure, she doesn't need a Grammy win to be remembered, but it would be one more beautiful tribute.