Carrie Underwood's CMAs Remarks About Vegas & Other Recent Tragedies Will Make You Emotional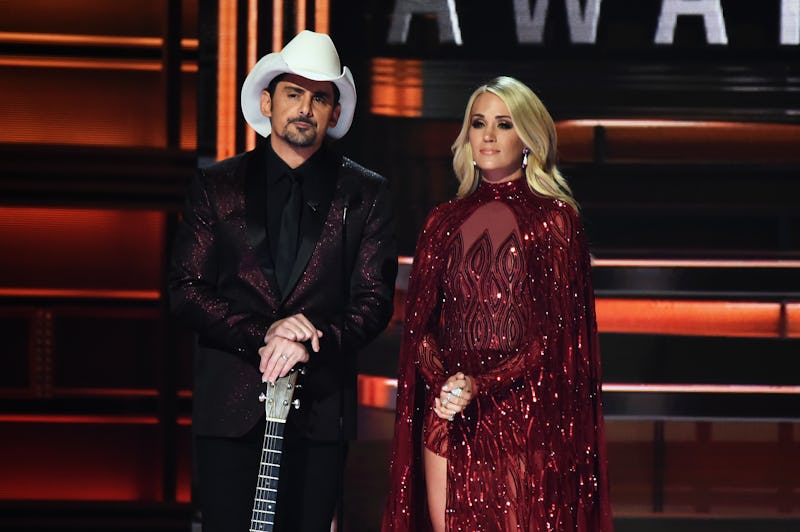 Rick Diamond/Getty Images Entertainment/Getty Images
After the Country Music Association Awards opened with a performance of "Amazing Grace" and "Hold My Hand," this year's hosts took the stage to share a moving sentiment. Carrie Underwood and Brad Paisley dedicated the 2017 CMAs to Las Vegas, as well as the victims of all recent tragedies in the U.S., spanning from mass shootings to natural disasters. Their comments are guaranteed to make you emotional, while also showing how powerful it is when musicians truly come together.
Underwood began the speech by listing a series of tragic events that happened all too recently:
"Las Vegas, Charlottesville, New York, Sutherland Springs. Historic storms in Texas, Puerto Rico, and Florida. And the list goes on and on. This has been a year marked by tragedy, impacting countless lives."
Referring to the country artists and their fanbase as a family, she then added, "So tonight, we're going to do what families do — come together, pray together, cry together, and sing together too." Paisley then chimed in with an equally heartfelt sentiment: "The best way to honor our fans is to play our music loud and proud."
After that, he added, "This year's show is dedicated to all those we've lost, and all those still healing. We love you, and we will never forget you." Fans on Twitter also appeared to appreciate the sentiment.
As a recap (although the events are likely still fresh in many minds), it was during country artist Jason Aldean's performance in Las Vegas last month that a mass shooting occurred, leaving more than 50 people dead. Then, on Halloween, New York City experienced what was deemed the city's most deadly terrorist attack since 9/11: a truck struck people on a busy bike path, killing eight and injuring others. And just this past weekend, a gunman opened fire at a church in Sutherland Springs, Texas, which resulted in 26 deaths, according to CNN. As far as Charlottesville, Heather Heyer was killed back in August while protesting at a Unite The Right rally, while a number of others were injured.
One of those tragedies on its own is tough to stomach, but having them back-to-back is all the more upsetting. It also is important that Underwood mentioned the hurricanes in Florida, Puerto Rico, and Texas, as those events were also devastating and resulted in lives lost. Some of those areas are still undergoing recovery efforts.
Part of what fans on Twitter seemed to appreciate the most about Underwood and Paisley's remarks is just how direct they were. They didn't hold back from acknowledging those lost, as well as those still reeling from these incidents.
And as far as Paisley's statement about playing their music loud and proud, the show's opening, which brought together countless country artists, is the perfect example of doing exactly that. Darius Rucker was joined on stage by Keith Urban, Lady Antebellum, Reba McEntire, and more.
It's currently unclear if more tributes to Vegas and the other areas affected will pop up throughout the night, but Underwood and Paisley certainly set the tone and started strong. As did the artists, who took the stage and performed in solidarity with one another. Not to mention, Eric Church's "Amazing Grace" opener further echoed the sentiment of honoring the victims and coming together in support.
If you're feeling inspired to give back, there are ways you can help the victims in Sutherland Springs, as well as ways to still give back and support the hurricane recovery relief effort, especially in Puerto Rico, where the Weather Channel reports that a majority of the island still doesn't have power, six weeks after the hurricane struck. As all of these situations prove, people are so much more powerful when they come together to help.