Celebrity Reactions to Trump's Charlottesville Speech Are Brutal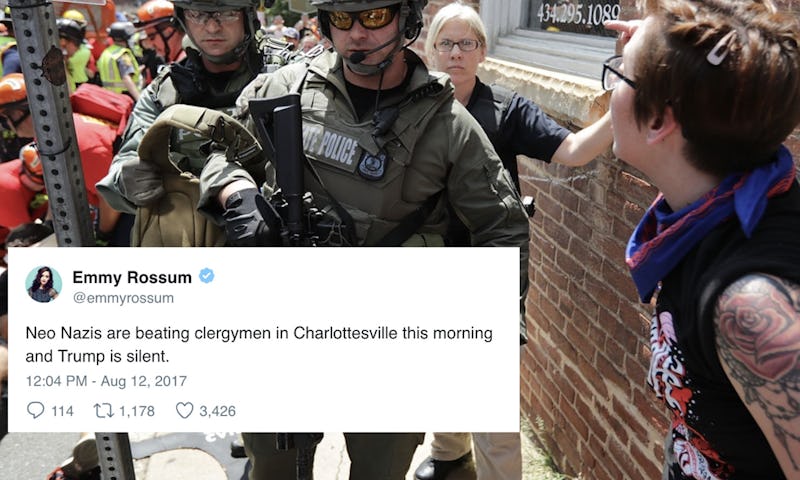 Chip Somodevilla/Getty Images News/Getty Images
Unrest that's been building since the November election of Donald Trump as U.S. president boiled over Saturday afternoon after a planned protest by white supremacists in Charlottesville, Va., turned violent, the New York Times reported. Celebrities responded to the Charlottesville protest on Twitter after the event left at least one person dead and several others injured, and prompted a state of emergency to be declared in Charlottesville. They had harsh words for Trump, who'd been silent until violence ensued.
Sheryl Gay Stolberg and Brian M. Rosenthal for the Times wrote that "the turmoil began with a march Friday night and escalated Saturday morning as hundreds of white nationalists gathered. Waving Confederate flags, chanting Nazi-era slogans, wearing helmets and carrying shields, they converged on a statue of Robert E. Lee in the city's Emancipation Park."
Counter protestors clashed with white supremacists who were allegedly spouting hate speech, and the march escalated into a violent skirmish that briefly caused police to retreat as "people were seen clubbing one another in the streets, and pepper spray filled the air," according to the Times.
Support for counter protestors has been filling social media feeds since last night, and celebs continue to condemn the white nationalist's actions, and the president's response. Others criticized Trump's slow reaction to what was obviously a situation where unrest and mayhem seemed to be a foregone conclusion before it even began. Trump's first response to the protest appears to be after the state of emergency was declared.
Both former President Bill Clinton, and former Secretary of State Hillary Clinton spoke out against the violence.
Shameless actor Emmy Rossum condemned Trump for not responding sooner to the volatile situation.
Actor, director, and producer Rob Reiner voiced that Trump is responsible for the Charlottesville tragedy.
Actor Don Cheadle condemned the actions of self-identified "Christians" who supprted the protest.
Lady Gaga urged fans to tweet at the president and urge him to act like a human being, and called for a true leader to help America reject hatred and violence.
New Yorker staff writer Jelani Cobb questioned Trump's motives.
Comediam W. Kamau Bell calls out Trump's apathy.
While some people, like Ellen Degeneres, tweeted that they were surprised this could happen in America.
Welcome to The United States in 2017.
Read more on the Charlottesville protests:
Here's What You Need To Know About The White Nationalist Rally In Charlottesville Today
Tweets About Charlottesville Capture The Chaos Of The Protest & How Terrified People Are
Melania Is The First Trump To Speak Up Against The Charlottesville Rally Violence
A Car Rammed Into Charlottesville Protestors & Caused "Extremely Heavy Injuries"
Here's How You Can Fight White Supremacy In Charlottesville & Beyond
Trump Condemns The Charlottesville Protest Violence From "Many Sides"
Hillary Clinton's Statement On Charlottesville Is Sneaky Subtweet At Donald Trump
One Dead After Car Mows Down Counter-Protestors In Charlottesville