Even Chris Cringed At His 'Bachelorette' Actions & He Explained It All In A Lengthy Instagram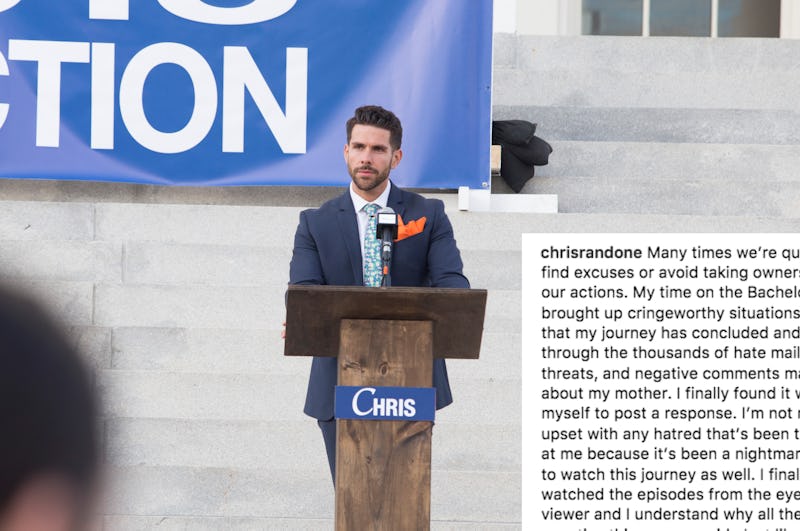 ABC/Paul Hebert; Chris Randone/Instagram
That last episode of The Bachelorette was difficult to watch. Now, imagine that you're Chris Randone and you had to watch that argument with Lincoln Adim, or any of the recent episodes. That has to be a difficult task. Now that he has been eliminated from the show, Chris admitted that even he cringed at his time on The Bachelorette. In all honesty, no one blames him for feeling that way. Most of the viewers did too, but at least he's owning up to his antics. Let's take a look at the former Bachelorette contestant's first social media post since Becca Kufrin sent him home.
Chris posted a photo of himself on Instagram on July 2, right after the most recent Bachelorette episode aired. Along with the photo is a very lengthy caption about his time on the show and the reactions from viewers. He began:
"Many times we're quick to find excuses or avoid taking ownership for our actions. My time on the Bachelorette brought up cringeworthy situations. Now that my journey has concluded and going through the thousands of hate mail, death threats, and negative comments made about my mother. I finally found it within myself to post a response." A death threat over The Bachelorette? There are so many things wrong with that. And why are people bringing his mother into this? She's not a contestant on the show."
Chris continued, admitting, "I'm not mad or upset with any hatred that's been thrown at me because it's been a nightmare for me to watch this journey as well. I finally watched the episodes from the eye of a viewer and I understand why all these negative things were said."
Just in case anyone needs a refresher. These are some of those reasons "all these negative things were said." Chris has been a super polarizing character. Right from the jump, he faced jokes for resembling "Crazy Eddie" from Friends. Chris immediately stirred up drama during the May 28 season premiere episode, accusing Chase of being there "for the wrong reasons."
Then, Chris upset Becca when he didn't make an effort to interact during their group date on the July 25 episode. He said that he even considered leaving the show, then he interrupted Becca while she was in conversation with fan-favorite Wills — which did not go well.
This week was even worse for the Bachelorette contestant. He told the guys that he wanted a two-on-one date so he could easily send someone home, which rubbed everyone the wrong way. He also turned a group debate that was supposed to be about explaining why he would be a good partner for Becca into a petty argument with Lincoln. He upset Becca during the group date after-party and killed the mood for everyone there (and the viewers).
During the episode, he wrote a letter to Becca and decided to visit her before the rose ceremony to "get their relationship back on track." That just made things worse and she opted to send him home before the rose ceremony. On top of that, she tried to politely walk him out and he refused to to take her up on the offer. It felt like watching a car wreck up until the very last second.
The recently eliminated contestant wrote on Instagram, "Just like you, I could barely watch the latest episodes in full without cringing and I'm truly sorry you had to endure that pain alongside with me. I take full responsibility for my actions on the show. I spiraled down and let my emotions get the best of me. To put it best, I failed." At least he's not trying to put a good spin on his behavior like so many past contestants have done.
Chris continued, "Knowing how strong minded I am and to see how weak I was really disappointed me. Yes, I was on a reality tv show and the dynamic is completely different than the real world but no matter what, you still have control. I lost control and it's something I own up to and send sincerest apologies to my family, friends, and viewers."
His self-reflection wasn't done though. Chris wrote, "Seeing this unfold over the past few weeks helped me understand many flaws and imperfections I have that needed to come to surface in order for me to become a better version of myself. Many times in life we're judged or looked at based on how we respond/react to certain situations and in this case, I dropped the ball, heavily." Unfortunately that last part is not an exaggeration.
Then he spurred flashbacks to Taylor Nolan during Nick Viall's season of The Bachelor when he admitted, "I lacked emotional intelligence which led to my disrupting behavior that was uncalled for." An emotional intelligence reference rarely goes over well in the Bachelor franchise. Chris confessed in his Instagram,
"I was insecure which was unattractive. Thinking I was entitled was not only embarrassing but a disgusting mindset. Now that this journey has come to an end, I can only move forward and learn from my mistakes. I can now say goodbye to this journey knowing there's a positive in all of this and it's knowing I can become a better version of myself, which is something I'm extremely grateful for."
He even apologized to Becca herself: "And to @bkoof I'm extremely sorry. I know you're not the greatest fan of me at the moment but you're an incredible person and I'm happy to know you found someone that's amazing."
Just like Chris' time on The Bachelorette, that Instagram post was a lot to take in and unpack. On a Tuesday afternoon, the previous night's episode of The Bachelorette is a hot topic of conversation, just like it is every week. There's only six days until the next episode of the show and someone else will become the most-talked about person on the show.
Sure, there's the Men Tell All special and Chris returning to the franchise on Bachelor in Paradise this summer, but for the most part, the tension between Chris and the other contestants will be old news soon enough. And maybe, just maybe, he might be able to turn things around and win over some of his haters.