The '90s Sitcom-Inspired Teaser For Chrissy Teigen & John Legend's Christmas Special Is SO GOOD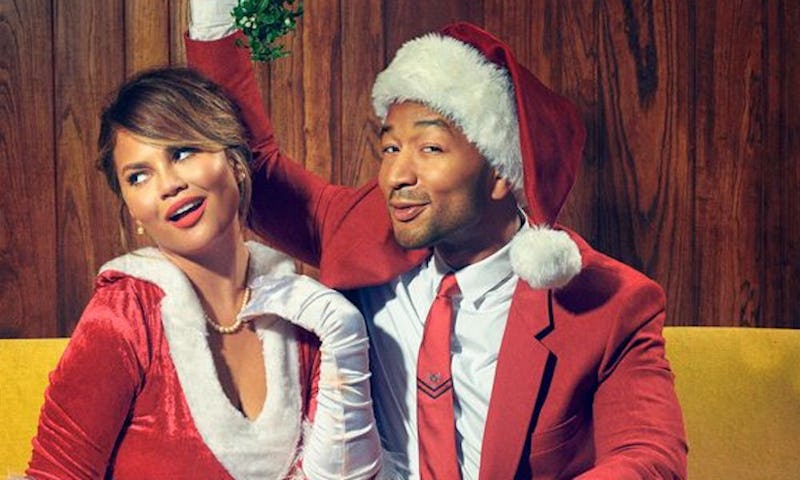 NBC
Everywhere you look, there's Chrissy Teigen winning Twitter, but it's her latest tweet that takes the holiday cake and will have you dreaming of a '90s TV show-inspired Christmas. The teaser for A Legendary Christmas Special with John and Chrissy, airing Nov. 28 on NBC, is the perfect throwback to the sitcoms of TGIF This time, though, you'll be saying TGIL — Thank God It's the Legends.
Teigen and Legend are making Christmas even more legendary with the teaser for their holiday special, which has them playing house in a rather familiar way for kids who grew up watching Family Matters or Full House. It all begins with a jazzy theme song that you'll be hard pressed to get out of your head. "Dreams always come a dozen a dime," Legend sings, mugging for the camera as the EGOT winner polishes his many, many awards. Totally relatable, right?
Then Teigen is casually caught just putting up a wreath and can't stop smiling about it. Soon, their daughter Luna gets in on the action having a little catch with dad. Seriously, what an arm on that one! And then it's Miles' turn to show off, serving Mary Kate and Ashley Olsen realness in his glamour shot.
Besides making fans wish this was a real sitcom, the Legendary Christmas clip teases cameos from their longtime friend Kim Kardashian, Stevie Wonder, Awkwafina, and Parks and Recreation's Ben Schwartz, which made Jean-Ralphio fans very happy.
Not to mention, those who still can't get enough of Steve Urkel were pretty excited about the clip. "I love this homage to Family Matters lmaoooo," The Ellen Degeneres Show's Kalen Allen tweeted. "Oh. A Miller-Boyette Production!" fan @scottcisco tweeted, shouting out the producers behind the best TGIF shows and no doubt, making everyone feel a little nostalgic for their childhood.
Other fans were impressed by Legend's commitment to character. "How good is @johnlegend at cheesy sitcom theme song poses?" a fan named @Tweet_Dec wrote. "Seriously I'd buy a calendar." Chrissy, can we make that happen?
Unfortunately, Teigen wasn't feeling the teaser for one very simple reason, and she let her followers know it. "It KILLS me that Luna is throwing the ball the wrong way before the next frame," Teigen tweeted, "but I swear it'll be good."
And honestly, no matter which way Luna is throwing the football it's hard to believe that this holiday special isn't going to be a new classic after it airs.
A Legendary Christmas Special with John and Chrissy will feature recipes from Teigen's Cravings cookbooks and songs from Legend's recently-released a holiday album. It might also feature performances from Legend's Voice buddies, Kelly Clarkson, Blake Shelton, and Adam Levine, who will be stopping by.
Also, have the tissues handy because Queer Eye's Fab Five are also slated to make an appearance. While no one knows quite yet what they'll be up to — maybe helping Santa get himself together for Christmas? — it's bound to get emotional. After this holiday special, you might be feeling all the feels. This includes feeling as if Teigen and Legend are officially everyone's favorite family to spend the holidays with.