Chrissy Teigen & John Legend's Son Is Even More Like His Dad Than You Realize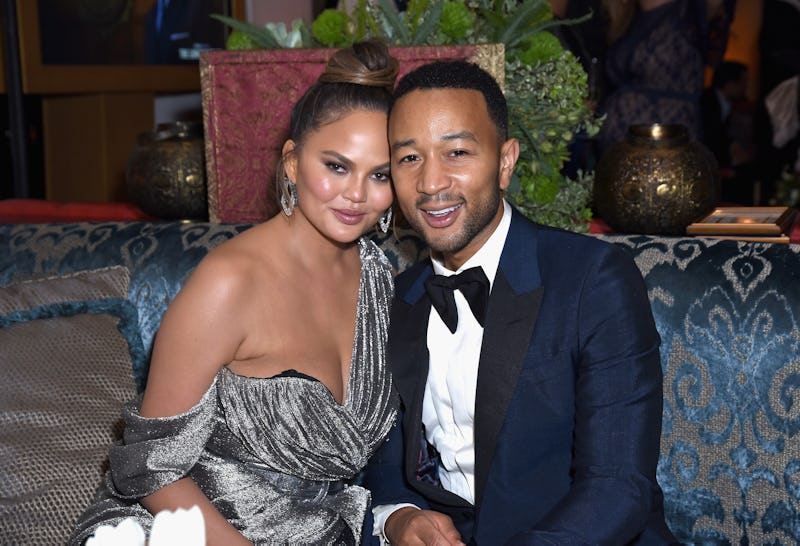 Presley Ann/Getty Images Entertainment/Getty Images
Anyone who follows Chrissy Teigen on social media already knows that her son Miles is a mini version of dad John Legend. But in an interview with E! News, Teigen revealed that Miles is like John Legend in more than just looks. Although Miles Theodore is only 5 months old, she noted that he has the same chill temperament as his dad. Teigen said that while Miles' older sister Luna has always been rambunctious, their second baby is more mellow. And hopefully, that'll reflect in the Halloween costumes that Teigen puts him in this year.
E! News spoke to the model, author, and television host at an event hosted by Sephora for Teigen's BECCA Cosmetics Cravings collection. When asked what baby Miles is up to these days, Teigen replied with a laugh, "Milk, that's a big one." But the always-affable Teigen gave more insight into her little one's life. "He loves being told he's handsome, like he really lights up. He's starting to roll and it's adorable to watch," she said. "Honestly, he loves the quiet moments. He loves story time and Luna was just like a bull. From the moment she came out, you just knew exactly that she was going to be such a Luna — like just a nutcase. Miles is reserved — he's just John. He's like this cuddly, lovable little ball."
So yeah, Miles' interests may understandably not extend beyond "sleeping and milk," like Teigen said, but he's already showing signs of being just like his dad.
As Teigen and Legend's photos on social media show, baby Miles is really the spitting image of his EGOT-winning dad. Teigen called Miles "my mini John" in a post that she did in partnership with Pampers. And Legend even provided a side-by-side comparison of Miles and a baby photo of himself.
Besides Miles' doppelgänger status and his similar disposition to his dad, Teigen posted a photo of her presumably singing to baby Miles. She captioned the post from July, "favorite song: copacabana." Since Miles is apparently already into music (unlike sister Luna), maybe he'll follow in his father's profession. After all, he is named for jazz trumpeter Miles Davis.
In her interview with E!, Teigen also talked about the family's plans for Halloween. She confirmed that she and Legend will dress up as they have in years past. And while their coordinated costumes are a secret, she said that Legend's will be "his funniest one yet" and she thinks people will be "pleasantly surprised." Also, if you have a Halloween party planned, you might as well extend an invitation to these VIPs since she added, "We don't even have anywhere to go, by the way. So if anyone invites us, that would be great."
As for the kids, she noted how she's not so sure that 2-year-old Luna will be down to trick or treat and she didn't reveal what Miles or Luna will be dressed as. But last Halloween, the family — minus Miles, who wasn't born yet — all coordinated for a Copacabana-themed costume from the 1947 movie. (Clearly, Teigen is a fan of the Copa.) She told E! that people have been sending her costumes for the kids though, so she probably has plenty of inspiration. When Luna was a baby, Teigen posted photos of Luna in her many costumes before donating the dress-up clothes to other families. So there's hope for another baby Halloween fashion show featuring Miles this year.
Besides the upcoming holiday, the family recently had another reason to celebrate. Teigen's mom, Vilailuck Teigen, became a U.S. citizen on Oct. 23. Teigen's video of her mom's ceremony that she posted on social media featured Vilailuck saying the Pledge of Allegiance while holding Luna. Legend also congratulated his mother-in-law on Twitter.
As Miles and Luna continue to grow, Legend and Teigen's children will obviously come into their own. But for now, they sure seem to mirror their parents with Luna being like her outgoing mom and Miles being like his cool, calm, and collected dad. And these kids sure have some pretty great role models to be taking after.