Why ABC Could Still Make Garrett The Bachelor Despite His Instagram Scandal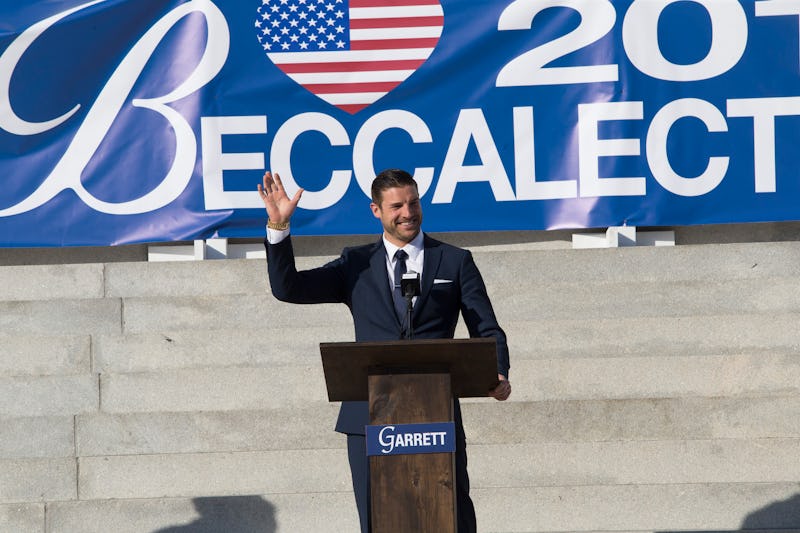 Paul Hebert/ABC
As Becca's season of The Bachelorette continues, it seems more and more obvious that frontrunner Garrett Yrigoyen could be one of the last men kneeling at the end. But, if he doesn't become Becca Kufrin's fiancé, it stands to reason that Garrett could be the next Bachelor, since the franchise often uses the first or second runner-ups to lead the next installment.
Garrett appeared likable enough when he wooed Becca with a minivan on the first night of The Bachelorette, and she gave him the first impression rose. But while you might be convinced that Garrett will win the entire season because of this early sign of favoritism, there's also a little bit of a precedent for the receiver of the first impression rose to end up as the Bachelor: After all, Nick Viall got Andi Dorfman's first impression rose and eventually became the Bachelor. And Nick gave Rachel Lindsay his first impression rose, and then she became the Bachelorette. So there's a possibility that if Garrett makes it to the final two or three that he could be the next Bachelor.
There's just one problem, and it's one that Bachelor Nation is already all too aware of. Garrett's behavior on Instagram was exposed just days before The Bachelorette aired. As former Bachelor contestant Ashley Spivey shared on Twitter, Garrett had apparently liked memes from Merica Supply Co.'s Instagram page. These memes took aim at feminists, undocumented immigrants, Colin Kaepernick, the trans community, and Parkland survivor and activist David Hogg.
Garrett confirmed this previous Instagram activity with a new Instagram account — gy_yrigoyen. He posted on May 31, "I am sorry to those who I offended, and I also take full responsibility for my 'likes' on Instagram that were hurtful and offensive." He explained that he deleted his old Instagram account "because I have learned an extremely valuable lesson and am taking steps to grow, become more educated, and be a better version of myself." You can read his whole statement by scrolling through the below post.
Becca also spoke out about Garrett's Instagram activity to The Hollywood Reporter. The Bachelorette, whose own Instagram shows that she's politically liberal, said, "I came into this knowing I was going to meet a handful of men who came from different backgrounds and different walks of life, and I wanted to just be open to everyone, and I hope that the viewers can do the exact same thing." She added, "Again, I just want everyone to stay open to me and to the 28 guys who came on it with me."
While her vague support of Garrett has been viewed as proof that she's engaged to him, viewers who avoid spoilers won't know for sure until the season finale. And many fans don't seem too keen on the idea of Becca choosing Garrett. On July 5, The Bachelorette Twitter page asked people to tweet who they want Becca to end up with. The responses show just how divided people are when it comes to Garrett. And if a person doesn't want Becca to end up with Garrett, it stands to reason that they wouldn't want to see Garrett as the Bachelor, either.
Plenty of other people online do support Garrett and think he should end up with Becca or become the Bachelor. And, as Vanity Fair pointed out, the reality TV franchise has dealt with many scandals before — like Rachel's contestant Lee Garrett, who it was discovered had tweeted racist comments in the past — and the shows still manage to go on. So backlash against Garrett's offensive posts may not necessarily be enough to stop him from becoming the next Bachelor, though anointing him would certainly be a controversial decision.
With millions of viewers, fans of The Bachelor and The Bachelorette don't all share the same political views. But there's a difference — or at least, there should be — between being politically conservative and liking hateful rhetoric. ABC has already had to consider the line between conservative opinion and hateful rhetoric in the controversy over its Roseanne reboot. ABC agreed to work with Roseanne Barr again even though her Twitter was full of offensive remarks. But after Barr tweeted a racist comment about Valerie Jarrett in May, ABC fired her and canceled the successful reboot. "It's almost as if ABC realizes that these abhorrent and repugnant values have no place on their shows," Bachelor alum Ashley Spivey wrote on Twitter. "@ABCNetwork needs to address the Garrett situation before this gets more out of hand. Please do the right thing and not wait on it like with Bachelor in Paradise and the Lee situation."
Given the scandal-filled season the network has had so far, it's unclear if ABC would risk making Garrett the Bachelor (that is, if he doesn't end up with her final rose). While it doesn't seem out of the question, the network might not be willing to come under scrutiny again for promoting people with questionable views. And Bachelor creator Mike Fleiss tweeted in reference to a sexual assault allegation about a contestant on The Proposal that they are working to "do better" when it comes to casting their shows.
But, as any fan of the franchise should know, anything is possible in Bachelor Nation, and controversial choices are often made on purpose. But do we really need a politically divisive Bachelor during Donald Trump's presidency? Only time will tell.