Dean Thinks Colton's 'Bachelor' Season Will Be A "Dumpster Fire" & Here's Why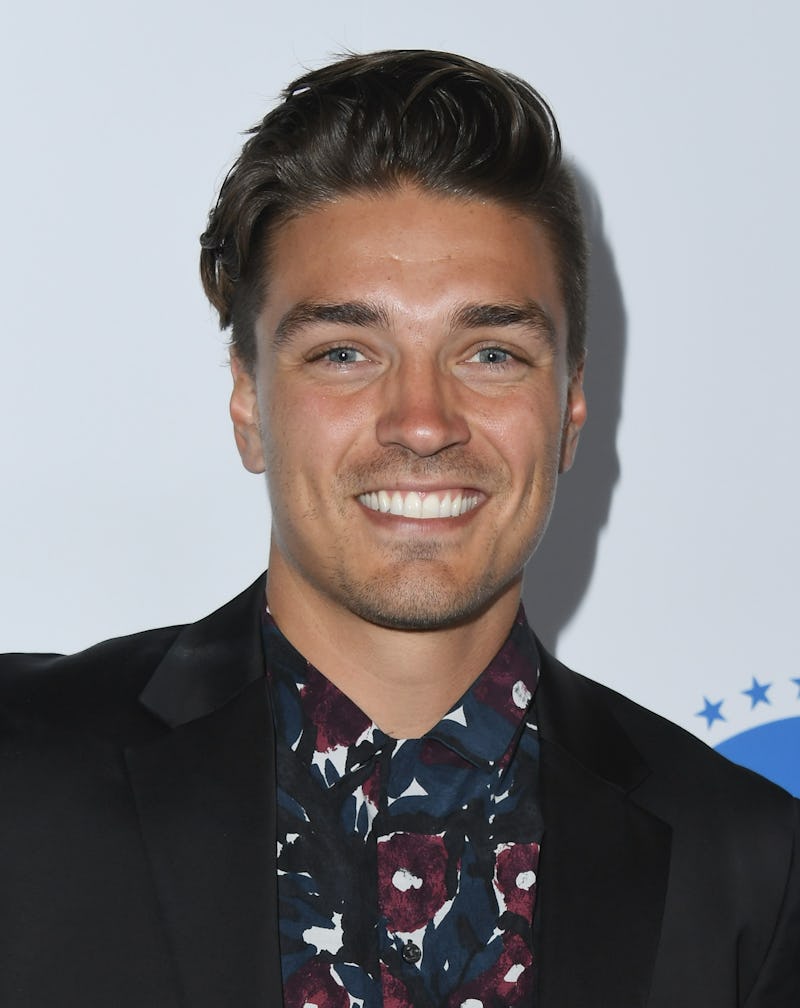 Jon Kopaloff/Getty Images Entertainment/Getty Images
Unfortunately for Colton Underwood, the decision to make him next season's Bachelor wasn't met with universal approval from the fandom, or even some franchise alums. Bachelor Nation's Dean Unglert thinks Colton's Bachelor season will be a "dumpster fire," even though Dean did acknowledge he probably wouldn't do any better if he nabbed the lead role himself. Dean shared his thoughts about Colton during an interview with Entertainment Tonight this past weekend.
With so many people in the public eye giving overly polished interviews, Dean kept it real. Whether you agree or not, he was clearly sharing his honest opinion, which does not happen as often as it should. Dean adamantly declared, "I'm here to say one thing and one thing only. Colton for Bachelor? Not my Bachelor." There was no sugar-coating there. None whatsoever. Dean explained,
"You know, he's a little young. He's younger than me. He might be more advanced in his life than I am, but I don't necessarily see him marrying the woman that he chooses."
To be fair, there's only one Bachelor in the first 22 seasons of the show who married to the actual winner. Sean Lowe, who has two sons with his wife Catherine. Then again, Jason Mesnick married Molly, his initial runner-up. Meanwhile, Arie Luyendyk Jr. has a wedding in the works with his own initial runner-up Lauren Burnham.
So, why is Dean not on board with Colton? He claimed to have a "plethora of reasons." Dean declared, "One, I don't think he knows exactly what he wants. Two, I don't think he knows exactly wants."
Dean further elaborated to ET,
"You saw it on Paradise, something along the lines of 'I think I'm the person that everyone wants me to be.' And the public pressure to be someone is very real on The Bachelor, very real on The Bachelorette, very real on Bachelor in Paradise, but even more so 10 times, 100 times on The Bachelor."
This does appear to be true, Bachelor leads definitely face more criticism from the fandom than people on other shows in the franchise. Is this due to the nature of the show itself? Or at they just picking the wrong guys to lead the season?
How does Dean envision Colton's season of The Bachelor? Dean theorized, "I think he will do what he thinks people will want him to do and not what's necessarily right for him." Nevertheless, he'll watch this season, just like pretty much everyone else who claims to be upset about the decision. Dean said, "It's going to be a dumpster fire, of course I'm going to watch it. I imagine Colton's season going the same way mine would where he wants to do right by everyone and he wants to no one to hate him. That's going to just go ahead and bite him right in the butt." At the very least, Dean is being self-aware there, right?
After Rachel Lindsay's season of The Bachelorette, there was some chatter about Dean being the Bachelor. That didn't end up happening, but that might be for the best, since Dean confessed, "I would be a horrible Bachelor for the same reasons Colton would be horrible and will be horrible."
Dean did have some praise for Colton, though. He said, "He's a very nice person. He's well-intentioned. He is beautiful." And then he mentioned (yet again), "I just think it's going to be a dumpster fire."
In the end of the interview, Dean concluded, "I love Colton, don't get me wrong, but not my Bachelor." He's not the only one who feels this way. But the thing is, no matter who was chosen, there wasn't going to be universal approval from the viewers. Even host Chris Harrison thinks that the fans would be disappointed by the Bachelor lead regardless of who it is.
In a September interview with Entertainment Tonight, Chris Harrison remarked,
"No matter what we say, if we said Jason [Tartick], if we said Blake [Horstmann], it doesn't matter. There's going to be backlash, that's the way social media works these days."
In that same interview, the host insisted, "Colton's going to be good TV, and that is the reason we chose him." Harrison also questioned if the former football player was actually ready for marriage, but concluded, "Maybe at the end of it, he's not, and it's a complete disaster. That's the way it goes, that's life."
Whether Colton's season is a "complete disaster" or a "dumpster fire," people are still going to watch it and talk about it with their friends and on social media. Sure, the premise of this show is about finding long-lasting love, but even if that doesn't happen, The Bachelor always comes through to entertain the fandom.