'The Bach' Fantasy Suite Time Is Not Our Business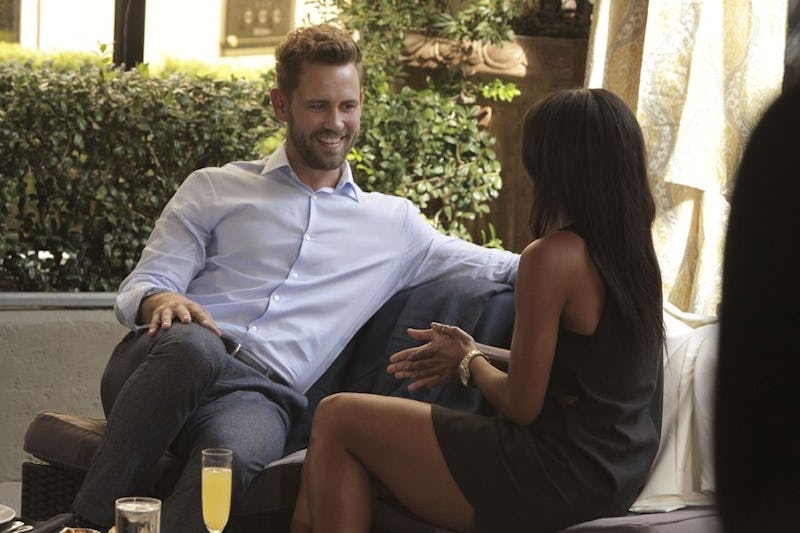 Bill Matlock/ABC
Ladies and gentlemen, we're reaching the end of a season of The Bachelor, and you know what that means — sex! Nick Viall is heading fast and furious to the Fantasy Suite, where he will take all three of his final ladies and, like the Spice Girls once sang, two will become one — maybe. Does Nick have sex in the Fantasy Suite on The Bachelor?
Nick has proven himself to be a very sex-positive kind of person, and this has been kind of a running theme when it comes to him on any Bachelor show. On Andi Dorfman's season, Nick revealed that he and Andi had sex in the Fantasy Suite. On Kaitlyn Bristowe's season of The Bachelorette, Nick came into the game on Week Four, and he and Kaitlyn instantly connected. They had sex on a date in Dublin before the Fantasy Suite, and people called Kaitlyn all sorts of outdated names on the Internet. Nick, to his credit, always defended Kaitlyn and what they did together, because they are two consenting adults and don't really need to be told when to have sex if they want to. On Bachelor In Paradise, Nick and Jen Saviano may have done the deed, but there's no concrete proof of that.
On his own season of The Bachelor, Nick has had to bat away some sexually charged moments. Corinne, who is the "villain" of the season, basically straddles Nick every chance she gets (I'm not judging — I'm just narrating) because I think that she thinks that that's how to get his attention. She showed up in his hotel room in Bimini, Bahamas, looking for a little midnight action, and Nick turned her down because he didn't think "it was a good idea." He also, though, told her not to feel badly about him not wanting to sleep with her yet — he just wasn't ready.
According to radio host and sex columnist Dan Savage, you're a good sexual partner if you're GGG — good, giving, and game. That is to say, good in bed, giving of equal time and pleasure, and game for anything, within reason. To me, Nick represents these things — he places a value on sex, especially in a relationship, and he seems to be down for whatever. Bachelor Nation has plenty of problems with sex — usually, it's only reserved for the Fantasy Suite and contestants that do it before then are basically called whores and cast out (see Clare Crawley and Kaitlyn and Nick). I don't know how fans can criminalize a basic human function, but they do. Nick is clearly waiting for the Fantasy Suite, though (he shut down Corinne hard), so does that mean he has sex on The Bachelor?
Well, it's none of our business if he has sex on The Bachelor. I know it's part of the game to speculate on shows like this, but does it really matter if Nick has sex with all three women or none of the women? If you watch The Bachelor as sport and really believe that these couples are in love and will last forever, what do the parameters of the relationship mean? I don't know who Nick ultimately chooses, but Nick and Raven could wait until their wedding day. Nick and Vanessa could break up before they have sex. Nick and Rachel (our new Bachelorette) could have sex for three days in the Fantasy Suite, with only Corinne to interrupt them because she interrupts any contact Nick has with the other women. The point is, what happens in the deepest reaches of a relationship is highly personal, and it's none of my business who Nick chooses to have sex with. He values sex and he values relationships, and whatever he does with the lights off should be his business.