This Horse At The Royal Wedding Looked Like It Forgot How To Gallop & The Memes Are Already SO Good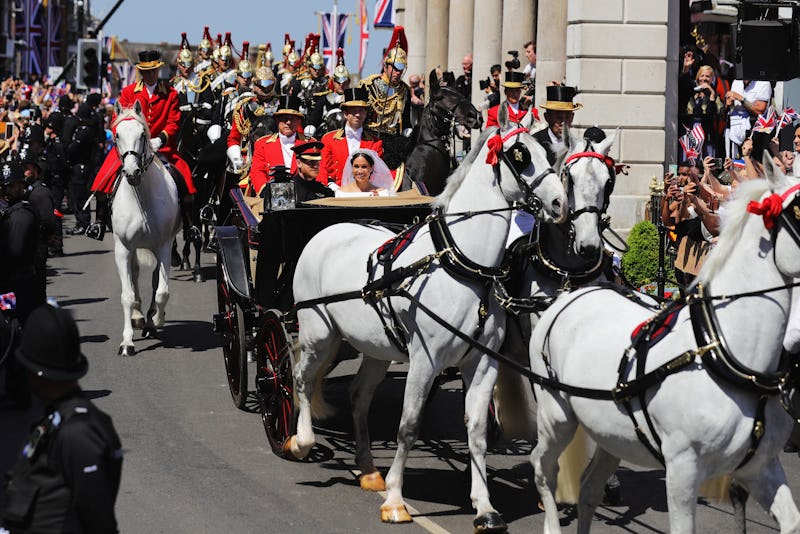 Christopher Furlong/Getty Images Entertainment/Getty Images
Even with all of its progressive nods, the royal wedding between the now-Duke of Sussex, Harry, and the now-Duchess of Sussex, Meghan, was indeed a buttoned-up affair. Luckily, the global audience watching Saturday's nuptials had Twitter — and one particularly kooky horse — to bring some silliness to the day. Among the videos of the Duke and Duchess' procession around Windsor, UK was a clip of a horse galloping around a bit... interestingly, prompting fans to begin creating royal wedding "drunk horse" memes and tweets to pay tribute to this very magnificent creature.
Although Meghan, Duchess Of Sussex, and her new husband stole the show, the Windsor Grey horses leading their carriage have garnered their own celebrity leading up to Saturday's ceremony. But on May 19, it was neither Tyrone, nor Storm (the two horses who pulled the couples' carriage), who rose to Twitter fame. It was an unidentified horse who had a freakout during the procession that made everyone whisper "same" to themselves while watching the most elegant event of the year.
The procession was a massive moment as the new Duke and Duchess Of Sussex appeared in public for the first time as a married couple, proceeding down the streets of Windsor alongside the cheering public. The Duchess had seemingly perfected the royal wave, and all the regalia was in place.
But one small moment broke free from the orchestrated pomp and circumstance. It's unclear what happened, exactly, but one of the Windsor Greys went rogue on camera. And Twitter didn't hold back.