During These 3 Parts Of Your Menstrual Cycle, It's Harder For You To Sleep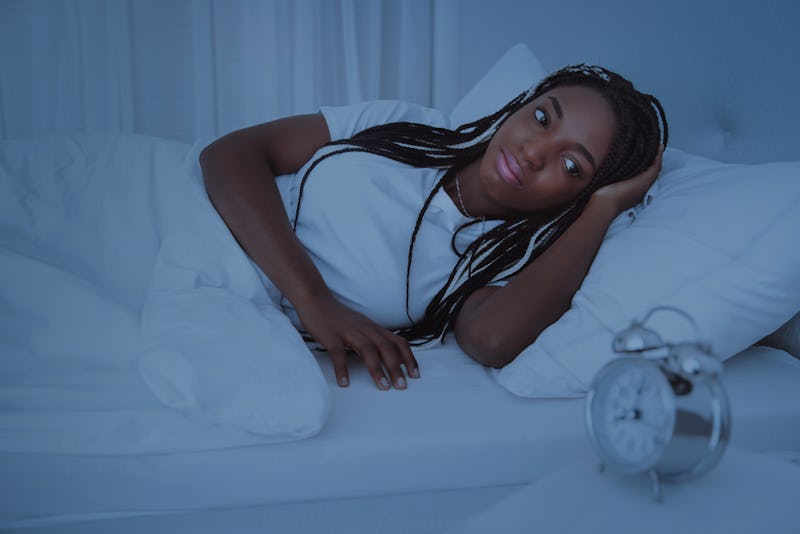 Nadezhda Manakhova/Shutterstock
If you often lie awake long into the night, or wake up feeling tired, it may be worth considering how your period could be impacting your sleep. The various phases of your menstrual cycle can be annoying all on their own, for various and obvious reasons. But for many women, this monthly cycle can also disrupt sleep.
Of course other things, like how much caffeine you drink throughout the day, how you're feeling mentally and physically, and even how you get ready for bed, can all factor into how well you'll sleep. You can't, for instance, drink a giant pot of coffee right before bed, or stare at your phone till all hours of the night, and expect to sleep well.
In order to stack the cards in your favor, you should try to keep a healthy sleep routine, otherwise known as "good sleep hygiene." This includes winding down at the same time each night, putting your phone away, and making sure your bedroom is cool and dark — all of which can make it easier to sleep.
Do keep in mind, however, that the hormonal goings on of your cycle, all of which are stirring beneath the surface, might make it difficult to sleep. If this becomes a problem for you, talking to your OB/GYN about it may offer solutions. Here are the three phases that can impact your rest, according to experts.