Frankie Grande's Update About Ariana Proves He Always Has His Sister's Back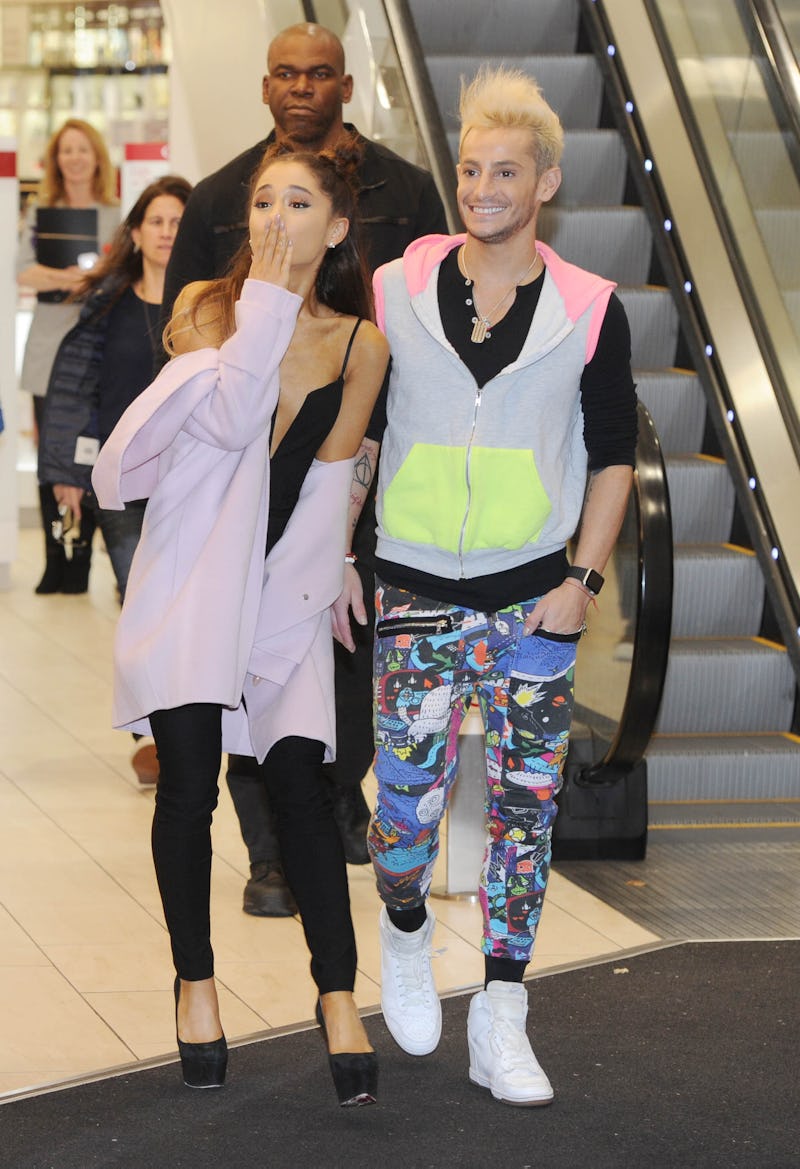 Stuart C. Wilson/Getty Images Entertainment/Getty Images
There are a lot of Ariana Grande fans, but her big brother Frankie Grande just might be her biggest supporter of all. In a recent interview with Entertainment Tonight, Frankie Grande shared updates on how Ariana Grande is doing these days. He didn't address any specific situations, but it's been a tough year for the singer. Her ex-boyfriend and close friend Mac Miller died suddenly in September. Then Ariana and Pete Davidson ended their engagement earlier this month.
Frankie shared, "Ariana is doing well." That's not an incredibly verbose statement, but no one can blame the Grande family for wanting at least a little bit of privacy these days. Nevertheless, he did reveal some details about a recent family hangout:
"We just had game night together, the other night. It was me, Mommy, and Nona, and we just had a great time. Mommy won! It was Phase 10, Mommy won. But it's good."
This interview wasn't the only time that Frankie has publicly supported his sister lately. Two weeks ago, Frankie posted a video on his Instagram Story where he said, "Good morning to my beautiful, beautiful sister. I love you so much and you're with me right now in Iceland. Listen!"
Aside from sending some very public love and support to Ariana, he also plugged her song "Breathin" by singing a few lines from it and playing off of the lyrics when he told her, "You know, you gotta keep on breathin' — that's true."
She really does have a lot to contend with these days, but at the very least, she has a very supportive older brother on her side. In a 2016 interview with Hollyscoop, Frankie declared, "She's my best friend. My little sister. My best friend." How sweet, right?
If anyone knows what Ariana has been going through, it's her best friend/brother who's been through it all with her. Ariana wasn't the only one affected by Mac's death. Her brother Frankie could relate to her heartache, since he had a close relationship with the rapper too. In September, Frankie posted a very emotional Instagram after Mac passed away about their shared journeys toward sobriety and credited him as the "reason" he went to rehab.
Of course, it's not necessarily the same loss that Ariana is experiencing, but it's probably comforting that someone she's so close to understands.
This also might be the perfect time for Ariana to pour her heart into some music, as she can channel her emotions into some new songs. And in that same ET interview, Frankie revealed that music is his sister's focus these days.
Frankie said, "She's working really hard, you know, getting prepped for tour and another album." He also remarked, "Like, it's too much! Lots of stuff is going on."
Ariana also teased that she has new music in the works. On Oct. 1, she tweeted, "music is the best medicine" along with a microphone emoji.
On top of that, Ariana recently tweeted and deleted, "can't wait for you guys to start being weird ag5 detectives … my lil private investigators." And of course, ag5 is just a placeholder term for her fifth album.
Music can certainly have a cathartic effect, but if making music isn't enough to help Ariana through these tough times, at least she has her big brother to count on.