Gwyneth Paltrow & Brad Falchuk's 'A Star Is Born' Costume Even Comes With A Bag Of Peas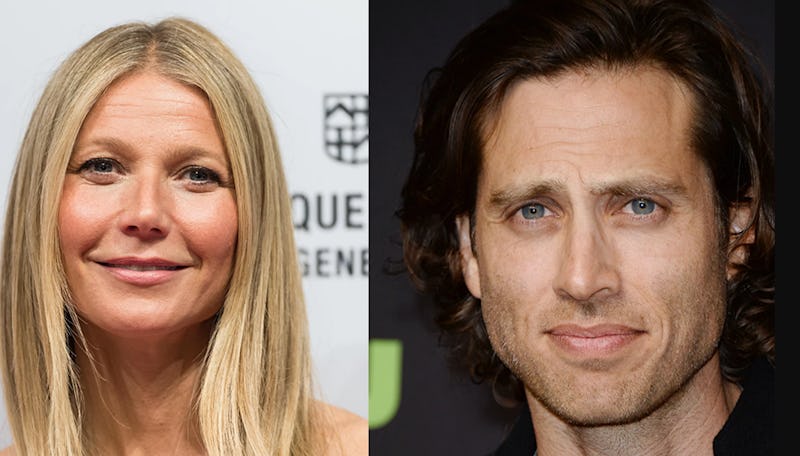 Ian Gavan/Getty Images Entertainment/Getty Images; Matt Winkelmeyer/Getty Images Entertainment/Getty Images
I'm a Goop in my house, I'm out on the Goop. I'm at the bottom of the Goop, I've been Gooping them down. And all of that can only mean one thing: Brad Falchuk and Gwyneth Paltrow dressed up as A Star Is Born characters Jackson Maine and Ally Campana-Maine for Halloween. On Wednesday evening, Falchuk shared a photo he and Paltrow took while they were in their A Star is Born couple's costume. Both have got the A Star is Born hair, body, and face down.
Oh, and they also have frozen peas, an accessory that really adds some oomph to this look. If you are going to dress up as pre-pop star Ally, you cannot go wrong with taping a bag of ice cold vegetables to your paw.
This was the duo's first Halloween as a married couple, but it was not their first couple's costume rodeo. In 2017, they paid homage to the most memorable moment from Seven, a scene that, uh, a big part of Paltrow played a big part in. So long cardboard box, hello bag of legumes.
Hey. Just want you to take a look at this photo of Paltrow and Falchuk and peas.
Unless you've been stuck underneath a windmill out in the middle of a desert for the last several months, then you know A Star is Born is a very big deal. Critics far and wide love the movie. Bradley Cooper and Lady Gaga's performances have been lauded over and over again. The trailer gave us the faces (and the HAAAAA AH AH AH) that launched a thousand memes. It is shaping up to be an award season favorite. The soundtrack is chart-topper. And the movie was a huge part of this Halloween. Because what is a pop culture phenomenon if it does not inspire a legion of costumes on the 31st day of October?
All of that is to say that Paltrow and Falchuk were not the only celebrities who let the deep end guide their Halloween costume choices this year. Giuliana Rancic and Bill Rancic channeled Mr. and Mrs. Maine yesterday, too.
When Natalie Morales and Kit Hoover filmed a Halloween video for Access Live, they were clearly nowhere near the shallow.
And finally, there is Nina Dobrev's truly inspired ensemble. Over the weekend, The Vampire Diaries star wore a gold star costume, carried a baby bottle in one hand, held a microphone in the other, stuck a pacifier in her mouth, and wore basket around her waist. There were some baby toys and a sign that read "Campaign for Best Picture" attached to the basket. And there was a diaper. Cannot forget about the diaper.
She did not dress up as a baby Christmas tree topper campaigning for one of the top honors handed out at the Academy Awards, but if that happened to be your guess, you would be on the right track. Dobrev went as A Star is Born. (Or maybe A Star is Born's Oscar campaign?) As in, the whole movie. Are you all choked up? Can you not find the words? Same here.
Happy Haaaaa ah ah ah ah-lloween.