Hillary Clinton Reacts To Charlottesville With A Sneaky Subtweet At Trump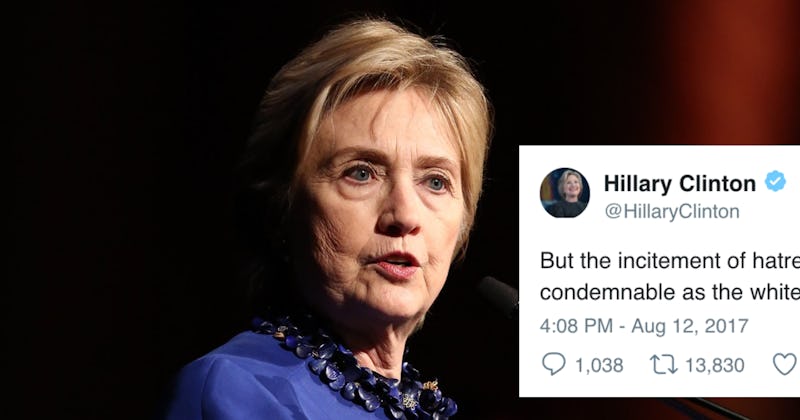 Monica Schipper/Getty Images Entertainment/Getty Images
In a series of tweets published Saturday afternoon, Hillary Clinton indirectly criticized President Trump's "incitement of hatred" in Charlottesville, Virginia. The city found itself at the center of a chaotic and violent set of white supremacist rallies, first on Friday night at the University of Virginia campus and on Saturday near Emancipation Park. Screaming matches and fist fights between white nationalists and counter-protesters were caught on video throughout the day. The violence eventually escalated to the point of a white nationalist running over a crowd of protesters, injuring at least 19 and killing one, according to CNN.
"My heart is in Charlottesville today, and with everyone made to feel unsafe in their country," Clinton wrote. "But the incitement of hatred that got us here is as real and condemnable as the white supremacists in our streets. Every minute we allow this to persist through tacit encouragement or inaction is a disgrace, & corrosive to our values. Now is the time for leaders to be strong in their words & deliberate in their actions. We will not step backward. If this is not who we are as Americans, let's prove it."
The president initially responded early Saturday afternoon with a set of tweets condemning violence and "all that hate stands for." He later held what he referred to as a "press conference" — he opted not to take any questions from reporters — from his golf club in Bedminster, New Jersey.
"We condemn in the strongest possible terms this egregious display of hatred, bigotry and violence on many sides, on many sides," he said. "It has been going on for a long time in our country — not Donald Trump, not Barack Obama. It has been going on for a long, long time. It has no place in America."
Many pointed out that he failed to explicitly denounce the bigotry and violence by the white supremacist groups in Charlottesville and criticized him for implying that counter-protesters reacting to the racism, anti-semitism, and homophobia were also to blame.
Clinton's urging that leaders be "strong in their words and deliberate in their actions" is in line with the calls for Trump to specifically condemn white supremacists.
During the election, Clinton called out Trump for pandering to bigots and emboldening white supremacist groups.
The de facto merger between Breitbart and the Trump campaign represents a landmark achievement for the "alt-right." A fringe element has effectively taken over the Republican party. All of this adds up to something we've never seen before. Of course, there's always been a paranoid fringe in our politics, steeped in racial resentment. But it's never had the nominee of a major party stoking it, encouraging it, and giving it a national megaphone. Until now.
Clinton went on to speak about the thrill white nationalists felt at having "taken over the Republican party," as one white supremacist said on the radio show hosted by former KKK Grand Wizard David Duke. Duke, who was at the rally in Charlottesville on Saturday, explicitly said the demonstration was a sign of white supremacists' determination to "to fulfill the promises of Donald Trump." Others were filmed combining pro-Nazi and pro-Trump sentiments in their chants. "Heil Trump!" yelled one.
In addition to Clinton, other legislators, such as Hawaii Sen. Brian Schatz and Vermont Sen. Bernie Sanders, have called on President Trump to be more explicit in his condemnation of white supremacists.
Read more on the Charlottesville protests:
Here's What You Need To Know About The White Nationalist Rally In Charlottesville Today
Tweets About Charlottesville Capture The Chaos Of The Protest & How Terrified People Are
Melania Is The First Trump To Speak Up Against The Charlottesville Rally Violence
A Car Rammed Into Charlottesville Protestors & Caused "Extremely Heavy Injuries"
Here's How You Can Fight White Supremacy In Charlottesville & Beyond
Trump Condemns The Charlottesville Protest Violence From "Many Sides"
One Dead After Car Mows Down Counter-Protestors In Charlottesville