How Exactly Will 'Scandal' Come To An End?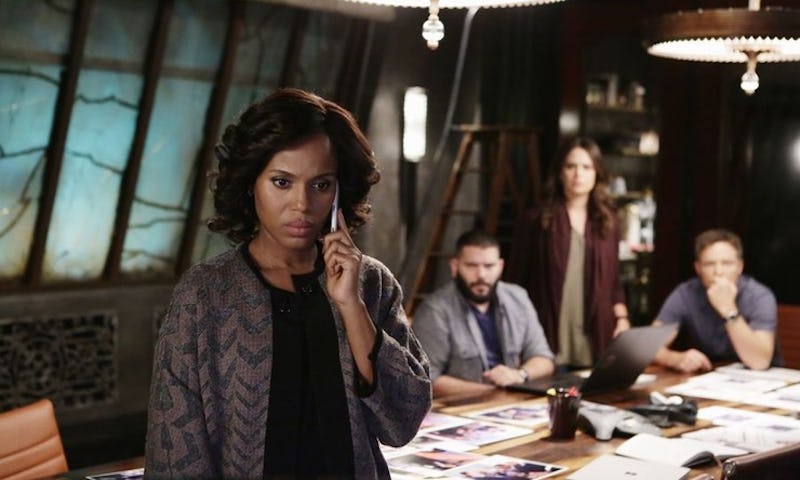 Nicole Wilder/ABC
With reports swirling that Scandal may end after Season 7, I'm more than a little shook. Are Olivia and Fitz finally about to make sweet jam in Vermont? What once seemed be a farfetched dream for TV's favorite on-again, off-again White House power couple may soon become a serious reality. As for how Scandal will end, well, that's still up in the air. There's been no official confirmation from ABC just yet, but rumor has it that the network plans to announce the termination of the series during their upfront next week, according to The Hollywood Reporter. So if next season will, in fact, become the last, there are a few theories that I've come up with on my own.
Now, of course, I wouldn't be surprised if Olivia Pope and Fitzgerald Grant run off, get married, and live happily ever after. I mean, it would kind of be the perfect ending to their back-and-forth love story, right? However, that just feels so corny and predictable. I think that Shonda Rhimes is too much of a genius for that.
As far as the other characters are concerned, there are many unanswered questions lingering. And, of course, I cannot simply sit back and wait almost a year for Rhimes to uncover all of the magic in Season 7. So, here's my speculation on what may be to come for the characters in the series finale of Scandal.
Olivia Pope
Perhaps Liv will somehow decide that Fitz is not the man for her and instead choose to "stand in the sun" with her former B613 bae Jake Ballard. Or maybe there someone else will enter the fold and steal Liv's heart away?
Diego "Huck" Muñoz
What will happen with the series' most-lovable killing machine, Huck? He's literally been repeatedly shot and nearly drowned in this current season alone. After already losing his family and pretty much everything else that he's ever loved, will Huck finally find happiness without being under Olivia's wing should she decide to chase romance? Only time will tell.
Quinn Perkins
And then there's Quinn, Liv's most-loyal female gladiator. Will she and Charlie finally get married, or will her underlying feelings for Huck resurface? I wouldn't mind seeing those two frolic away into booed-up B613 bliss.
President Fitzgerald Grant
Meanwhile, what will Fitz be doing now that he's on his way out of the Oval Office? If Liv ditches him in favor of Jake or someone else, where will that leave him? It seems that he really needs Liv to guide him throughout life, and I just can't imagine what he'd do without her. Perhaps he'll get another political position to keep himself busy, but, without Olivia to mastermind his every move, it's my guess that he'll probably be lost in the sauce — or, uhh, jam — if Vermont starts calling.
Cyrus Beene
I think Cyrus Beene is the dude that everyone loves to hate and hates to love. Over the years, Beene has literally lost it all: the love of his life, his Chief of Staff position, his friendship with both Liv and Fitz. He's rigged elections, been thrown in jail for allegedly assassinating the president-elect Frankie Vargas — you name it, Cyrus has done it all. He's been the evil mastermind behind so many things that have taken place on the show. Will he ever accomplish his dream of controlling the Oval? It's a possibility.
Abby Whelan
And then what happens with Abby Whelan, Olivia's one-time bestie and former gladiator at Liv's crisis management firm, Olivia Pope & Associates? She ran for the hills after feeling jilted by Liv, becoming Pres. Grant's Chief of Staff after Beene was ousted. Will she still have power in the White House, now that Fitz is on his way out? Perhaps, she'll return to OPA and resume her duties as Liv's H.G.I.C. — that's Head Gladiator In Charge, just in case you missed it.
Melody "Mellie" Grant
One-time First Lady turned Senator and Presidential hopeful, Mellie has more than indulged in her fair share of drama while in the big house. She's deviously had an extra-marital affair with the former Vice President, helped rig elections, all the while maintaining support for her husband, Fitz, while he was in office. Now that Mellie has her sights set on the presidency, it makes me wonder what will happen should she become the leader of the free world. Maybe she'll rule the country in the same way that she ran her affairs behind closed doors in the White House.
Eli Pope
Can we talk about good old papa Pope for a moment? Like seriously, will Eli ever get what's coming to him after all the turmoil he's unleashed during his years as "Command" of B613? He's unrelenting, evil, and will never, ever allow Olivia to be happy as long as he has a say. It'll be interesting to see if Liv can finally get around her dad's villainous power.
As an avid fan, I'm completely devastated by the news that Scandal may be coming to an end. But I suppose we should've all seen it coming, since Rhimes has been very transparent in past years. In 2014, she told THR that she already knew how the series was going to end and revealed that Scandal was not an "8 season show." The producer and writer further explained,
"I've already decided when Scandal is ending. I think there's only so much Scandal you can tell satisfactorily. The Fitz-Liv thing can only be told so long and in such a way. It's not a ten-season or eight-season show. I've already decided how long that is and what that's going to be."
And while I'll feel like a part of me is missing when the show ends, I have to admit that it's pretty much run its course as far as storylines. I mean, let's face it, just about everything fathomable has happened. From the failed assassination attempt on President Grant's life to his divorce from Mellie, to Olivia's kidnapping and tumultuous love-hate relationship with her father, Scandal has just about covered it all.
The time has probably come for all of them to hang up their white hats, stand in the sun, or whatever it is that they'd like to do upon retirement, because they've survived some seriously stressful moments during Fitz's time in office.
As far as the overall ending, I'm guessing Scandal will go out with a grand finale for the characters, especially Liv. As a true champion for women, I can all but bet that Rhimes will close Scandal with Olivia finally free from the reigns of any man — her father Eli included. It would also be a nice twist of fate if Olivia were to become president after so many years of ruling the office behind the scenes. I actually could see the entire OPA staff taking over the Oval. If that were to happen, it would be the absolute best ending ever, if you ask me.
Nonetheless, I'm sure however Rhimes decides to end series will be awesome. However, I'm keeping my fingers crossed for #Liv2020.