Astrologers Say These 4 Zodiac Pairings Are Most Likely To Fall In Love At First Sight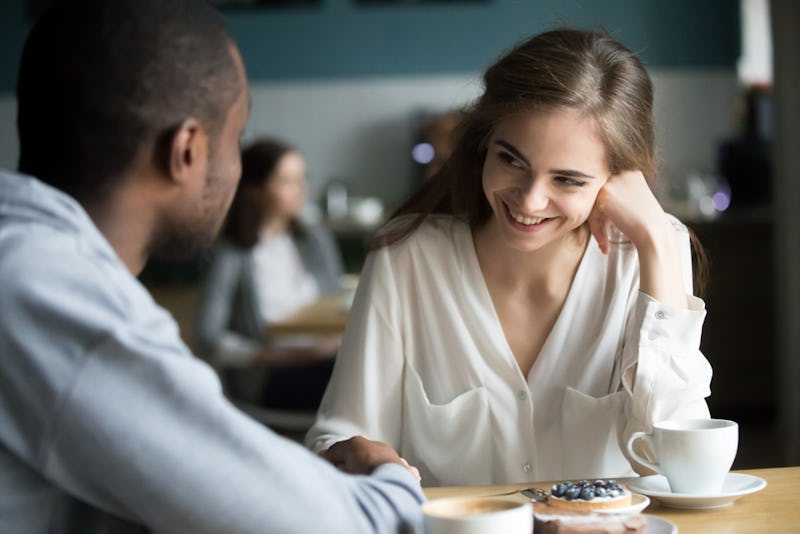 fizkes/Shutterstock
If you've ever locked eyes with a stranger from across a room and knew you had to meet them, or held a conversation for all of five minutes before falling for someone, then you've likely experienced the exciting moment that is love at first sight. This is a feeling that can happen to pretty much anyone. But for a few zodiac sign duos, it might be that much more likely.
When you take astrology into account, instant attraction between two signs can occur for several reasons, Emily Ridout, MA, a professional astrology teacher, tells Bustle. And it often has a lot to do with the way their personalities mesh. For example, some fixed zodiac signs, like Taurus or Aquarius, tend to know what they want in a partner, and are able to spot those traits right away. Other cardinal signs, like Aries, can be very reactive, and may fall for someone simply because they seem interesting.
Of course, the thing to consider is whether or not these relationships have the potential to last, especially since they develop so quickly. As Ridout says, "While some 'love at first sight' relationships do work out, they tend to be with the more steady energies of the zodiac." Relationships that start in a whirlwind may end that way too, she says. But there are always things you can do as a couple to strengthen a bond and make your relationship last, if that's what you'd like to do.
Read on below for the four zodiac couples that may fall in love at first sight, as well as what they can do to take the relationship even further, and build on their initial connection.