9 Signs Your Partner's Love For You May Not Be Healthy, According To Experts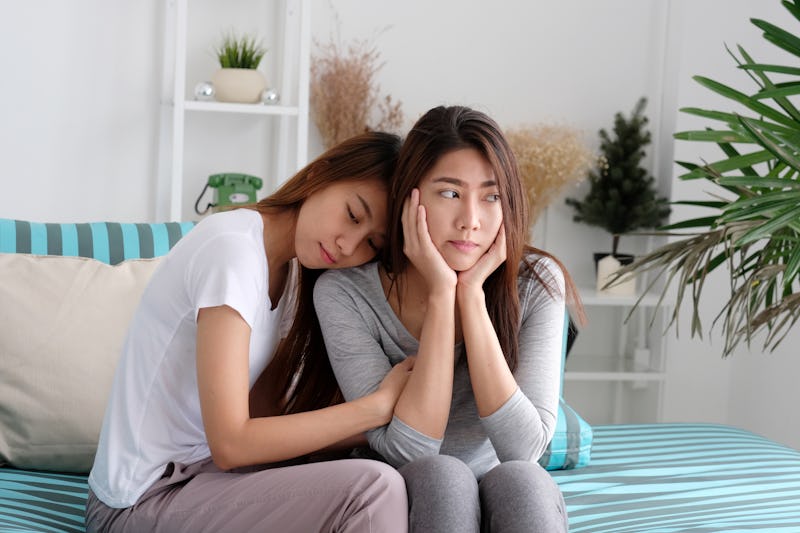 Shutterstock
There are so many moments in a relationship that can appear to be sweet and caring, on the surface. But if your partner's love for you is unhealthy, they might go overboard in certain areas. And eventually, it could even create a situation that ends up being toxic.
"Unhealthy love is when the connection two people share begins to develop negative qualities," Jonathan Bennett, relationship and dating expert at Double Trust Dating, tells Bustle. "The feeling of love might be there, but its expression is very toxic and damaging to both individuals." In other words, your partner could be doing things — potentially without even realizing it — that are dragging the relationship down. This might show up in the form of controlling habits, as well as ones that lean more towards codependency.
Of course, "it's possible to salvage a relationship with unhealthy love," Bennett says. "It usually involves therapy or other help from the outside. Many people in a toxic relationship can't see the truth about it."
If you notice any of the habits listed below, take that as your cue to reassess the relationship, and talk with your partner about areas where you can both improve. If your partner is willing to work on the unhealthy habits they're bringing to the table, and you both do your part to be honest and talk it out, it may be possible to show your love in healthier ways.