Jax From 'Pump Rules' Got A New Tattoo In His Late Father's Memory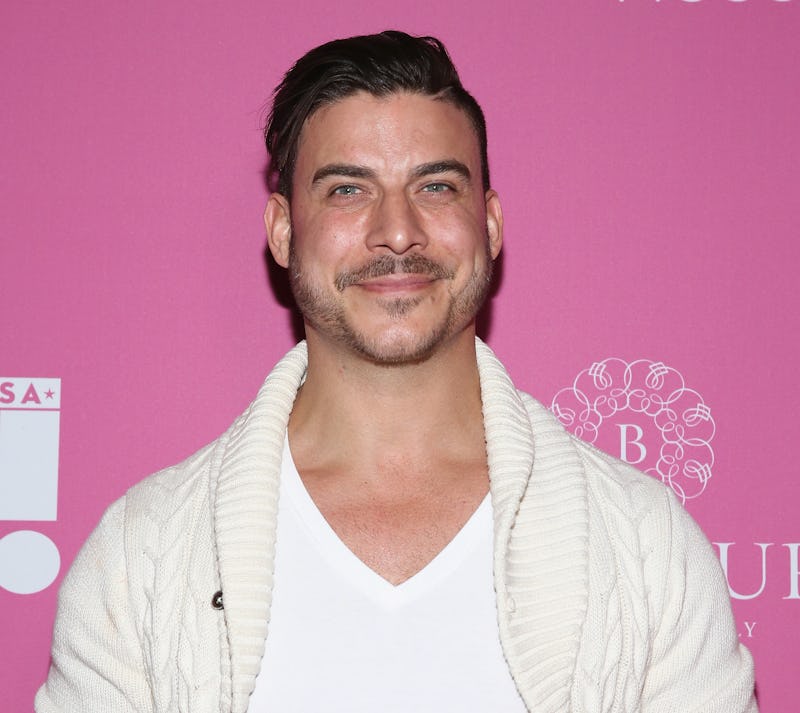 Robin Marchant/Getty Images Entertainment/Getty Images
Jax Taylor is keeping his late father's memory alive in a heartbreaking, yet beautiful, way. As he shared on both Twitter and his Instagram Story on Monday, Jax from Vanderpump Rules has a new tattoo honoring his dad, Robert Cauchi. In December, Jax's dad died after a battle with cancer. Understandably, it was a devastating loss for the Bravolebrity, but it looks like Jax is doing whatever he can to keep his dad's spirit alive.
Jax tweeted,
"My sister and I got tattoos today, remembering my dad from old letters he sent us with his handwriting. Took me a little while to listen to his advice but I think I got it. Now I will never forget it. Love you dad."
As you can see below, Jax's tattoo reads, "Make good choices. Love you, Dad." How nice is that? This is yet another way their father will always be with them. To be able to turn old letters he sent into tattoos makes for a truly heartfelt tribute.
This tattoo is far different than anything Jax has previously got permanently etched onto his body, i.e. Stassi Schroeder's signature, a tat honoring Tom Sandoval and Tom Schwartz, and a pirate skeleton. His newest tattoo definitely surpasses these three.
Jax has been extremely honest about how much the loss of his dad has hurt him. After Jax's dad died, the reality star took to Twitter and wrote,
"My heart is broken, I lost my best friend and the best man I have ever met last night, I love you so much dad. I can't even breathe anymore, only person not letting me fall right now is my amazing girlfriend. I love you dad."
During the Vanderpump Rules Season 6 reunion, Jax broke down in tears and could barely discuss when he learned of his father's death. It was the most vulnerable fans had ever seen Jax, not to mention a very sad moment.
Having to say goodbye to his dad has transformed Jax in a positive way, like he admitted when explaining his latest tattoo on Twitter. Jax is now trying to "make good choices." Even his fiancée and Pump Rules co-star, Brittany Cartwright, admitted Jax is a different person these days.
Like Brittany told Bustle in May about Jax, "The passing of his father has completely opened his eyes," she said at the time. "I think he realized he was being a bad person and that he just didn't want to be that person anymore, he wanted to be more like his father."
Ever since losing his dad, you can tell there's a change in Jax, at least through social media. He seems less angry and completely head over heels in love with Brittany. Based on a June Instagram of his late father, it sure sounds like Jax is doing everything in his power to become the person his dad was. He wrote,
"Since you have left you have changed me in so many ways, thank you for being my father. My new goal in life is to be exactly the man you are to your family. Jenny and I are still getting messages from your friends on what an incredible man you are... I am so f*cking proud to be your son dad. My only wish is that you could see me and Brittany on our wedding day, and meet your grandchildren, but I know you will be with me in spirit and help guide me the rest of my life."
Even though his new tattoo doesn't make his dad's death any easier, at least Jax has his father close to him at all times now. There's comfort in that, for sure.