You've Got To See Jax's New Tattoo, 'Vanderpump Rules' Fans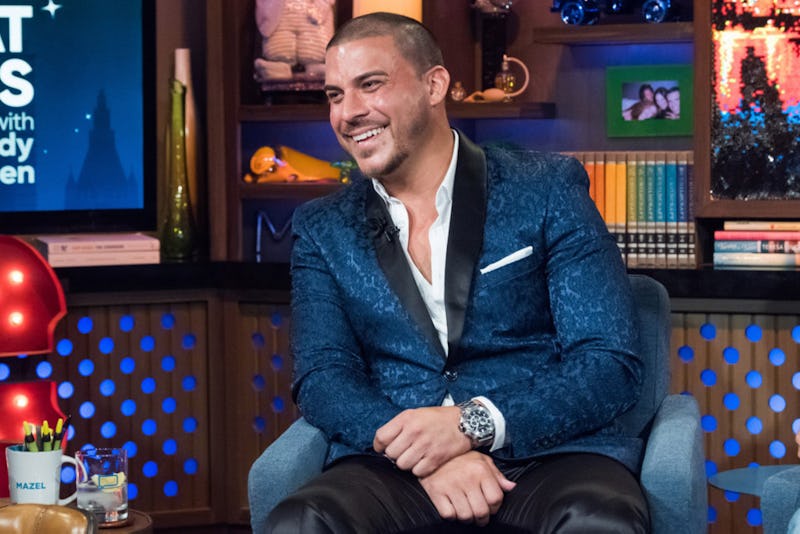 Charles Sykes/Bravo
The self-appointed number one guy of Vanderpump Rules has added another piece of art to his epidermis, but he did not get any exes' names for once. Over the weekend, Jax Taylor got a pirate skeleton inked to his arm. So, what does Jax's latest tattoo mean? The Pumper did not share the story behind the pirate skeleton, so there is only one thing to do: It's time to get weird with the theories.
This tattoo looks like it could be of one of the skeletons from the Pirates of the Caribbean ride, no? Maybe Jax got really inspired the last time he went to Disneyland and decided to permanently make it a pirate's life for his arm. Or maybe Jax is really into the Pirates of the Caribbean movie franchise. Or maybe this tattoo has nothing to do with Disney, and everything to do with Pump. As Bravo's The Daily Dish pointed out, the new tattoo calls to mind the pirate ship the cast partied on during the Pump Rules Season 2 trip to Mexico. Could he be paying homage to this gloriously dramatic vacation? Who could blame him? Those episodes only happen to be some of the most classic Pump Rules episodes of all time.
Let's keep the guessin' train going: If the pirate skeleton wasn't inspired by that watercraft that Peter Madrigal danced around on in a pirate hat, maybe it's a nod to Peter's pirate haircut that is no longer with us (but is apparently coming back). Or hey, maybe it has something to do with that pirate ship that floated on by in the background when Jax attempted to swim to a buoy up in Big Bear. Anything's possible.
When it comes to selecting a tattoo, Jax sure lets his heart be his guide. Way back on Season 2, Jax tattooed ex-girlfriend Stassi Schroeder's name to his arm in an attempt to win her back. It didn't go over well. So, he covered this piece of ink up with a black rose. And because Jax has never been one to shy away from questionable decisions, he followed up the Stassi tattoo with a tattoo of another love interest's name. When Jax was dating Carmen Dickman, he thought he should commemorate their relationship by permanently adding her name to his body. After they broke up, he covered up that tattoo with a flower, too.
At the Season 3 reunion, Jax unveiled yet another tat of note: He got an illustration of a woman's face that had been painted in the style of a calavera. And the woman's face looked a lot like Carmen's face. Or Stassi's face. Or both. Or neither. Understandably, the tattoo's resemblance to two of Jax's exes raised plenty of Sexy Unique Eyebrows. And let us not forget about the tattoo he got in 2015 in honor of two of his longest-running friendships: Tom Schwartz and Tom Sandoval.
Last spring, the inevitable happened: Jax and current girlfriend Brittany Cartwright got matching tattoos. A couple of weeks after they both got arrows inked to their bodies, the news of Jax cheating on Brittany tore through Scheana Shay's birthday party, and the two broke up for a minute. But before they could cover up the arrows, they got back together, and Jaxany still seems to be going strong.
But as for this elaborate and impressive pirate skeleton piece?
This tat doesn't seem to have anything to do with any of his friendships or romantic relationships. What a twist, what a surprise.
Er, wait. Has Jax ever dated a pirate skeleton? Because if he has an ex who also happens to be a pirate skeleton, that Pump Rules spinoff needs to happen.