Jessica Chastain's Cannes Festival Speech Is A Wake-Up Call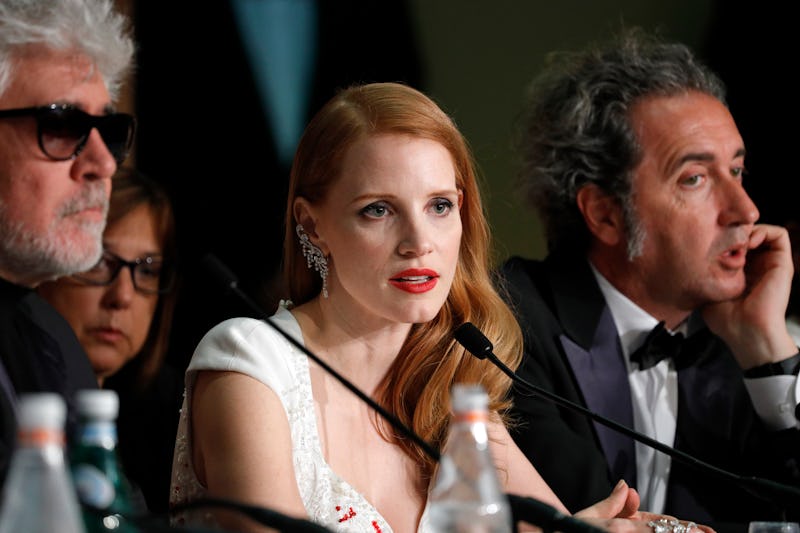 Andreas Rentz/Getty Images Entertainment/Getty Images
Whether it's throwing shade at actors who can't memorize their lines or getting real about the gender pay gap in Hollywood, Jessica Chastain is not one to mince words. So perhaps it isn't that surprising that Chastain called out Hollywood's female representation problem in one very honest speech at the Cannes Film Festival. The actor, who was a member of the Cannes jury, called the portrayal of women in the movies that were in competition at the festival "quite disturbing." Her speech soon went viral, with many applauding her choice to speak up and even going as far as to call Chastain "brave" for what she said at Cannes. But it's so frustrating that telling the truth in 2017 is still considered an act of bravery. Especially when what the actor was saying shouldn't still have to be said at all.
Women In Hollywood wrote that her "decision to speak up, and particularly in this setting, was both brave and impactful." America Ferrera tweeted, "it takes courage to speak truth to power." Director Ava DuVernay tweeted a clip of Chastain's speech with the message: "Say that @jes_chastain." And you can tell in the video that this wasn't an easy speech for the actor to give. Her voice even trembles as she states that the film festival needs more female representation across the board, but specifically female writers and directors:
"I do hope that when we include more female storytellers we will have more of the kinds of women that I recognize in my day to day life. Ones that are proactive, have their own agencies, don't just react to the men around them, they have their own point of view."
It took guts for Chastain to say what she did, no doubt about it. It always does when you're the one to put yourself on the line to tell a truth that many don't want to hear. But her speech should serve as a reminder to everyone in and out of that room that this familiar conversation is one on which the film industry have made very little progress despite the many voices, including her own, calling for change.
The Cannes Film Festival has been called out time and time again for its male-dominated line-up of movies and directors (to which Cannes jury member Andrea Arnold responded in 2012, "It's true the world over that, in the world of film, there are just not many woman film directors. I guess Cannes is a small pocket that represents how it is out there in the world and that's a great pity, a great disappointment"). This year, the festival included three female directors among the 19 competition entries. That doesn't sound like a lot, but, as The Guardian reported, as recently as 2012, the festival had not even one film by a female director in the competition. In addition, the festival honored more women in categories that weren't specifically for women. Lynne Ramsay won Best Screenplay for "You Were Never Really Here" in a tie, while Sofia Coppola won Best Director for her feminist take on the 1971 Clint Eastwood film The Beguiled. She was only the second woman in the history of the French film festival to win this prize.
These were, of course, the "exceptions" Chastain talked about in her speech, small signs that Cannes was taking steps toward female inclusion. But these bright spots don't mean the problem with Hollywood's representation of women is over, and the actor effectively made sure that those in charge of Cannes didn't get a pat on the back for doing something they should have been doing all along. And she's hardly the only woman to have spoken up about the lack of good female roles in film and television over the years.
For example, Reese Witherspoon used the January 2017 winter Television Critic's Association press tour for Big Little Lies to call for the need for more women's stories told by female voices. "We have to start seeing women as they really are. We have to see real women's experience," she said. "Whether it involves domestic violence, whether it involves sexual assault, whether it involves motherhood or romance or infidelity or divorce. We need to see these things." Viola Davis became the first African American woman to win the Emmy for Lead Actress, Drama in 2015 and used her speech to let Hollywood know that the reason more women of color aren't winning these awards is because they're not given the chance to. "The only thing that separates women of color from anyone else is opportunity," she said. "You cannot win an Emmy for roles that are simply not there." And actor Chloe Sevigny, whose directorial debut Kitty screened at the 2016 Cannes Film Festival, underlined the importance of speaking out in an interview with Bustle: "Maybe in order to change [the current scarcity of female filmmakers], you have to recognize it and vocalize it."
Like Witherspoon, Davis, Sevigny, and many women in between, what Chastain did was put a voice — a heartfelt one, at that — to the numbers that many of us have seen in those disappointing studies on the status of women in Hollywood year in and year out. With her speech, she made it clear that a conscious effort has to be made by institutions like Cannes not just one year but every year if Hollywood's female representation problem is going to be fixed. And that's because it's not just one problem that needs solving. As Chastain explained, hiring more women behind the scenes is a necessary step in making sure that an audience sees better, more complex female characters onscreen. (Sadly, according to the Center for the Study of Women in Television & Film, only 22 of the 250 top grossing films in 2016 were directed or co-directed by women.)
At the end of the day, Jessica Chastain is not the only one who wants to see complex, three-dimensional female characters in media more often. She's just the latest brave woman to have to vocalize this ongoing problem.