Joe Alwyn Praised Taylor Swift's Political Stance In A Super Supportive Way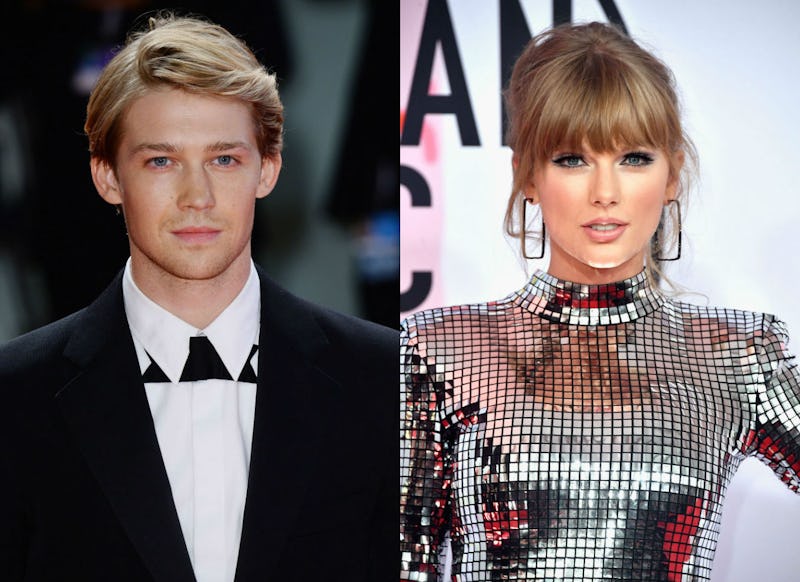 Eamonn M. McCormack/Getty Images Entertainment/Getty Images; Frazer Harrison/Getty Images Entertainment/Getty Images
Swifties, you're going to love this. In a recent interview, Joe Alwyn praised Taylor Swift getting political. According to Entertainment Tonight, at the U.K. premiere at the 62nd BFI London Film Festival for Alwyn's film, The Favourite, he commented on Swift's political stance while chatting with a reporter on the red carpet. Despite his response being extremely brief, the 27-year-old's statement showed nothing but absolute support for his girlfriend.
It's unclear which outlet Awlyn was speaking with, but you can watch him in action here. The Twitter account, "Taylor Swift Updates," shared the video on Thursday. In the video, a reporter is heard asking, "What do you make of Taylor Swift and all of her tweets that have been going out in terms of her political stance? We haven't really seen that before."
To that, he replied,
"I think it's great. I think it's important."
Alwyn's response comes after Swift's made headlines for talking politics on Instagram. She was previously known for not discussing her political beliefs, but that all changed on Oct. 7 when Swift broke her political silence in a lengthy Instagram post supporting Tennessee Democrats.
Part of her post read,
"In the past I've been reluctant to publicly voice my political opinions, but due to several events in my life and in the world in the past two years, I feel very differently about that now. I always have and always will cast my vote based on which candidate will protect and fight for the human rights I believe we all deserve in this country."
Her post continued,
"I believe in the fight for LGBTQ rights, and that any form of discrimination based on sexual orientation or gender is WRONG. I believe that the systemic racism we still see in this country towards people of color is terrifying, sickening and prevalent. I cannot vote for someone who will not be willing to fight for dignity for ALL Americans, no matter their skin color, gender or who they love."
On Oct. 17, she posted another Instagram about early voting in Tennessee in hopes of encouraging others, especially young voters, to cast a vote and let their voices be heard in midterm elections.
Swift is known for being a polarizing celebrity and her recent political posts have definitely earned a lot of attention with both negative and positive feedback, but it's clear Alwyn has her back completely.
It's definitely surprising the British actor provided any type of comment on Swift's politics. He's made it clear in the past that their relationship is strictly between them and who they choose to share it with. Like Alwyn told British Vogue in September, "I'm aware people want to know about that side of things. I think we have been successfully very private, and that has now sunk in for people. But I really prefer to talk about work."
As reported by Entertainment Tonight, Alwyn also opened up for British GQ's November issue (via ET) and said about his relationship Swift, "Someone's private life is by definition private. No one is obliged to share their personal life."
Even though his recents words were short and to the point, it's sweet to see Alwyn's support for Swift. He certainly stands by her side no matter what.