Joe Jonas & Sophie Turner's Emmys Tweets About 'Game Of Thrones' Are Beyond Delightful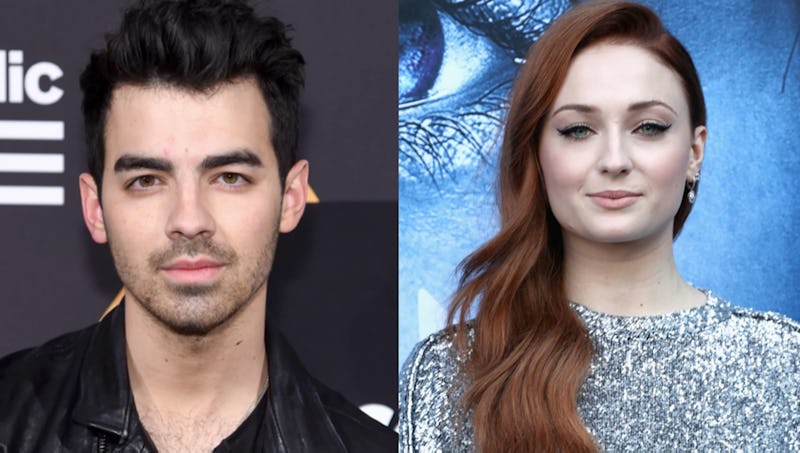 Jamie McCarthy/Getty Images Entertainment/Getty Images; Frederick M. Brown/Getty Images Entertainment/Getty Images
The future Mr. Sansa Stark sends his regards. After the 70th Primetime Emmy Awards wound down on Monday, Joe Jonas tweet-congratulated Sophie Turner's show, Game of Thrones. There was plenty of reason for the JoBro to tweet-congratulate the fantasy program based on George R.R. Martin's book series: Season 7 of GoT won Outstanding Drama Series and Outstanding Actor in a Drama Series yesterday evening. Oh, and ya know, the DNCE frontman also happens to be betrothed to one of the show's stars. That might have something to do with his post.
After GoT scooped up some hardware at the annual TV awards event, Jonas tweeted, "YESSSSS!!! @GameOfThrones" and closed out the message with a crying face emoji, a disco dancing man emoji, and a flame emoji. So uh, Game of Thrones' wins makes him… want to do the hustle around a bonfire and weep? Or does he want to light a fire in a fireplace, throw Saturday Night Fever in the ol' DVD player, and weep? Or maybe he wants to listen to "Disco Inferno" on a loop and weep?
Whatever that combo of emojis is supposed to mean, his fiancée approved of the message. Several hours later, Turner replied, "I love you."
The song of fire and DNCE that is Jonas's tweet really delivered.
Turner and Jonas started dating in 2016 and got engaged the following year. They shared the news — where else? — on Instagram on Oct. 15, 2017. Both halves of the affianced couple posted a photo of Turner's hand showing off her three-carat pear shaped diamond engagement ring. Oh, Jonas's hand is in the photo, too. They rock, he rocks, she rocks and has a rock on her ring finger.
And no, getting engaged to a GoT star does not suddenly open the doors to the chamber of GoT secrets. (Oops, wrong fantasy series.) When Jonas appeared on Australian radio program Stav, Abby and Matt back in April, he told the show hosts that he doesn't know what the eighth and final season holds. According to The Daily Mail, Jonas said, "I wish I could say anything but the truth is, she doesn't give me spoilers."
And what do you know, it sounds like the JoBro is OK with this. He explained,
"So I kind of respect it because I'm a fan of the show and I'm a big nerd at heart, so if I was told how things were gonna turn out, I probably would have been disappointed because we have to wait so long for the next season."
Jonas is affianced to a person who probably knows quite a few spoilers. He is one degree away from the final season of GoT. And yet, he is chill with waiting until 2019 to find out what happens. Just as D.B. Weiss and David Benioff intended. Wow. That is true fandom.
And when the show finally does return, we Game of Thrones fans will surely experience a level of joy that could be best illustrated by a cry face/disco dancing man/flame emoji combo.