Joe Jonas Wrote This New Song About Sophie Turner & The Lyrics Will Make Fans Sob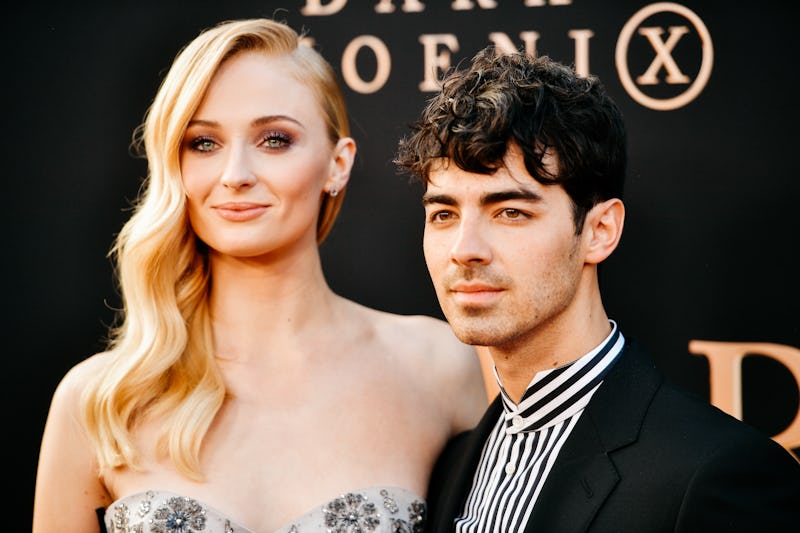 Matt Winkelmeyer/Getty Images Entertainment/Getty Images
Every swoon-worthy love story needs a romantic song to commemorate it, and now, the coolest couple in Hollywood has theirs. When the Jonas Brothers released their comeback album Happiness Begins on Friday, June 7, Joe Jonas confirmed "Hesitate" is about Sophie Turner, and the song reveals so much about how deeply in love the newlyweds are.
The Jonas Brothers first teased "Hesitate" back in April, when Nick described the track to Billboard as "Joe's love letter to Turner." When the album hit the Apple Music Store on Friday, the middle Jonas confirmed that he was inspired by his new wife to write the song, describing it as an "important" track in the album's Editor's Notes section. "I wrote it for my significant other, Sophie," Jonas explained, "and it's one of those love letters you write to your partner saying, 'I'll be there no matter what.'"
In the lyrics to "Hesitate," Jonas pays homage to the couple's cross-Atlantic romance, singing in the chorus that, "I thank the oceans for giving me you." And since Turner has often said that her romance with Jonas "saved my life," by encouraging her to prioritize her mental health, it seems even more romantic that the DNCE frontman also sings, "You saved me once and now I'll save you too / I won't hesitate for you."
During an interview with the Sunday Times in May, Turner opened up about meeting Jonas when she was 20, after years of battling depression and self-image issues as a result of spending her teenage years in the public eye. Explaining that she was "going through this phase of being very mentally unwell," at the time, Turner recalled that Jonas told her, "'I can't be with you until you love yourself, I can't see you love me more than you love yourself.' That was something, him doing that. I think he kind of saved my life, in a way."
A lot of the lyrics in "Hesitate" sound like a reference to Jonas supporting Turner through her mental health struggles, particularly the very first verse, which opens with Jonas singing, "Kiss the tears right off your face ... I'll be there time and place / Lay it on me, all you're hold, hold, holding." The metaphor of taking on someone else's pain continues into the chorus, where the brothers sing that they won't "hesitate" to try and lighten their significant other's load:
"I will take your pain / And put it on my heart / I won't hesitate / Just tell me where to start"
The couple's emotional support of one another runs both ways; Jonas recently told Harper's Bazaar that seeing Turner's relationship with her brothers inspired him to repair his own bond with Nick and Kevin. "It encouraged me to see she had such a great relationship with her brothers," he explained to the outlet. "That was really a big thing for me to be able to look at, and say, 'I gotta get my sh*t together.'"
In the Jonas Brothers' Amazon Prime documentary, Chasing Happiness, Jonas also credited his romance with Turner for helping him to understand how Kevin's priorities changed after marring his wife, Danielle, in 2010. Speaking about how Jonas and Nick decided to perform some of the band's songs at the B96 Pepsi Jingle Bash in 2013 without Kevin, the singer admitted they felt Kevin "was holding [them] back." However, after falling in love with Turner, Jonas finally saw things from his older brother's perspective and can now admit that it was a "f*cked up" thing to do.
Several Jonas Brothers fans on Twitter also pointed out that Jonas referenced the lyrics to "Hesitate" in his Happiness Begins thank you note, which makes the song even more romantic. "My love. My bubs. My Sophie. I will never hesitate," Joe wrote in the album's liner notes. "Thank you for making me better. I love you."
While there was no doubt that Jonas and Turner are madly in love with one another, it's hard for fans to not to get a little emotional while listening to "Hesitate," knowing just how much the pair have been through in their lives and relationship. If their incredibly fun Las Vegas wedding didn't convince you that these two are #RelationshipGoals, one listen to "Hesitate" should do the trick.